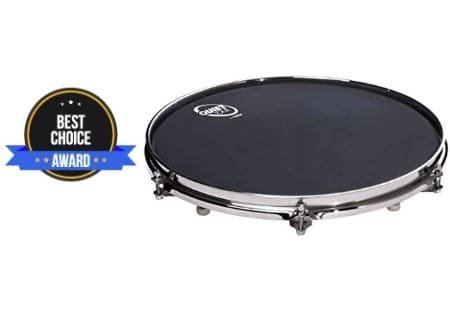 Sabian Quiet Tone – 10 inch Drum Pad
The Sabian Quiet Tone is the best drum practice pad because it replicates the real experience better than others. This practice drum pad has a real head and real rim. Also, it can be mounted on a stand or snare basket.
MORE INFO
Let's face it, playing the drums is not the east instrument to play because it requires an intricate understanding of rhythm. Learning drums is a time consuming and difficult process. While you can certainly just practice with a set of drum sticks on any surface, it maybe not be the most practical or optimal.
This is where the drum practice pad comes in. It is basically a pad or a set of pads that allow you to practice quietly and to assist percussionists. With the best drum practice pad, you can easily learn how to play the drums and other percussion instruments. However, picking out one is not so easy because they are all made a bit different. They can vary depending on shape, size, design, weight, hard or soft materials, and the amount of bounce. Also, some can have receivers attached to analyze your rhythm on a computer. Others include more than one type of pad on one setup or kit, so you can emulate hitting the cymbals or bass.
The most common type of drum practice pad is the standard single snare drum practice pad. There is also the bass drum practice pad. Nevertheless, the first thing you should look for is whether or not you want something realistic. There are drum pads that have the same dimensions of a traditional snare so that you build that muscle memory. Other will even replicate the bounce of a drum head so you can get used the feel of striking.
The next thing you should consider is surface material. There are some materials are hard and not bouncy at all while others are soft as flexible. Some materials absorb sound better than others while other materials can easily be rolled up and transported. In the end, the quality of the material for your drum practice pad matters because you will likely be striking it a lot.
Finally, you should consider things like price, whether or not it is double sided, and the amount of practice pads in the kit. You can have really expensive drum practice pads that can hook up to a computer and analyze your beats. Others can imitate the full setup of a entire drum kit including stands and pedals. In the end, you need to decide for yourself whether or not these extra features are worth it.
Best Drum Practice Pad
Sabian Quiet Tone – 10 inch Drum Pad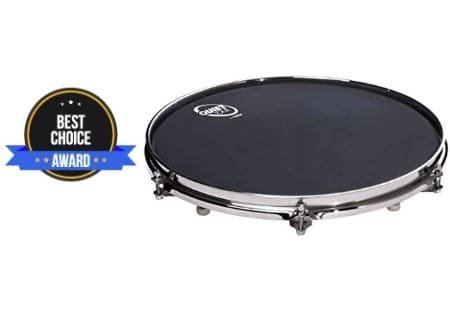 In our opinion, the Sabian Quiet Tone is the best drum practice pad on the market if you want a real feel. While the Sabian Quiet Tone is certainly not a popular product by any means, those who actually are in the business know that it is one of the best. We asked industry professionals for their opinions on this one and most said the best way to practice is to emulate the real deal.
The main reason the Sabian Quiet Tone drum practice pads makes the top of our list is because it has a real head and real rim, unlike most of the drum pads out there. Out of all the drum pads we tested, this one has the best real feel. In other words, it actually feels like you are playing on a real drum set with this pad except it doesn't make much noise. They say practice makes perfect. We say, perfect practice makes perfect.
We also really like the attention to details of the Sabian Quiet Tone. It has adjustable tension, non-slip rubber feet, and a triple-flanged metal hoop all to give you a detailed realistic replica of the real deal. Overall, this is the best snare drum practice pad for those who want to play on any flat surface or on top of a real dum stand, anywhere and anytime. It comes in 14 inch and 10 inch version depending on your style.
– Closest real feel
– Real head and real rim
– Fits on snare stand, drum, or any surface
– Adjustable tension
Drumeo p4 Practice Pad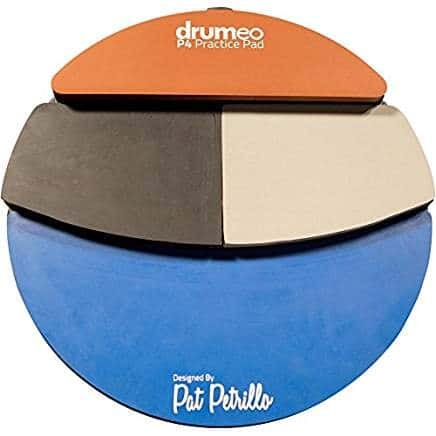 If you want one of the most popular practice pads on the market, go with the Drumeo P4. It is the best practice drum pad designed by Pat Petrillo, who is a legendary drummer and educator. The Drumeo P4 is designed to help to user progress through the various levels of learning how to play the drums.
There are four different surfaces on the Drumeo and each one is color coded. Also each surface has a different feel and level. The first level is blue and replicates the snare drum. it has the standard gum rubber feel and this is the one you will be using the most often. On the next level, you have a black surface which simulates a tight hi tom. This surface is a bit more responsive than the blue snare surface. Then there is the white surface on the same level which has the feel of a floor tom. It is probably the least responsive and the quietest surface to play on. Finally, you have the orange top level, which is like a ride cymbal. This level is very harder and is a lot more bouncy than the snare blue surface.
Hopefully, with the Drumeo P4 practice pad, you can hone your drumming skills from scratch. We like how it has 4 different practice surfaces on one. Although it is a bit on the pricy side, you are definitely getting a premium drum pad with 4 surfaces. Additionally, it is used by many professionals for home practice and has a solid quality build. Our hats off for this pad if you can afford it.
– Expensive but worth it
– 4 different drumming surfaces
– Helps you transition to the kit
– Can be used anywhere
Hizek Electronic Drum Pad Practice Kit
While the Hizek Electronic Drum Pad is technically not a real drum practice pad, for all intents and purpose it can be used as one. This set is the best practice pad drum set if you want a digital
drum set with foot pedals. There are 7 different pads on this set with two foot pedals and drum sticks. With the foot pedals, you can have the best bass drum practice pad without getting a giant device. Additionally, you can hook this kit up to a computer and start mixing and editing your sounds live.
The entire kit works via AA batteries or plugging it in. Unfortunately, they need to be hooked up to speakers to be heard, but you can always running them through a headphone. Besides, if you are just practicing, you can just use them without an external sound.
Our favorite part about this drum kit is that it comes with demo drum beats, rhythm music, tempo adjustments, and a record mode. These extra feature, in particular the record mode, are particularly useful in practicing your drum skills. You can record and listen to your own beats and rewind it to listen and learn from where you went wrong.
All in all, we love the versatility of this drum set. As a cherry on top, you can fold everything up and store it in a nice and handy travel bag. This also helps you store it and not take up space when not in use. With a set of batteries, headphones and drum sticks, you can potentially practice with this on any surface.
– Electronic drum pad
– Can record and alter sounds
– Comes with demo music and rhythm
– Easily folds up
Evans 2-Sided Practice Pad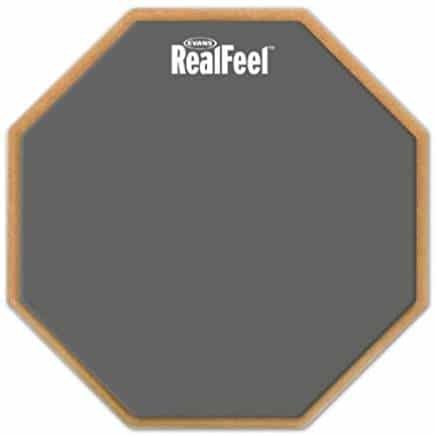 The Evans 2-Sided Practice Pad is another industry classic and used by many pro players to help them hone their skills. This is a very simple and affordable option to help you practice you drumming skills. The Evans practice pad is double sided, with one side being a natural gum feel for a more realistic rebound. The other side is a harder surface used to build endurance. Both sides can easily fit into a standard snare basket, so you can practice on top of your real drums without making big sounds.
We like these drum pads for its simplicity and feel. They are made incredibly durable and with high quality materials. The bounce and feel is just right and perfect for learning on. However, like most drum practice pads, this pad isn't completely silent. Also, you can't really travel with these pads because it is a bit heavy and doesn't really fold up. If these are deal breakers, you should probably look elsewhere.
– Great value
– Double sided
– Realistic rebound
– High quality build
  ="blue" size="big" link="https://www.amazon.com/gp/product/B000FMDIXY?ie=UTF8&tag=bestdrumpracticepad-20&camp=1789&linkCode=xm2&creativeASIN=B000FMDIXY" icon="" class="" target="_blank" rel="nofollow"]MORE INFO[/wpsm_button]
Neewer Digital Drum Pad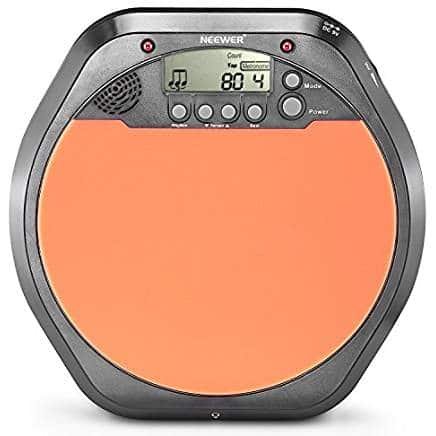 If you want a digital drum pad and a metronome all in one, the Neewer Practice Pads are the way to go. We really like the fact that these pads are quite an unique concept on the market. Most drum practice pads just provide a material for you to bang on, but the Neewer Practice Pads takes it to the next level.
What separates these pads from the rest of the pack is the fact that there is a built in speaker and metronome. Also this unit can run on batteries or you can plug them in. With this setup, you can select from a variety of tempos and beats, which will definitely help you keep in time. There is also a nice LCD display that displays your tempo
– Metronome and drum pad in one unit
– Adjust tempo on the fly
– Helps you keep in time
– Great for learning
References
https://en.wikipedia.org/wiki/Practice_pad