Fender Bassman 100T 100-Watt Tube Bass Amp
The Fender Bassman 100T is the best bass tube amp for those who are interested in a 100 watt all amp tube for bassheads. This amp gives you the legendary Fender tube sound and can be dialed down to 25 watts for studio use.
MORE INFO
In the bass world, there are solid state amps and tube amps. While most bassists prefer solid state amps, there is still a niche market for bass tube amps. Bass tube amplifiers tend to be heavier, less reliable, and more expensive than their solid state counterparts. They blow out or break often and they tend to get very hot. Also, you need to replace you tubes every now and then, which definitely adds up in costs. Let's just say they are not the easiest type of bass amp to maintain.
However, bass tube amps are the original and introduced much earlier than solid state amps. But the more important reason why any bassist would use a bass tube amp is because the tone is much more warm and natural sounding that solid state amps, which tend to sound a bit artificial. Tube amps are also louder than solid state at any given volume. Additionally, tube amps also have more harmonic overtones because they don't clip as harsh as solid state amps.
Once you have decided on getting a tube amp, the question then becomes: what is the best bass tube amp on the market? This is obviously a very loaded question that depends on many factors. The most important one is price, because usually the more you pay the better quality sound you are getting. Also, it depends on what genres you are playing and certain genres so better with certain amps and tones.
In general, we recommend that you stick to name brand manufacturers. They usually have a long history of developing these tube amps and have poured a lot of research into making and fine tuning them. Also, please keep in mind that bass tube amps are quite expensive, so be prepared to spend some serious money.
Best Bass Tube Amp
Fender Bassman 100T 100-Watt Tube Bass Amp
The Fender Bassman 100T is the best bass tube amp for those who are willing to spend some money and want both a vintage and modern tone. This bass amp head is an all tube 100 or 25 watt switchable setup split into two channel. One channel gives you a nice vintage warm Fender quality tone while the other gives you a modern overdriven tone. Of course this is all changeable with a foot switch.
Perhaps the best feature about the Fender Bassman is the Automatic Bias technology. This helps you monitor and automatically adjust your tubes to get optimal performance and longer durability out of your amp. Also we like the fact that you can also dial it down to a studio friendly 25 watts.
The Fender Bassman 100T is also loaded with nice features. There is a XLR out to lets you go straight to your computer for silent recording. All in all, this is a legendary bass amp head and with the Fender Automatic Bias adjustments, it makes playing a bass tube amp great again.
– 100 Watt or 25 watt switchable
– 2 channel: vintage and modern tone
– XLR out
– Automatic Bias Adjustment
Ampeg Portaflex PF-20T Bass Amp
If you want the best bass tube amp that gives you a really nice tone in a compact and affordable package, the Ampeg PF-20T is the way to go. This is a 20 watt all tube bass amp that prides itself on reproducing the legendary Ampeg tones at a low cost. Also, it leaves a small footprint and easily transported, weighing in at around 15 pounds.
With the PF-20T, you have a two 12AX7 preamp tubes and two 6V6 power amp tubes. This is good enough for small gigs and recording. You can get a nice, warm rich tone with this bass amp as well as a overdriven tube growl.
Perhaps the most useful feature is the user adjustable bias control. This allows for easy tube replacement and helps extend the life of your tubes. Also, the Portaflex PF-20T is a great bass amp if you want to tun it without a speaker load. It is optimized for recording with a computer and can easily sit on your studio desk.
– 20 watt all tube bass amp
– Very low cost
– Lightweight at 15 pounds
– Nice warm rich tone
Orange AD200B MK 3 200W Bass Head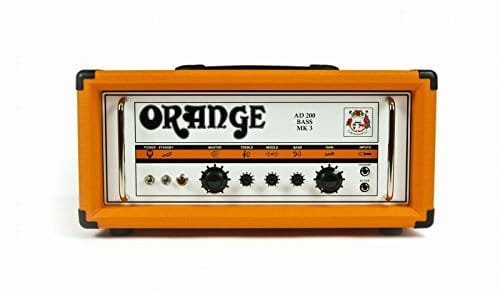 The Orange AD200 MK3 is a legendary bass tube amp and is the best bass tube amp if you have a high budget. This highlight of this bass amp is all about pure tube tone at its finest. The Orange AD200 MK3 is built on solid modern technology, despite being a tube amp. It features four 6550 output tubes and delivers 200 watts of crowd shaking power.
If you are into vintage warm tones or modern bass sounds, the Orange AD200 MK3 has it all. We like it for its incredibly rich and dynamic low end and a focused midrange crunch. You can further sculpt your tone with a detailed 3 band EQ. Additionally, you can change up the rounded gain to flip between vintage and modern tones. It is the only tube bass amp Orange makes, and they definitely did it right.
The beauty of this Orange bass amp head lies in its simplicity. There is only a master volume and gain control, with three tone controls. However, it takes a few seconds to dial in a low and heavy tone. Overall, we think the Orange AD200 MK3 wins the heavyweight title. It is pound for pound stacked up against its competition the best value tube bass amp.
– Pure tube tone
– Four 6550 output tubes
– 3 Band EQ
– Simple and elegant design
Ampeg SVT-CL Classic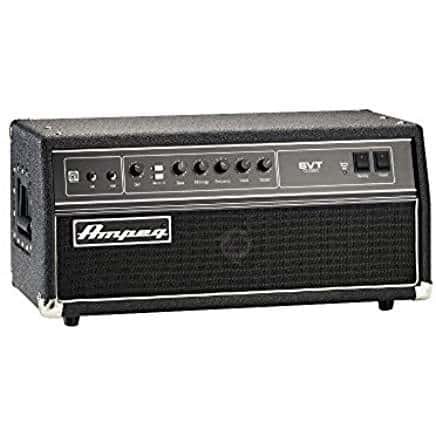 The Ampeg SVT should make it on anyone's list for the best bass tube amp. This is a legendary bass head that is one of the most popular every used. If you don't know about the Ampeg SVT, then you can't really call yourself a bass head. This bass amp head was used in many popular bands that defined modern and classic music.
If you want that authentic vintage Ampeg tube sound, the Ampeg SVT is definitely the way to go. It features six 6550 power tubes that helps deliver 300 watts of thundering power in either 2 or 4 ohms. In terms of controls, you have 3 bands of tone, a 5 position mid tone control selector, and an ultralow and high boost.
Furthermore, the Ampeg SVT-CL is loaded with features that makes it ultra durable. It features a tube protection circuitry, normal and padded inputs, fan cooling, slave output jack, 3 position AC polarity switch, and an auto-fault mode. All in all, we shouldn't have to sell this bass amp head to you. This bass tube amp is definitely a classic and a hall of fame item.
– 300 Watts of power
– Six 6550 power tubes
– Classic Ampeg tube tone
– Tube protection circuitry
Markbass Little Mark Tube
The Little Mark Tube is not quite little once you take into account that it pumps out 800 watts of power. While it is technically a hybrid amp that contains both tubes and solid state technology, you can effectively count it as a bass tube amp.
This amp is great for big stage settings and for those who want warm and clear tones at both high and low volumes. It comes loaded with features like a 4 band EQ, variable pre shape filter, vintage loudspeaker emulator, quarter inch input as well as a combo jack.
We like how to mix of solid state and tube gives you a huge range of sounds. You can go from the crisp sound of the solid state to a heavy tube sound or anything in between. Also, this amp is not as pricy as some of the all tube bass amps, which makes it a great seller.
– 800 Watts of power
– 4 band EQ
– Mix of solid state and tube amp
– Affordable
References
https://www.premierguitar.com/topics/500-bass-tube-heads
https://www.cnet.com/news/what-sounds-better-tube-or-solid-state-electronics/