Hartke HD25 Bass Combo
The Hartke HD25 is the best cheap bass amp if you want a reliable 25 watt 8 inch bass amp with a great tone. Featuring its HyDrive technology, this bass amp is able to deliver enhanced bass response all while maintaining very competitive market pricing.
MORE INFO
We totally understand if you don't have the funds for a premium top shelf bass amp. Most people don't and if you are just starting out or tight on cash, you maybe looking for the best cheap bass amp. Although you can use cheap bass amp for practicing, they are not only limited to this. You can also use it to learn on and for small gigs.
If you are looking for a cheap bass amp, then we suggest you go for a combo amp, which is a amp and speaker cabinet mounted in one unit. While, there are definitely a lot of junk out there, we believe you can definitely find a diamond in the rough.
The first question you should ask yourself when looking for a cheap bass amp is what your definition of cheap is. Some people may think under $100 is cheap for an amp while other may think under $300 is cheap. So you have to figure out for yourself what you consider cheap.
Next, you should probably consider the value, which is mostly the performance to cost ratio. In general, we advise you to stick to name brands, which tend to have great tones. Next, look for tone sculpting features built into your bass amp such as EQs, overdrives, and other voice controls. Also, you should check for headphone input and AUX in so you can run headphones or music through your amp.
Finally, build quality is important as you will likely be transporting your cheap bass amp around. Ideally, you want an amp that can handle a beating and withstand some small drops. Additionally, the make sure the speakers are well protected as it can easily collect dust. You should also pick a desired speaker size as it impacts the frequency range of your bass. It goes without saying that larger speakers will be able to produce a wider audio frequency spectrum and lower lows.
Best Cheap Bass Amp
Hartke HD25 Bass Combo
If you are looking for the best cheap bass amp, we think the Hartke HD25 is a great choice. This is probably one of the cheapest reliable 25 watt bass amps you can get for your money. This bass speaker cabinet combo amp comes with a 8 inch hybrid con driver with a top mounted amp. Perhaps our favorite feature with this the Hartke HD25 is the patented HyDrive speaker technology, which sets it apart from a standard Fender bass amp.
This technology features a well crafted hybrid cone that is half aluminum and half paper which helps deliver some serious tone. This hybrid cone is driven by HyDrive transducers with improved low end frequency response. All of this is protected with a outside paper cone and perforated metal grill, which also contributes to its deep and warm low frequency.
In terms of inputs, the Hartke HD25 gives you a lot of flexibility. There is a 1/4 inch headphone output and 1/4 inch input for active and passive bass guitars. Also, there is a 1/8 inch stereo aux input. Furthermore, in terms of tone control, you have a lush 3 band EQ and a built in limiter.
– 25 watts of power
– 8 inch hybrid cone
– 3 Band EQ
– Built in limiter
Ampeg BA-108 20 Watt Bass Combo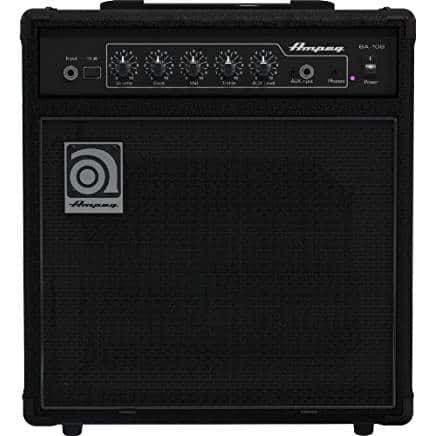 The Ampeg BA-108 is known to be the best cheap bass amp for beginners and those looking for something to take for practice. The standout feature of the Ampeg BA-108 is the true monitor angle at 60 degrees for extra clarity and a rather flat frequency response.
This is a bit different from the traditional upright position for bass amps, which will give you more low end response. For practicing and learning certain songs and bass riffs, you probably want a more flat frequency response monitor speaker versus something that is bass heavy.
Another thing that the Ampeg BA-108 does well is that it has a great tone and tone control. With the BA-108, you have a nice Ampeg preamp and tone stack circuits all matched with superb Ampeg speakers. Also you have a 3 band EQ to further hone your tone. In terms of just raw specs, you are looking at a 20 watt RMS power amp with an 8 inch speaker.
– 20 Watts RMS, 8 inch speakers
– 60 Degree true monitor angle
– Great tone
– 3 Band EQ
Fender Rumble 25 v3 Bass Combo Amp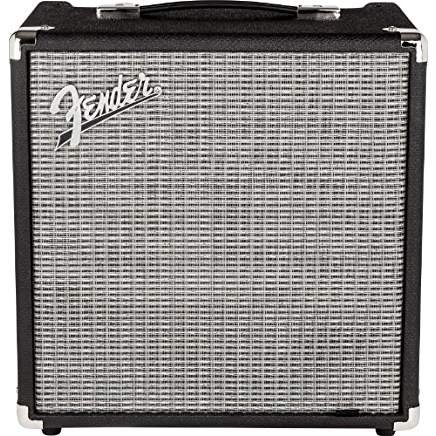 You can't really talk about the best cheap bass amp without at least mentioning Fender. The Fender Rumble 25 v3 is a no brainer if you want a bass amp under $100 that is a name brand. With the Fender Rumble 25, you will get that classic Fender tone with awesome deep bass response. Additionally, the standout features is that this bass amp has an overdrive circuit activated by a button, which helps you deliver gritty bit and nice punchy bass.
In terms of specification, this is a 25 watt combo amp featuring one 8 inch Fender speaker. It also features a aux in, headphone out, and a three band EQ. Additionally, the Rumble 25 is rather lightweight at 21 pounds.
Overall, you can use this bass amp to practice or for studio play. It is great as a small sized combo amp with great tone and easy to use controls.
– 25 watt amp with 8 inch speaker
– 21 pounds
– Overdrive circuit
– 3 band EQ
Monoprice 611920 20W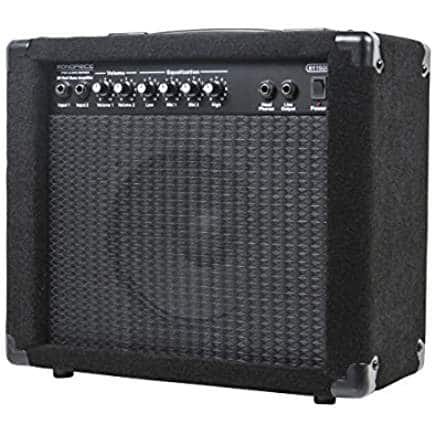 If you want a 20 watt bass combo amp, the Monoprice 611920 is certainly the best cheap bass amp you can get. We believe the Monoprice 20 watt amp is strategically priced just slightly below its competition, yet remains on par in terms of performance and features.
First and foremost, it has a wide frequency response range of 70 Hertz to 10 kilohertz, with only a total harmonic distortion with 0.5%. The tone is pretty good, but not great. However, the Monoprice makes up for it in terms of other features.
It features a built in active compressor, which is nice for limiting your volume. Also for tone sculpting, it features a 4 band EQ with two mid range EQs, one at 600 hertz and one at 2 kilohertz. It is rare to find a 4 band EQ on cheap bass amp, so this is definitely a standout feature on the Monoprice 20W.
Finally, you have a standard 1/4 inch line out and two 1/4 inch inputs with separate volume controls per input. This is great for a small practice room and you want to share the amp with someone else.
– Cheaper than competition
– Built in active compressor
– 4 band EQ
– 2 quarter inch inputs with separate vol control
Ibanez Promethean 20W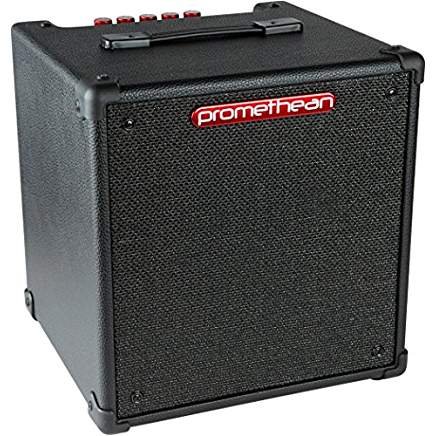 The Ibanez Promethean is certainly a very cheap and lightweight option when it comes to combo amps. Coming in a around 17 pounds, it is one of the most lightweight 20 Watt amps you can get for your money. This cheap bass amp features a 8 inch speaker with very easy to use controls.
The standout feature is probably the 4 band EQ, which gives you precise control over your tone. Keep in mind, most combo amps only have a 2 or 3 band EQ so having that extra band over the competition is always nice. Also there is a minus 10 decibal pad, which accommodates basses with active pickups, which is definitely a nice plus.
Other than that, the tone is pretty good and it has a closed back cabinet design. The Ibanez Promethean 20W also has the standard aux in headphone out features.
– Lightweight at 17 pounds
– 4 band EQ
– -10 db pad
– Durable design
References
https://www.studybass.com/gear/bass-amps/bass-amp-basics/
https://music.stackexchange.com/questions/54372/what-is-the-difference-between-the-speaker-in-a-bass-amp-and-sub/54381