Kenwood MaxPower 600W Amp
The Kenwood MaxPower 600W Amp is the best motorcycle amp because it delivers plenty of power, is a very reliable brand, and is built with quality construction. Its internal circuits are well protected from the environment and it install on most motorcycles easily.
MORE INFO
A amplifier or amp for short is some kind of electronic gadget used to strengthen the weak signals that come from a particular audio source before they can be broadcasted through speakers. There are standalone amps, preamps, and combo amps, which are amps and speakers in one unit.
You have probably heard of car amps and guitar amps, but the last place you hear about placing an amp in on a motorcycle. While motorcycle amps and motorcycle stereo systems are not common, there is always a niche market for them. Because it is a motorcycle stereo system, you liking won't need a huge amp to crank up the system. Unless, of course, you want to drag around giant speakers and subwoofers with you on your motorcycle.
Buying the best motorcycle amp or the best motorcycle audio system is all about finding a small compact amp that will push enough power to your likely portable sized speakers. Also, they should should be rather easy to install and should hopefully integrate into your motorcycle radio or stereo system.
In out view, finding the best mini amp for your motorcycle is more about compatibility and ease of installation rather than thumping bass and power. Sure you can get power but more than likely most compact amps will deliver enough power for your mini speakers on your motorcycle.
Additionally, if you are taking your motorcycle out in harsh open environments, you should look into one that has lots of reliability and durability. Finally, you need to think about mounting options and where you will be placing the motorcycle amp. This is where you need to also consider the dimensions of the amp as well as mounting versatility.
Best Motorcycle Amp
Kenwood MaxPower 600W Amp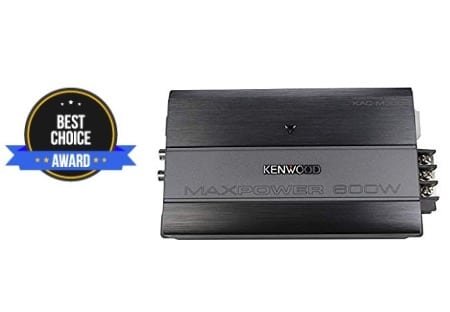 If you are looking for the best motorcycle amp, we think that Kenwood amps strike a good balance between performance and price. The Kenwood 4 Channel 600 Watt amp is designed for rugged environments and exposure to the elements. We like this amp to be placed in your motorcycle because it is a very trusted brand with reliable performance.
With the Kenwood MaxPower 600 watt amp you have a conformal coated main printed circuit board, which prevents all sorts of moisture from entering and harming the circuitry inside. It is also very easy to install and is compact enough to fit most installation areas.
In terms of performance, the Kenwood MaxPower always promises to deliver. It has a peak power of 600 watts through the four channels and a RMS power output at 2 ohms of 75W per channel. In other words, this is more than enough to drive any motorcycle audio system. Furthermore, if you get bored of your motorcycle, you can always ditch it and install it in a boat, atv, rv, or car.
– 4 Channel, 600 Watt Peak
– 75 Watt x 4 RMS power @ 2 Ohms
– Protected circuit board
– Fits most installation areas
Boss Audio MC900B All Terrain Amp
We think the Boss Audio MC900B All Terrain is the best motorcycle amp you can get in terms of value. Although it retails for much higher, you can find some really good deals online that makes this amp a home run. The best features of the Boss Audio MC900B is that it is bluetooth capable, so no more need for a dash unit. You can just wirelessly streaming audio via bluetooth. Also, you have a inline multi function remote control that makes selection music effortless while driving.
The Boss Audio MC900B comes loaded with features. It is a 500 Watt 4 Channel class A/B All Terrain Amp that can power speakers, subs, and anything in between. The RMS power is 94 Watts per channel at 4 Ohms. Also it comes with Aux, low level, and pre amp outputs and supports USB charging. The USB charging is pretty clutch as you can charge your phone while riding.
Finally, if the word all terrain doesn't really hit home, we should probably repeat this again. The Boss Audio MC900B is pretty much fully waterproof with the connectors protected to prevent all sorts of corrosion.
– All terrain motorcycle amp
– Bluetooth capable
– USB charging capable
– Mostly waterproof
Rockford Fosgate PBR300X4 300 Watt Amp
The Rockford Fosgate PBR300X4 is the best motorcycle amp for those who want a ultra compact amp that deliver serious sound. The standout features of this are the dynamic thermal management system and the Punch EQ.
With the Rockford Fosgate 300 Watt Amp for motorcycles, you definitely have a premium device that is crammed into little space. This also makes the amp run into heating issues. Luckily, Rockford Fosgate implements a patented technology called DTM which manages the output of power supply temperatures and uniformly distributes excess heat across the whole amp.
The Rockford Fosgate 300 Watt amp is definitely not short of proprietary technologies. For one, there is the MEHSA gen 3 technology, which gives you much better heat transfer. Then you have the DSM or Discrete Surface Mount technology which squeezes out more watts per area and provides thermal stability. Finally, you have Boosted Rail Technology which gives the amp a ultra efficient design. Also, there is the selectable 80 Hz Low pass and high pass filter, if you want to hone your tone.
In terms of specs, you have a four channel 4 ohm amp that pushes 300 watts RMS or 75 Watts per channel. Additionally, it is just 1.53 x 4.25 x 6.75 inches, which means it takes up very little space.
– Dynamic thermal management system
– Squeezes out more watts per area
– Low and high pass filter
– Ultra efficient design
Alpine Power Pack Amplifier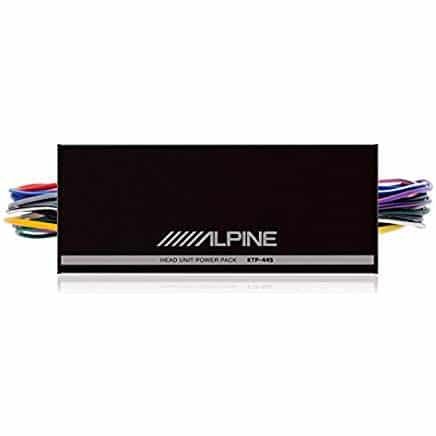 The Alpine Power Pack Amplifier is the best motorcycle amp if you want higher output and more dynamic response. This little amp is packaged in a way that has a 150 percent power increase in a head units built in amp.
This 4 channel motorcycle amp is power rated 45 RMS watts per channel at 4 or 2 ohms or 180 watts total power. In terms of size it is only about 7 inches by 1 by 2 inches. This is a very small size even for a small amp and will fit into places where most amps won't go.
Additionally, you have high pass selectable switches which allows you to filter out some frequencies if you don't need them. You can select from 60 Hz, 80 Hz, and 120 Hz for your crossover points. Also, we think the Alpine Power Pack has one of the best signal to noise ratio in the industry coming in at 82 dB.
– 45 RMS Watts x 4 channels
– Very small size
– High pass filter
– Great signal to noise ratio
DS18 Candy Micro 2
If you want the best motorcycle amp that is extremely small and company, you should get the DS18 Candy Micro 2. The dimensions of this amp come in at 4.75 by 4.25 by 1.5 inches, which is basically the size of your palm.
This is a 2 channel amp that delivers 320 watt RMS power at 4 ohms. Also, it has a pretty good full range of power handling. This amp is small enough for all motorcycles and power enough to drive any motorcycle stereo system. It is also extremely lightweight at just around 1 pound, so it won't weigh down your motorcycle.
In terms of other specs, you have a signal to noise ratio of over 80 db. It saves you a ton of space and is quite easy to install in any motorcycle. Also, it comes in both monoblock and stereo configurations. Finally, it is pretty cost efficient and affordable compared to its competitors. With the DS18 Candy Micro you can setup the best motorcycle audio system.
– Very small motorcycle amp
– Easy to install
– Lightweight
– Full range of power handling
References
http://www.rockfordfosgate.com/products/series/motorsport-amplifiers/