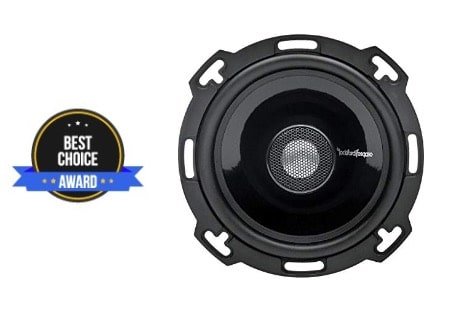 Rockford Fosgate T16
The Rockford Fosgate T16 is the best full range speaker if you want a premium name brand with nice full sounds across the audio frequency spectrum. These full range drivers will be sufficient for most cars and can be mounted on home audio setups.
MORE INFO
The human ear is capable of hearing sounds from 20 Hz which is a low rumble to 20,000 Hz, which is a high tingle. This 20 Hz to 20,000 Hz is considered to be the audible audio spectrum. Various speaker drivers are designed to cover certain audio frequency ranges.
In particular, there are three main types of drivers: tweeter, mid range, and bass drivers. The tweeter driver is meant to cover 2,000 Hz up to 20,000 Hz. Midrange drivers cover approximately 300 Hz up to 2,000 Hz. Finally, bass drivers cover anything below 300 Hz.
With the best full range speakers, you can hopefully reproduce most of these sounds with just one driver. Of course, if you want the best experience, it is probably best to separate the lows, mids, and highs onto different drivers and use a crossover circuit to split the signal.
Full range drivers are pretty widely available and cheap and you can use them to built full range loudspeakers. Given the physical constraints of a full range driver, it may not be entirely possible to be able to hit every frequency in the audible audio range.
In other words, you can have a full range speaker that will cover lows, mids, and highs in one driver. However, you won't be able to reproduce the same audio quality as a loudspeaker with separate drivers for each range.
There are many applications for full range speakers and they are used a lot in autos, marine, radio, and computers. They also come in different sizes and forms. In general, the larger the size, the more biased the full range speaker will be towards low end frequencies. Some full range speakers have whizzer cones attached in the middle, which is essentially a tweeter. You can also have three way full range drivers that have the woofer, tweeter, and midrange driver in the same unit.
Best Full Range Speakers
Rockford Fosgate T16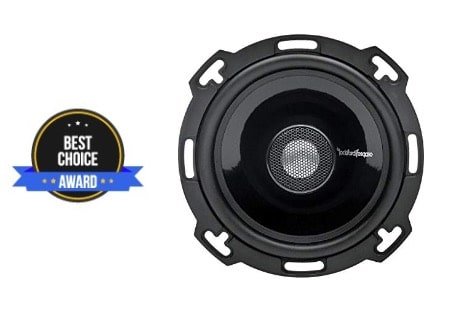 If you want the best full range speakers, we think you should go with Rockford Fosgates. They are known to make excellent car audio equipment and the 6.5 inch T16 is no exception. These two way full range speakers are really designed for the car audio enthusiast who wants to get away with great audio for cheap. Because these are full range drivers, you can install them in any setup as long as they fit. They can also be used to build your own full range speakers, as long as you buy the right equipment.
In terms of product details, we will give you some of the highlights. You get a pair in this set of 6.5 inch speakers with a 1 inch aluminum dome tweeter built in. The Rockford Fosgate T16s are built with carbon fiber and polypropylene, which means they are ultra durable and flexible at the same time. They keep shape while you push these speakers hard. There is also this vertical attach surround technique that helps increase cone area.
The sound is pretty good for just one driver and while you don't get a huge dynamic range, you certainly do get a nice selection of lows, mids, and highs. Like with most full range drivers, the mids are where these speakers really shine. The two speakers together push 140 watts peak and 10-70 watts RMS. We recommend you hook up an external amp to get the most juice out of these speakers. The reported frequency response range is 65 to 22,000 Hz with a sensitivity of 88 dB.
-Great sounding 6.5 " drivers
-65 to 20,000 Hz Frequency response range
-140 watts peak and 10-70 RMS
-2 way speakers with 1 inch tweeter dome
Boss Audio Chaos Erupt 6.5" Full Range Speakers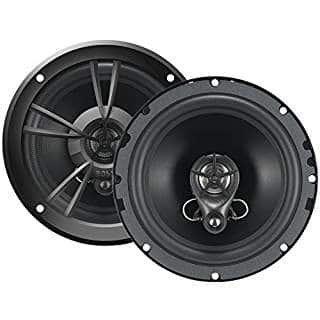 The Boss Audio Chaos Erupt Series represents one of the top shelf high end full range drivers. These are the best full range speakers if you are willing to pay a premium to have quality sound. Of course you can get much better sound with stand alone drivers, but to get the full range sound with one driver, you have pretty much maxed out with these speakers.
In terms of stats, you are looking at 350 Watts peak with 175 watts RMS.This is a 3 way speaker with a 1 inch tweeter and 1 inch midrange dome mounted inside. With this setup, you get a full dynamic range and a wide frequency response range of 100 Hz to 18 kHz with a 90 dB sensitivity.
The sound coming from these Boss Audio Chaos Erupt speakers is amazing and is mostly due to the design and superb build quality. It has a cone made of poly injection so that it is flexible enough to produce great sounds and durable enough to last a long time. The speaker voice coil is made of aluminum and is capable of operating at high temperature. There is also a rubber surround that helps these speakers take some abuse. Finally, you have Peizoelectric tweeters that are resistant to overloads that normally crush drivers without a crossover.
-High end full range driver
-350 Watts peak with 175 watts RMS
-3 way speaker with 1 in tweeter
-100 Hz to 18 kHz
Kicker KB6000 6.5" Full Range Speakers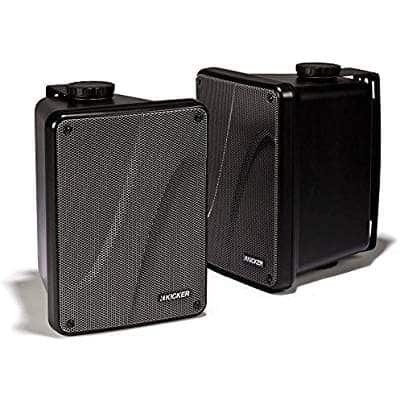 The Kicker KB6000 is the best full range speaker if you are looking for speakers already set up in a housing. These speakers are basically already setup to work out of the box and don't require installation, unlike many stand alone drivers out there. They can be used in indoor and outdoor settings as well as boats. We think if you want a cheap set of full range spears that cover a wide range of frequencies, you need to look into the Kicker KB6000.
In terms of specs, we will summarize some of the important details. First and foremost, these speakers have a peak power of 150 watts and a rms power of 75 watts. They are two way 6.5 inch speakers with a 2 x 5 compression loaded horn tweeter for the highs. The Kicker 6.5 woofers used precisely tuned polypropylene cones and Santoprene surrounds. There is also a 12dB/octave low pass crossover with impedance compensation.
We like these full range speakers for their versatility. They are durable enough to be used in any outdoor setting and can even withstand saltwater environments. In terms of sound quality, it is not the best, what what can you really expect from a sub $100 set of speakers.
-150 watts peak and 75 watts RMS
-Two way 6.5 inch speakers
-Durable
-2×5 inch tweeter
Rockford Fosgate Punch P142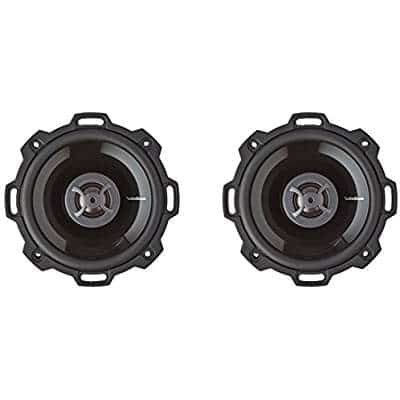 Rockford Fosgate is not just known for high end car audio. They also make some nice and cheap full range speakers. The Rockford Fosgate Punch P142 are the best full range speakers if you want a cheap name brand. These are 4 inch full range speakers that push 60 watts peak and 30 watts RMS. Ok, we fully admit that they don't really push that much bass and low end, but it works brilliantly at the mid and high range.
Perhaps our favorite aspect of the Punch P142 is the speaker construction. The speakers are nice and punchy and have a butyl rubber surround. It has a Flexfit basket design and mineral filled poly injection mold cone for extra flexibility. Finally, it has a PEI dome tweeter, which makes the high end really nice.
The Rockford Fosgate P142 also have a cool feature which increases its effective radiating cone area. The result is you get 25% more cone area. We like the fact that it has an Multi OEM adapter, which means to has the capacity to fit more vehicles. In terms of sound, they sound alright but obviously you can find better. But for some cheap Rockford Fosgate full range speakers, we can't complain.
-60 watts peak and 30 watts RMS
-Nice and punchy speakers
-Multi OEM adapter
-25% more cone area
DROK Mini 5W 2 inch Full Range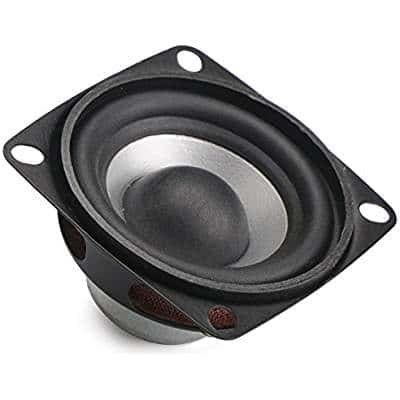 The DROK Mini is great if you need some dirty cheap small full range speakers. Since they are only 2 inches, it will be hard to fully pick up some low end frequencies. However, for the price, we are surprised it produces even any acceptable sound. These speakers are ideally for mid to high end audio, so classical music is good. We would definitely listen to anything bass heavy.
The DROK Mini only pushes 5 Watts at 4 ohms. It has a 88dB sensitivity and an effective frequency at 118 Hz to 20 kHz. In terms of sound quality, we are actually very surprised by how they perform in the mid range. The DROK mini pushes some pretty smooth and full sounds. It has some great power handling for its size. Finally, we think they provide a lot of value if you are on a serious budget. Just one thing we should mention is you have to buy two of them since they don't come in pairs.
-Dirt Cheap
-2 inch full range speakers
-Decent audio quality
-Great power handling
References
https://en.m.wikipedia.org/wiki/Full-range_speaker
https://www.techwalla.com/articles/what-does-a-full-range-speaker-mean