Renata #377 Silver Oxide Battery
The Renata #377 Silver Oxide Battery is the best watch battery because it is the most dependable battery on the market. This battery is long lasting and durable, and it always provides a high voltage. The Renata battery is the preferred brand of many watch manufacturers, including famous Swiss watch companies.
MORE INFO
In recent years, Apple watch and other wearable technology are becoming popular. But they can't take the place of traditional watches, because these old watches are classic, sentimental, collector's pieces, and decorative items. People never abandon their old watches, and they certainly need good watch batteries. Watches that are powered by batteries usually run through the quartz movement, which is different from mechanical watches run by hand winding or movement.
If you are in need of watch batteries, you may get confused with various brand names, battery types and tech specs. It's difficult to find the battery you need, much harder to find the perfect one for your needs. To help you, we will focus on discussing the best watch battery in this article.
Before purchasing batteries, the first thing you need to make sure is the size. It goes without saying that buying a battery of wrong size is a total waste of money. The next thing is the battery voltage. Similar batteries may have different voltages as they use different materials; if the replacement battery has too high voltage, it may damage your device.
If you are not seeking for something low-cost, you should pay more attention to well known brands like Maxell, Sony and Renata. In general, these brand name batteries have higher performance and better security than their competitors. Other products may be attractive as they have lower prices and have been advertised to be high-performance, but they have a greater risk of quality issues.
Renata #377 Silver Oxide Battery
Renata batteries are produced by a Swiss company which is owned by the Swatch group. These batteries are specially designed for quartz watches. In other words, they are long lasting and reliable.
Renata batteries are silver oxide batteries. Although old silver oxide batteries contained a little mercury which is toxic to the environment, the manufacturer of the Renata has completely removed this chemical. Renata batteries provide about 1.55 volts, just like other standard watch batteries. But Renata batteries are definitely better than other batteries, because they have a very low self-discharge rate and last much longer.
Also, these batteries never leak. We believe that your watch will work stably after using the Renata battery. In addition, Renata batteries have a long shelf life, so you can buy more as back up and not have to worry about them discharging over time.
Furthermore, these batteries are definitely good value for your money. All the features we have mentioned above explain why Renata batteries are usually used in Swiss quartz watches such as Rolex Oyster Quartz, Tag Heuer, and Breitling. Many other watch companies also choose Renata batteries for their products, since they tend to perform the best.
– Silver oxide batteries
– Super stable performance
– Long shelf life
– Watch company preferred
Maxell SR626SW 377 Silver Oxide Watch Battery
If you are looking for premium batteries with a relatively low price for your watch, the Maxell batteries can be a great option. This company is very experienced in producing small electronics batteries, including watch batteries. These 377 silver oxide button-cell batteries provide 1.55 volts with excellent long term performance. We think they are pretty perfect for traditional watches.
It's reasonable that the Maxell batteries are popular. We think they are just as good as some of the name brand expensive batteries but without the steep costs.
Additionally, these batteries are very reliable. First, they have low self-discharge rate, allowing them to last longer than most of their competitors even if they have high capacity. Second, the Maxell batteries have good craftsmanship, so they tend to never leak. Finally, these batteries have a long shelf life, and can maintain most of their capacity after years of storage.
We highly recommend the Maxell batteries because we think the manufacturer has got a good balance between high performance and cost.
– Silver oxide watch battery
– High popularity batteries
– High performance
– Relatively low price
Varta 377 Batteries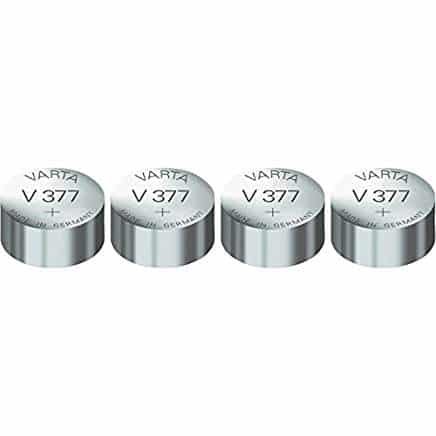 You can't forget to mention Varta products when discussing watch batteries. They make the best watch battery in the industry and will power your quartz watch for long periods of time.
The Varta 377 Batteries are premium silver oxide batteries with no mercury inside. These batteries are very competitive when compared with other top-rated batteries, because they are designed to be universal. These batteries can be used in any devices which require this battery size, such as watches, calculators, PDAs, LED lights and even strict medical devices.
It's a pity that the Varta 377 batteries are not very popular, given they are stable, cheap, and reliable. They strike a nice balance between performance and price and in terms of versatility, they win hands down.
Overall, we are fairly certain the Varta 377 batteries are very reliable after our extensive testing in various quartz watches. Also, in most compatible devices, these batteries performed very stably for long periods of time. As a nice extra feature, we like the fact that they can be stored at room temperature for long periods of time without decay. In other words, they have a long period of expiration.
– 377 batteries
– No mercury
– High performance
– Reliable product
Energizer Watch Electronic Batteries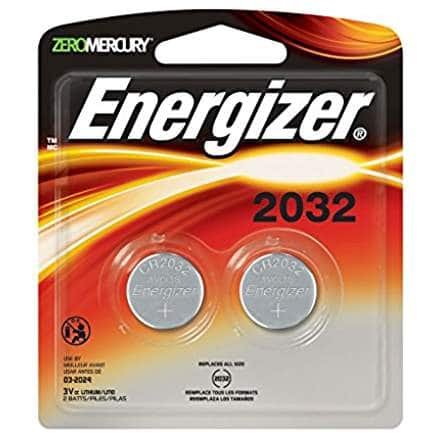 If your new quartz watch requires 3 volts to work, then the Energizer Watch Electronic Batteries are the best watch batteries for you. These batteries are very popular because they are the best lithium watch batteries on the market. They have been tested by thousands of customers in recent years, and have managed very few negative reviews. Just be aware of fake batteries from untrustworthy sellers.
As standard lithium batteries, the Energizer batteries have high energy density, allowing it to have higher voltage and capacity. This is a 3 volt battery operating with 240 mAh capacity. These batteries are also durable; they have a wide temperature range for operation and storage, and they are leak proof.
In addition, the Energizer watch batteries have a very long battery life. They have very low self-discharge rate, so they maintain great performance after years of storage.
Furthermore, these batteries are more powerful than traditional watch batteries made of alkaline. Also, they tend to be very reliable in low temperatures, which is always a plus. Finally, they can be used for other accessories such as fitness or healthcare devices.
– High energy density
– Lithium batteries
– Long lasting
– Great value
Sony 364 Watch Battery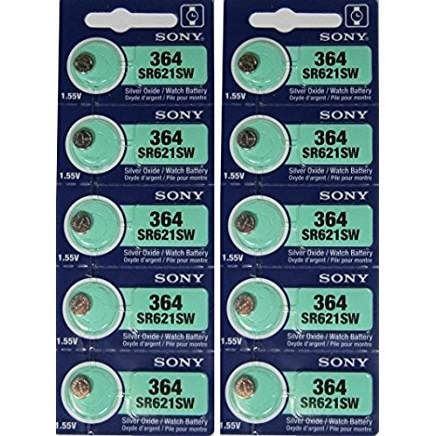 For people who need 364 watch batteries, Sony has provided a very good option. These batteries are made in Japan, and they are genuine products with a very low entry price.
Before your purchase, you need to know that these batteries are 364 batteries which are 0.5mm thinner than 377 batteries. So, they can't be used to replace the 377 batteries and they don't last as long. As standard 364 batteries, the Sony batteries have 2 years of shelf life. Generally, a typical customer needs one or two Sony batteries a year. These batteries are silver oxide batteries without any mercury, which can be toxic to the environment.
Compared with other 364 watch batteries, the Sony batteries are super cost effective. They have a much lower price compared with their competitors, but work just as well. We recommend the 10-pack set since you can get 5 more batteries as back up just by paying a little more than the 5-pack set. Having more back up is always good, because no matter what brand batteries you use
– 364 watch batteries
– Standard performance
– Sony products
– Super cost-effective
References
https://en.wikipedia.org/wiki/Button_cell