1. Evans EMAD2 Clear Bass Drum Head
The Evans EMAD2 is the best bass drum head for those looking for looking to easily change muffling options from the outside. This is Evans 2 Ply version, which has more durability and attack.
Why do you need the Best Bass Drum Head?
If you are a drummer, you should know how important the drum head is to your overall sound. The bass drum is one of the most important pieces of any drum kit. In this article, we will be focusing on helping you find the best bass drum head so you can get a nice "kick" out of your sound.
The bass drum is also known as the kick drum and is responsible for the low-end sounds of your rhythm. They usually help establish the tempo and are the lowest notes you will be playing. They are normally circular and played with a foot pedal attached to a mallet. Additionally, the diameter of the bass drum head is directly correlated with its audio frequency with wider drum heads playing lower notes. However, larger bass drum heads don't necessarily correlate to louder volume.
Bass drum heads refer to the skin or membrane that is struck to produce sound. They can be made from all sorts of materials from animal hide to mylar, to calfskin, plastic, and even kevlar.
A bass drum head is actually made of four components: the film, collar, step, and hoop. The film is the surface that your drumsticks or foot pedal actually hits. The collar is the metal part of the head that increases airflow and energy transfer to the drum shell. The step keeps the film flat and the hoop keeps everything in place and stable.
Keep in mind that the type of bass drum head is only one factor in the overall sound produced. Other factors include your bass drum basket setup, your muffling system, how you strike the drum, and how you tune the bass drum head and pedal.
However, all else being equal, the most important thing you need to consider when selecting the best bass drum head is your playing style and genre. Each genre will demand a different sound and thus a different bass drum head. Also, you should keep in mind how your bass drum will mix with other instruments. Then you need to figure out the amount of muffling you will put in your bass drum as it will also impact your bass drum head selection.
Additionally, you should consider if it is easy or not to tune, as this impacts acoustics. Some people don't gig or travel, so they just want something that sounds nice in a small room and is easily tuned. Finally, durability is always a concern, as you ideally want a bass drum head that will last.
Best Bass Drum Head
1. Evans EMAD2 Clear Bass Drum head
The Evans EMAD2 is the best bass drum head if you want one of the most popular bass drum heads on the market. EMAD stands for Externally Mounted Adjustable Damping and the 2 means it is the 2-ply version. While the 1-ply version is the more popular choice, we really like the 2-ply version for its increased durability and more attack. Additionally, because the two plies tend to dampen each other, the Evans EMAD2 has a warmer bass and a muffled sound compared to the 1 ply version.
Perhaps the best feature of the Evans EMAD2 is its ability to easily apply muffling choices from the outside, hence the name EMAD. There are black plastic sleeves around the perimeter that hold two black foam rings against the head. These rings allow you the change the bass drum sound without even removing the head. You can control the attack and focus of the drum head by choosing one of two foam rings.
The Evans EMAD2 bass drum head comes in all sorts of sizes from 16 all the way up to 26 inches. Additionally, it is available in different coatings and thicknesses, as you can always get the 1-ply version. With the 2 ply version, one good thing we like is that you can afford to break the outer head and still be able to finish your gig. It is kind of like an insurance policy against you smashing too hard.
– 2 Ply version is more durable
– Drum sound can be externally adjusted
– Different coating and thickness choices
– Sized 16 to 26 inches
2. Aquarian Drumheads SKII22 SuperKick II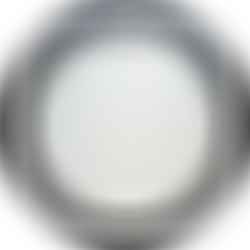 If you need a tight fat sound, the Aquarian Drumheads SuperKick II is the best bass drum head for you. This bass drum head is made of two-ply clear Nu-Brite drumhead film that is 7 mil. There is also a narrow felt muffling ring that is partially glued to the head. Aquarian calls it the Floating Muffling System and it sort of moves and breathes with the drum head. In turn, this allows the drum head to have a very quick punch and a short sustain.
The Aquarian Super Kick II is a quality bass drumhead that is endorsed by many of the pros in the industry. It is a very tunable head with a great low end. However, the price is quite steep but you definitely get what you pay for. Also, this means that there is no additional dampening needed to get these bass drum heads to sound great. Overall, the Super Kick II is a great set of drum heads that are durable and stay in tune well. They are fit to be played over a diverse set of genres as well.
– 2-ply clear film 7 mil
– Floating Muffling System
– Very tunable
– No additional dampening is needed
3. Evans EQ3 Resonant Bass Drum Head
If you are looking for the best resonant bass drum head, the Evans EQ3 is the way to go. This is a single-ply 7 mil resonant head with a 5-inch built-in mic port. While weighing in at only around 2 pounds, this drum head packs in quite the punch.
Perhaps the best selling point is that it has an internal overtone control ring, which helps give you a sort of punchy and warm tone with a short and controlled delay. In other words, it has a much deeper sound than we expected. This allows it to be great for both studio, home, and live use. We think it works very well with mics, which adds to the versatility of the EQ3.
Some other features that make the Evans EQ3 the best resonant bass drum head in our opinion are that it is highly durable, easy to install, and easy to tune. We did not notice any signs of strain or damage even after long periods of use. Also, you can get it in a variety of colors such as black, frosted, onyx, smooth white, and coated white, which adds some nice variation to your drum set.
– Resonant bass drum head
– Single Ply 7 mil
– Internal overtone control ring
– Easy to tune
4. Remo Ambassador Coated Bass Drum
Remo is certainly a very famous and popular brand name in the drum business. The Remo Ambassador is the best resonant bass drum head if you want one of the industry's gold standards. This bass drum head is famous for its warm open tones with bright attack and controlled sustain. We recommend the Remo Ambassador Coated, which is made of 1 ply 10 mil coated film.
Remo drum heads have dominated the industry for their quality builds and reasonable prices. The Ambassador Coated is such a great head for the snare drum and is one of the most used snare batter heads on the market. Also, keep in mind that the Ambassador is 20% thicker than normal single plys, which is always a plus. All in all, you can't really go wrong with the Remo Ambassador coated. It is used by tons of avid drummers around the world and is such a heavy-duty head for the price.
– Industry gold standard
– 1 Ply at 10 mils
– Warm open tones
– Very durable
5. Remo Powerstroke P3
The Remo Powerstroke P3 is a workhorse of a bass drum head. It is very popular in the drumming community for a good reason. With the Remo Powerstroke P3, you get an extremely durable head that gives you a full-fat sound that is just a step above the competition. Also, it has a great balance between response and tone control.
Additionally, it tunes very easily and gives you a nice clean punch with great low-end tones. This single-ply head also has a bit of dampening built inside for unwanted overtones with some great resonance. You can also add more muffling on the inside if you like to dial in the sustain to your taste. With the mic up, it sounds great as well with a loud strong attack. The Powerstroke P3 clear comes in a variety of sizes from 16 inches all the way up to 36 inches. It is a clear winner for those who want an affordable drum head that will last and provides enough easy tuning to your liking.
– Workhorse bass drum head
– Very durable
– Well balanced
– Single ply
References
https://en.wikipedia.org/wiki/Bass_drum