Roland JC-120
The Roland JC-120 is the best clean tube amp for those who want the amp that started it all. This amp is known as the King of Clean and many amps are modeled after it. Surprisingly, the Roland JC-120 uses solid state technology instead of being a pure tube amp, but we can't help putting it in top position for its massive clean sound.
MORE INFO
If you are looking for the best clean tube amp, you have come to the right place. In general, amplifiers can be split into two categories: tube and solid state amps. Most amplifiers are built using either vacuum tube technology, solid state technology or a combination of both.
In the real world, most amps actually have a combination of both and these hybrid amps usually have a tube preamp stage which is used for tone shaping and solid state for power. Then you have tube emulation circuitry, which are complex circuitries that act like tubes and in many preamps.
With a full tube amp, you tend to have a more natural warm response in tone. The tube overdrive sound is also much smoother and can be great with high gain pedals. Tube amps are also louder on average than solid state amps. The downside is that tube amps tend to run more expensive to solid state amps.
Once you have decided on a tube amp, you need to further narrow your choice in terms of the particular sound you want. In this article, we will help you find out the best tube amp for clean tones. Keep in mind here that it doesn't necessarily have to be an tube amp, as many amps are actually just hybrids. But it just so happens that many of the best clean sounding amps happen to be tube amps.
Please keep in mind that if you want that clean sounding tone for your amp, you will most likely have to pay up. Also, you still have to setup your amp in terms of the gain, frequency EQs, and tuning to get that clean sound worthy of its name.
Best Clean Tube Amp
Roland JC-120
The Roland JC-120 is often referred to as the King of Clean and is the clean amp sound heard on many famous songs in the past few decades. While it is very popular in the 70s and 80s for jazz and rock and metal, you can certainly find a great use for it in any genre.
If you are looking for the best clean tube amp, we are sorry to inform you that this isn't actually a tube amp. Instead, it runs on solid state technology, which ends up being less maintenance anyways. But in the end, who cares whether it is solid state or tube, as long as the tone sounds icy clean.
They don't call it the industry standard for nothing. The Roland JC-120 is legendary for its chorus effect, which is actually invented by Roland. This amp comes with built in chorus, distortion and reverb effects which are all foot switchable.
All in all, the Roland JC-120 is the amp that many other amp try to replicate. This is a 2 x 12 inch solid state that pushes 120 Watts over 2 channel and allows for a true stereo chorus. Additionally, there is a three band EQ per channel.
– King of Clean
– The industry standard for clean sound
– 120 Watts over 2 channels
– True stero chorus
Marshall DSL5C 1×10" Tube Combo Amp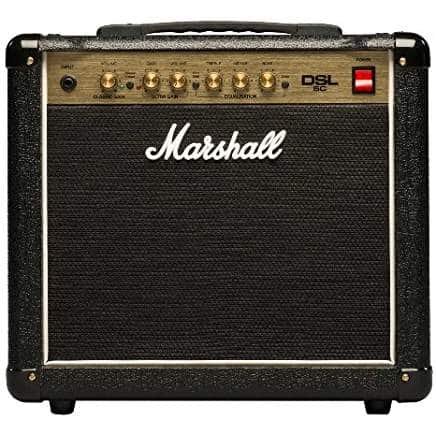 We know that tube amps can get really expensive, which is why we are putting a rather affordable one on our list for those budget conscious musicians. The Marshall DSL5C is the best clean tube amp for those looking for that nice clean sound tone but can sacrifice a bit on power and price. It is definitely not the most powerful clean tube amp, but it is still able to maintain that famous Marshall clean tone at lower power.
This tube amp is loaded with a single Celestion Ten-20 Speaker and has two channels: one for classic and another for ultra gain that gives you those brilliant clean tones and saturated distortions.
The total power output is 30 watts, spread over two channels. We really like the fact that there is a high low power switch, which allows the Marshall DSL5C to drop from 5 watts to 1 watt. Fortunately, the rich tone is still there but just at lower volumes.
Overall, we like this little tube amp for nice smooth clean Marshall amp sounds. This series has been wildly popular for a long time and we attribute it to its affordability. Also, it is very portable and lightweight at 36 pounds.
– Very affordable for a tube amp
– Nice clean tone
– Single Celestion Ten Inch Speaker
– 2 channels and 30 W total output
Fender 65 Twin Reverb 85 Watt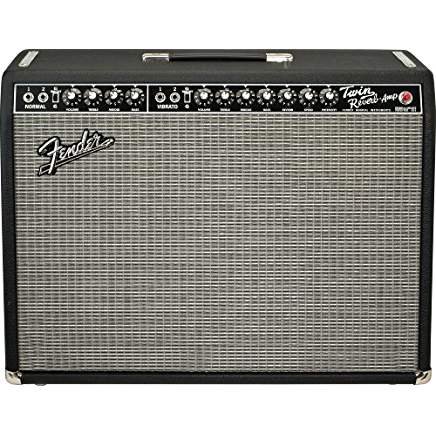 We feel that any top list of clean amps should mention the Fender 65. This is the best clean tube amp for those who are willing to pay a premium for that premium clean tone. It goes without saying that this is truly a legendary clean tone amp and defines what it means to have a classic vintage clean tone.
In terms of specs, you have a 85 watts of power and features four 6L6 Groove tubes, four 12AX7 preamp tubes, and two 12AT7 preamp tubes. With the Fender 65 Twin, you have two 12 inch Jensen C-12K speakers at 8 ohms. There are two independent channels: normal and vibrato. Additionally, each channel has its own EQ and volume control. The vibrato channel has a bright switch and reverb, speed, and intensity knobs. Finally, you have a two button foot switch that lets you turn off reverb and vibrato.
We shouldn't have to sell you on the Fender 65 Twin. If you go on any forum, you will heard people mentioning it as the best tube amp for clean tones. This is a legendary amp with that legendary Fender sound. The only thing you have to convince yourself of is the steep entry price.
– 85 Watts and 4 6L6 groove tubes
– Two 12 inch Jensen C-12K speakers
– Two independent channel
– Legendary clean tone
VOX AC30VR Combo Amp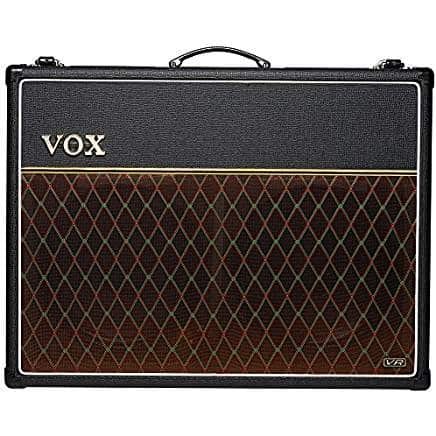 The Vox AC30 Value Reactor is the best clean tube amp if you are looking for a low cost solution to getting that clean tube amp sound. The reason the Vox AC30VR is able to be so affordable because of its Value Reactor technology. This proprietary technology brings you more sound and dynamic range in a tube amp solid state combo that doesn't won't cost you extra money or weight.
In terms of specs, this is a 30 Watts RMS amp at 8 Ohms and contains two 12 inch Celestion custom speakers. Also it has a 2 channel design that lets you cycle between a normal and overdriven tone with a footpedal. There are also separate volume and EQ controls for each of these channels. Furthermore, the master section features a tone cut feature and reverb.
To sum up the two different channels, the first channel is like a normal channel with an overdrive pedal and the second channel is a Marshall like sound with high gain. Overall, the Vox AC30VR has great reliability and is well worth its entry level price into the world of clean tube amps.
– Lost cost solution to clean tone
– 30 Watts RMS
– Two 12 inch Celestion speakers
– 2 channels
Blackstar HT CLUB 40C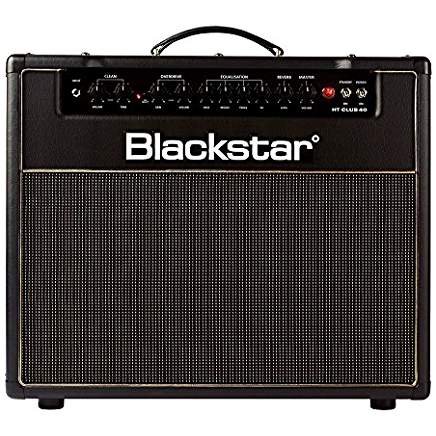 The Blackstar HT Club 40 is the best cleaning sounding tube amp for you gigging musician. It is powerful enough to rock small venues and rather lightweight enough to be able to transport it without totally breaking your back.
This is a 40 Watt all tube amp featuring one 12 inch speaker. It contains 2 ECC83 tubes and 2 EL34 power tubes. Also there are two channels and 4 modes. You have a clean channel and an overdrive channel that are switchable via footswitches. WIth the 4 different operating modes, you have vintage and modern voicings.
We also really like the Blackstar Infinite Shape Feature, which helps you hone you tone in an infinite number of ways. This knob shifts the EQ curves, so you can get a variety of combination Eq settings. Finally you have a nice digital reverb and dark bright switch to change the reverb texture.
– 40 Watt amp
– One 12 inch speaker
– 2 channels and 4 modes
– Nice clean tone
References
https://en.wikipedia.org/wiki/Valve_amplifier
https://www.premierguitar.com/articles/17116-how-tube-amps-work