Orange PPC112C 1×12 Speaker Cabinet
The Orange PPC112 is the best 1×12 guitar cabinet if you want a premium name brand with excellent sound. Although it is a bit pricey, it is the gold standard of 1×12 cabs and something every serious guitarist should have in his or her inventory.
MORE INFO
The 1×12 guitar cabinet is the cornerstone of every gigging musician's inventory. Although amps and pedals are important, you should also consider your speaker cabinet, which can make a huge difference on sound quality. Every little details matters in a guitar cab from the shape of the interior space to the materials used to the quality of the speaker. In other words, it is important to find the best 1×12 guitar cabinet that will do your tone justice and gives you the biggest sound.
If you want to compare 4×12, 2×12, and 1×12 guitar cabs, it is pretty obvious that 1×12 cabs will have the lowest power and output. However, a 1×12 guitar cab will also be very lightweight, portable, and best of all cheap. These are cabs you can easily stack up in your room for practice as well as take to a gig. It really depends on your budget as 1×12 cabs can be really cheap and some can be very expensive.
The one of the biggest choices you have to make is to determine whether you want a closed back or open back cabinet design. Closed back cabinets will have tighter focused sound on the lower ends. It also will feature a sharper attack and better low end response. Open back cabinets are generally looser and less focused across the entire frequency spectrum. They really allow notes to bloom and are great in a room where everyone needs to hear each other and the source. Open backs are also great for small stages or rehearsals.
Also, it is important to find a solid manufacturer of guitar cabinets and not take a risk with some unknown brand. The built quality of speaker cabinets is important and usually reputable companies don't feel the need to skim on material costs. Every little detail matters, from the grille cloth to the baffle board.
Best 1×12 Guitar Cabinet
Orange PPC112C 1×12 Speaker Cabinet
The Orange PPC112 Speaker is one of the most popular 1×12 guitars cabinets due to its classic design and stellar performance. It is a closed back cab with a 18mm birch plywood enclosure and 16 ohm impedance. This helps give the Orange 112 a great fat tone with great projections. It has a Celestion Vintage 30 speaker inside that can handle output up to 60 watts mono. Additionally, the Orange 112 has skid runners on the base to improve low end responsiveness.
If you haven't heard by now, Orange amps, cabinets, and cables are industry leaders. Everything they make is pure quality and has excellent craftsmanship. The most striking feature is obviously the sound quality. It is great for clean or overdriven sounds and has a crazy amount of clarity and distinction in every note.
Second, the orange casing just outright looks cool and vintage. It is lightweight (32 pounds) and ultra portable. You can keep it in your room and easily transport it on stage for gigs. Overall, the Orange PPC112 is the best 1×12 guitar cabinet for those who want a quality brand name and sound.
– Iconic brand
– Great fat tones and projections
– 60 watts mono
– 16 ohm impedance
Fender Super Champ SC112
If you are looking for the best 1×12 cab, you can't really go wrong with Fender. This is the matching cab for the Super Champ X2 15W head and features a 12 inch Celestion G12P-80 speaker. It is both compact and rugged, which means it can definitely handle a beating. In terms of power, it is rated at 80 watts RMS at 8 ohms, which is quite a lot of power for a 1×12 cab.
The most defining feature is the amazing sound quality, as it is known for its tight and defined toned. We like how it is a closed back system, which is good for increasing low end bass response. Additionally, we think it has a really nice fat, clear, and punchy low end. Also, this speaker really pushes lots of volume out for a 1×12. We were pleasantly surprised that this one Fender Super Champ SC112 cab alone can be enough for a small venue.
Overall, we don't have too much to complain about with the Fender Super Champ Cab. It really is the complete package. It is only 28 pounds so lightweight enough to single handedly haul it between gigs. Additionally, it has a cool silver grille and vintage looking design. We recommend you get the Super Champ in combo with the Fender Super Champ X2 Head.
– 80 Watts RMS @ 8 ohm impedance
– Closed back so great lows
– Combo with Super Champ X2 head
– Lightweight at 28 pounds
Peavey 1×12 Cab
We consider the Peavey 1×12 cab to be the best 1×12 guitar cabinet if you are on a budget. While there are certainly cheaper 1×12 cabs out there, we think this speaker is as low as you really need to get without significantly sacrificing performance. This 1×12 guitar cab features a 12 inch blue marvel speaker that pushes 40 watts RMS at 16 ohms. These are not name brand speakers by any means, but they are definitely functional. Also, it is a great cab for most small amp heads.
In terms of performance and sound, it is pretty decent for a cheap low end budget guitar cabinet. It delivers a clean punchy and articulate sound that is best described as bright American sounding speakers. Although we don't think the stock speakers are all that great, for the price and build quality, we think the cabinet is worth it even without the built in speakers.
Finally, the biggest selling point for us is that sturdy of this unit. It is built durable and without quality materials. Although it is a bit on the heavy end of 1×12 cabs, it is certainly portable enough for most situations.
– Very cheap
– Pushes 40 watts @ 16 ohms
– Decent sound quality
– Very durable
Aguilar SL 112 Bass Cabinet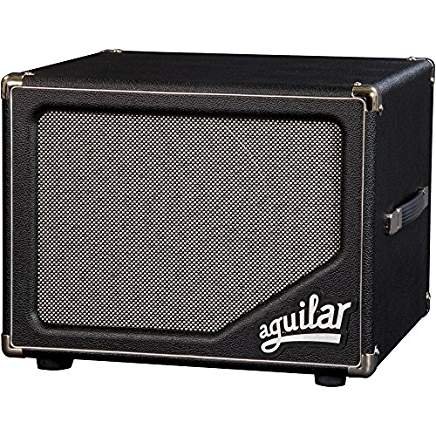 The Aguilar SL 112 is the best 1×12 cabinet if you want a top end premium unit. It is really suited for a gigging bassist as this cab produces a great well toned low end thump. Although it also has great mid range clarity and adjustable tweeters, the low end is really where it is at. Perhaps the defining feature is that this cab can be suitable for many different kinds of playing styles.
We really like the fact that you get a lot of weight saving with the Aguilar SL 112. Also, they come in at only 25 pounds without compromising tone. This means you can carry it around one handed without worry about dropping it. They say you are paying up for the loss in weight, but we think it is totally worth it.
In terms of specs, it doesn't get any better than this and you are definitely paying the premium for these numbers. You are looking at 250 watts RMS with 500 watts peak at 8 ohms. The single 12 inch cash frame woofer features a Neodymium driver with a custom crossover, to produce lush tones and great projections. Overall, this is a fabulous guitar cab to have if you have the budget to back it up.
– Very well toned low end
– Amazing sound
– Very expensive
– 250 watts RMS, 500 watts peak @ 8 ohms
Line 6 DT25 112 Extension Cabinet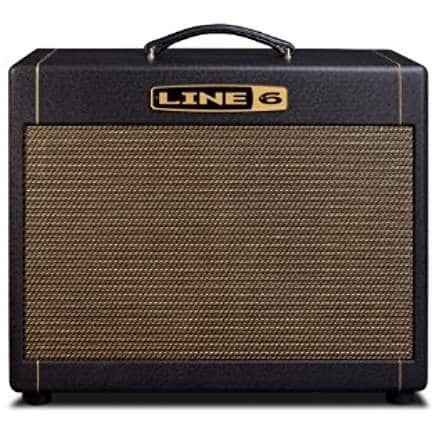 The Line 6 Extension Cab is a great guitar cab that fits perfectly with the Line DT25 tube amp. This cabinet is front ported and closed backed, which helps deliver full sound given its size. It features a 12 inch Celestion G12H-90 speaker, which delivers nice clear tones with creamy overdrives. we think for the price, it is quite good.
Overall, the Line 6 DT25 cabinet is built soI lid and durable. It has fiber batting inside and made of quality materials. Also, the Line 6 is quite flexible in that you can get two different sounds by covering the ports. Additionally, we would classify this as a mid to high tier 1×12 cab. It has a clear sound, very durable and easy to use and decently lightweight. Also, in terms of sound, we would say it is crisp and warm sounding. It features one 12 inch Celestion G12H-90 speaker that pushes 90 watts at 8 ohms. It has one 1/4 inch input and is an angled cabinet. Finally, it is a closed back cab which helps deliver tight focused sounds with plenty of punch.
– 90 watts @ 8 ohms
– Great mid to high end cab
– Front ported and closed back
– Nice clear tones
References
https://reverb.com/marketplace/amps/guitar-cabinets