Polk Audio 6.5-Inch Coax Ultra Marine Speaker
If you have a boat and want to hook up a sound system to it, you should be looking for the best marine speaker. A marine audio system is much different from a normal one in that it has to endure moisture, turbulence, salt water, sun damage, storms, and varying temperatures. Since car and home audio systems are on dry confined spaces, they do not need the extra durability that marine speakers have. Sure there is nothing stopping you from putting normal speakers on your boat.
However, if you will be leaving them there for a long time you run the risk of damaging your speakers due to the fact that your speakers are not waterproof, UV resistance, and rust proof. The best marine speaker is thoroughly tested for these qualities before being put out there on the market.  They are stress tested under harsh heat conditions, salt chambers, and even being submerged. However, you are not just buying marine speakers to be bullet proof. You want them to sound good as well. Marine speakers can vary in size, type, specifications, power, and audio quality. Most also have additional features such as a speaker dock, charge station, USB and Bluetooth. Finally, you also have to think about how much work you want to spend on installing your system. Most marine speakers will require some level of wiring and this presents some challenges. For more information,
Best Marine Speaker Reviews
Polk Audio AA2652-A MM651UM 6.5-Inch Coax Ultra Marine Speaker
If you want the best marine speaker that strikes a great balance between durability and performance, you should definitely look at Polk Audio AA2652-A. We think these speakers present the ultimate value proposition. They are completely sealed and entirely waterproof. They are decent sounding and comes at a great price. In terms of durability, these speakers have passed rigorous tests such as salt fog and UV testing. It is pretty corrosion free and the input terminals are specially built to prevent rust. This is a 6.5 inch coaxial speaker, which means the diameter of the woofer is 6.5 inches.
There is a built in grille that includes a tweeter in the middle. We like the fact that you have the tweeter and woofer on one unit, which avoids the need to install a separate tweeter to cover the highs. In terms of audio quality, it is pretty good. The mids and highs are quite crisp and very clear. The system is lacking a bit in the bass and lows, but this is understandable given the 6.5 inch woofer. If you want some serious bass to bump some beats, you will need to hook up a separate subwoofer. But for the most part, these speakers have decent power and can definitely drive a small party/ They are also great if you are just cruising around listening to music. We are fully confident they are powerful enough for most boats. And with the great durability, economical prices, and great reputable brand name, you can't go wrong with the Polk Audio AA2652-A Coaxial Speakers.
Bose 131 Flush-Mounted Marine Speakers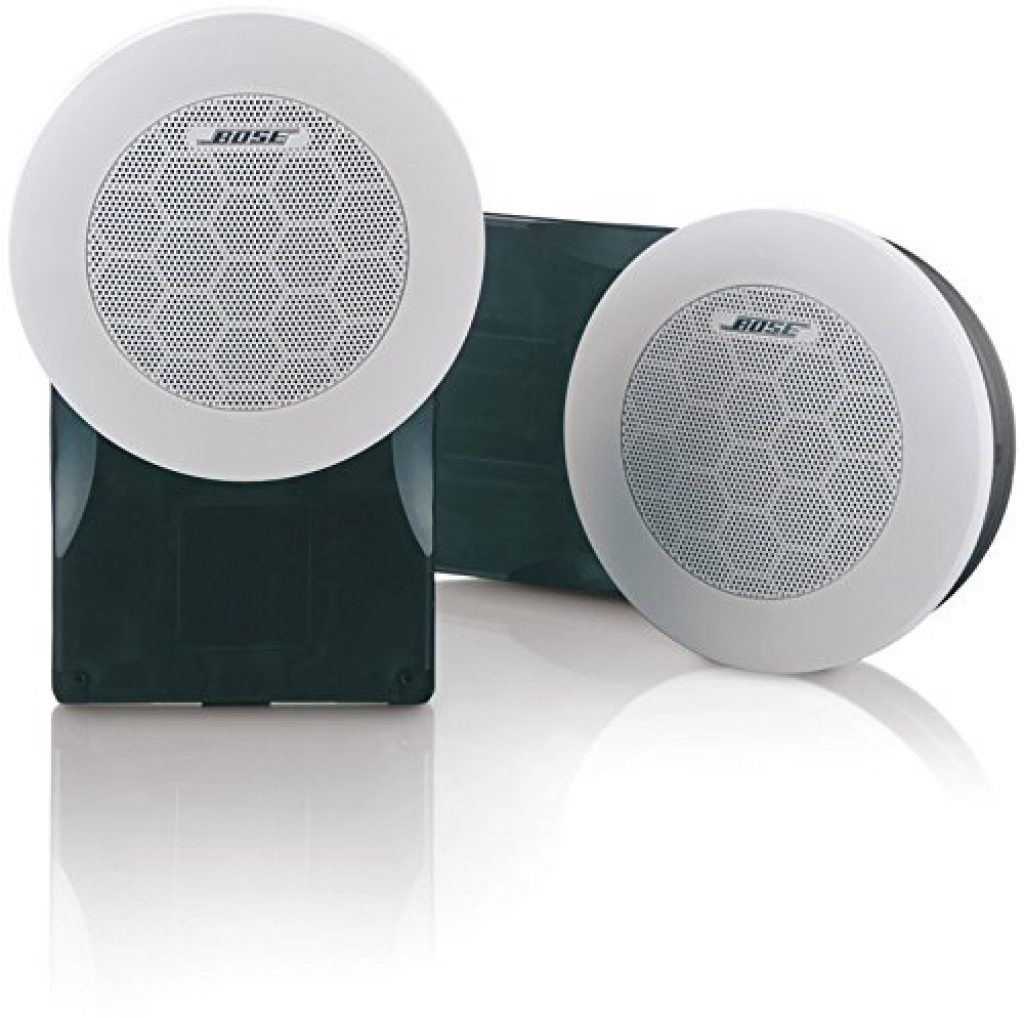 As we all know, Bose is a premium name brand in the audio world. If you want the best marine speakers and looking to spend some serious money, you should consider the Bose 131 Flush-Mounted Marine Speakers. What are so good about these marine speakers? It has amazing audio quality as well a great protection and durability from inclement weather.  The Bose  131 is packed with its proprietary full range drivers, which have some kind of helical voice coil, that makes sounds startling realistic and omnipresent. This produces a crazily realistic sound field and excellent audio clarity.
These are definitely premium speakers and with a premium sound quality. We won't even mention the specifications here because they are meaningless. Just know that they sound great and you don't have to be directly in front of the speakers to hear this. Also, you can have a normal conversation when these speakers are cranked up. And this doesn't mean they don't sound loud. They can definitely drive some serious power, but the acoustics and design of the Bose 131s allow the audio to be loud but not deafening. In terms of durability and protection, it is one of the best we have tested. The speakers are covered by silicon coating, engineered to weather all of the elements, and stressed tested to make sure that it last a long time. These speakers are also fully water proof so feel free to test it out.
Boss Audio MRWT40 Marine 4″ 2-way 400-watt Waketower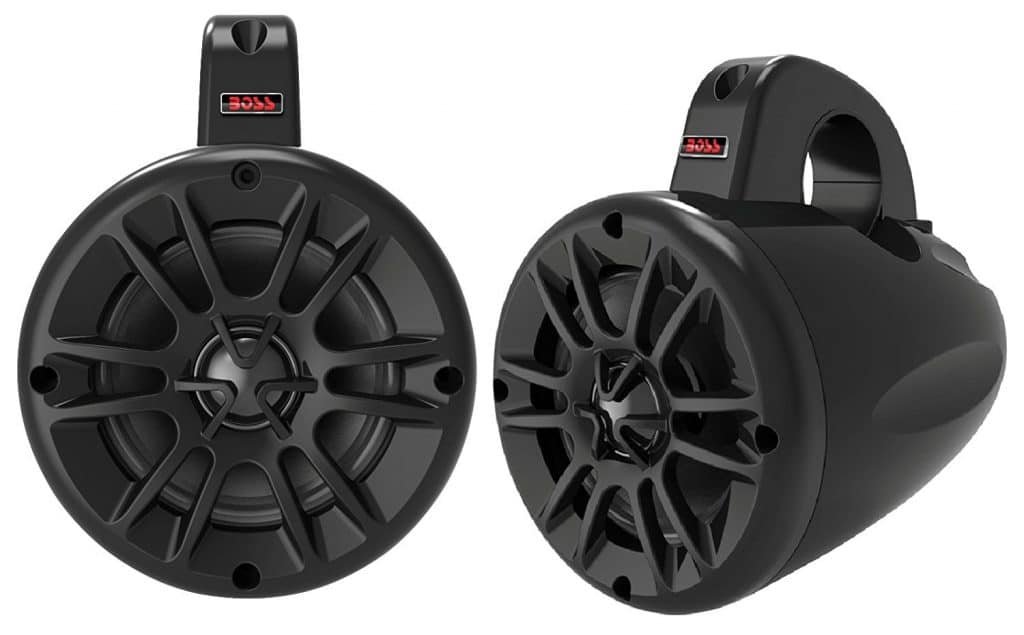 If you are on a budget, the Boss Audio MRWT40 may be the best marine speaker for you. These speakers come in a pair and has a 4 inch woofer with a small tweeter in the middle. It has 200 watts RMS power per pair, which is very reasonable power given the price. The frequency response is 130 Hz all the way to 20 kHz, so it picks up low bass all the way to the highs. The cones of the speakers are designed with polyurethane and butyl rubber, which is flexible, allows for great audio quality, and helps the speakers last through all sorts of weather conditions.
The tweeter is made of mylar which is a highly durable material and the voice coils are made from aluminum which is a great soft material that performs under stress. These are not powered speakers, so you will need a separate amp to drive them. In terms of audio quality, we think they are acceptable but definitely not anywhere near the best we have heard. The protection is pretty good though although we don't really like the fact that these speakers are only water resistant and not full waterproof. But then again, what do you really except from budget marine speakers? The point is, Boss is a reputable brand name and these speakers will get the job done if you want a decent sounding speaker but don't want to pay too much.
Best Marine Speaker Buying Guide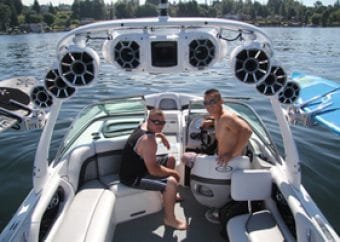 Marine and boat speakers can provide great quality audio while weathering inclement weather and conditions. They need to have some basic level of power since there will be a lot of background noise at sea from waves, especially when you are on the move. Buying marine speakers is more of a headache than buying home audio or car audio system.
You have to consider durability, audio quality, and even the placement of the speakers and acoustics. As a potential buyer of marine speakers, you need to balance the durability of the marine speakers with its power and audio quality, all while keeping within your price range. We have put together a list of things to consider when shopping for the best marine speaker.
Type: In general you have four major types of marine speakers. You have coaxial speakers, which are also known as two way or three way speakers. This is probably the most common type of marine speaker because it of its setup convenience. For coaxial speakers, all of the speakers are in one unit and there are various drivers to power each speaker. Two way speakers have a woofer with a tweeter built in the middle. Three way speakers have a subwoofer, a woofer in the middle, and a tweeter in the middle of the woofer. For coaxial speakers, all of the sound is coming from one area and it is easy to balance. Next you have component speakers, in which the tweeter, woofer, and subwoofer are completely separate units with individual drivers for each.
For example, surround sound systems are component systems. This type of setup is more complicated, but probably delivers better audio quality. You will have to install a standalone subwoofer, woofer, and tweeter in different areas of your boat. Finally, you have dual cone speakers, which are speakers in which you have one driver that pushes sound through two cones, usually with one being larger than another. The large one handles is mid to lows and the smaller cone handles the mid to highs. Dual cone speakers tend to be cheap and the do not have the same audio quality as component or coaxial because there is only one driver for two speakers.
Size: Speaker size is very important when it comes to boat speakers. If you are looking to replace the existing speakers on your boat, you know you are limited to a certain size. Cutting a new hole or extending the exist hole is much more work. You need to properly measure the exact space you have to work with to get an exact estimate of the available space for speakers. Be sure to include the depth of the hole as well. If you can't find a proper spot on your boat to keep the speakers, you can also get box speakers. These speakers come with a fixed enclosure that will protect your speakers from water, salt, UV light, and rust. They can also be transported easily and moved around the boat.
Power and Specification: Power and other specifications are important to evaluate when examining the potential audio quality of the speakers. We suggest you go to a shop and hearing them out in person before purchasing for cheap online. This is because audio specifications can only say so much about the audio quality of a marine speaker. But nevertheless, you should still have a look at the specs. In terms of power, we would focus on RMS power, which represents the average power output of the speakers over time.
The most common quoted power number is peak power, which is a theoretical number that is usually never actualized. You should also consider frequency response range, impedance, and sensitivity to get a full picture of the potential of a particular speaker. Most importantly, just remember that audio quality is not a direct function of specifications, and you can have speakers with more power and better specs deliver more clear audio.
Other Features: When looking for the best marine speaker, you should also consider bonus features or add ons. Some marine speakers come with a cool speaker dock, which you can charge and put your iphone and sync it to the speakers. Other marine speakers have an included headunit with various controls. You may want to also consider speakers with USB attachments and Bluetooth so you can directly link your audio device to it.
References
https://en.wikipedia.org/wiki/Loudspeaker
https://www.bose.com/en_us/products/speakers/stereo_speakers/131-marine-speakers.html