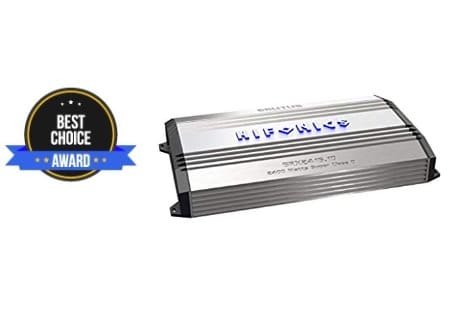 Hifonics Brutus Series
The Hifonics Brutus Series is the best hifonics amp because it is their best value amp. We think the Brutus Series strikes a nice balance between performance, durability, reliability, and price.
MORE INFO
In the world of car audio, Hifonics amps are well respected. They help bring some of the most power and best sound quality to your car, all at a reasonable price. Hifonics is known to be a very dependable brand name that makes quality amplifiers.
The purpose of the amp is to help boost the power of weak signals and then are later sent to your speakers. They are absolutely necessary for those who want to get to high quality audio in their cars. Unfortunately, car amps can get ridiculously expensive, and sometimes they are just not worth the extra premium.
This is where Hifonics comes in. They are a relatively new brand with a Greek themed logo and font. Compared to old brands like Pioneer, Kenwood, Rockford Fosgate, and JBL, Hifonics are relatively cheaper. We think Hifonics amplifiers are priced right and look pretty attractive.
Because Hifonics offers a wide selection of amps, it maybe hard to pick out the best hifonics amp for your needs. You have the high watt amps like the Mount Olympus series, which is the top shelf line of Hifonics amps. Then there are more afford hifonics amps like the Zeus. Finally, there's all sorts of models in between these extremes. As you can see, there is a Greek God theme going on here.
Best Hifonics Amp
Hifonics Brutus Series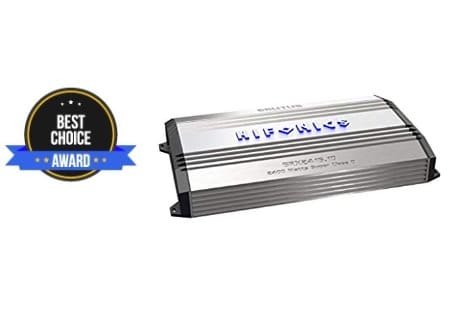 The Hifonics Brutus is the best hifonics amp if you are looking for something that is middle of the road. If we were to pick a hifonics amp based on value, this would be it. The most important aspects of the Brutus series is that is is portable, durable, and does not overheat in most cases.
Brutus or BRX amps include a long list of nice features and technology to make your sound better. This particular model is the 1500 Watt Brutus model with 1 ohm stable, mono super -D class. However, you also can custom configure your desired wattage and channels.
With the Ultra Fi Mosfet technology, you get high power with minimal distortion. There is also a low noise pre amp, so signal comes into the amp circuit with minimal distortion. Additionally, there is multi mode, which also 2 channel and bridged mono modes.
Furthermore, you have nickel plated RCA inputs, electronic crossover, and a 4 way system protection circuitry for all sorts of protection. You also get a bass remote and loads of bass controls to help you sculpt that perfect bassline.
– Portable
– Low noise pre amp
– High power with min distortion
– Includes bass remote
Hifonics Zeus Series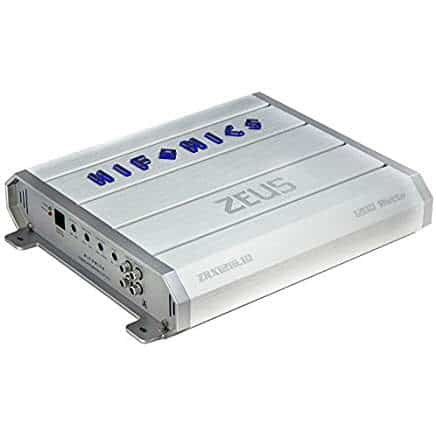 The Zeus series by Hifonics represents their most affordable line of auto amplifiers. This is the clearly best hifonics amplifier if you are on a budget. The Zeus series features a complete lineup of super class A/B multi channel amps and class D mono amps. With the Zeus series, you get fitted with some of the earliest technology and circuitry that Hifonics started with. Despite older technology, we still like the amount of power and sound the Zeus series can deliver.
Perhaps the best feature of the Zeus series is its ability to manage itself properly without breaking down. Overheating is not an issue as it features an old school Hifonics heatsink to help with heat dissipation. There are also diagnostic indicators, DC, and short circuit overload protection.
In terms of durability, it is made of military grade PCB, so it can take a beating. It also features a PWM MOSFET power supply that helps deliver max current levels. All in all, we think the Zeus series is a great reliable amp with nice sounds, power, and awesome prices.
– Entry level Hifonics amp
– No overheating issues
– Diagnostic indicators
– Military grade PCB
Hifonics Colossus Series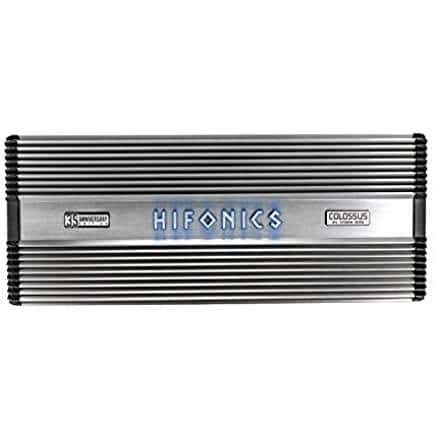 With the Colossus Series, you are stepping into premium territory. This is the best hifonics amp if you are looking for powerful, but don't want to completely splurged on their high end model. The Colossus Series is entry level for the Mt. Olympus Hifonics Amplifiers. What you get with this amp is very high power ratings across various ohms.
With the pulse width modulated MOSFET power supply, you can ensure your currents are delivered at max levels. The Colossus Series also features crazy signal directing with its accu cross crossovers and xcurve functions. The EQ on the Colossus units is pretty awesome with 0 to 10 db boosts. And of course, you have on or two channel operations modes.
The Colossus Series is also built like a tank. It has gold plated RCA level inputs and screw terminals. It is CTA-2006 rated for RMS power. Also, the heat sink technology is much better than the entry level hifonics amps and cools much more efficiently.
– Entry level premium hifonics amp
– Pulse width modulated MOSFET power supply
– Nice Equalizer
– Superior heat sink
Hifonics Hercules Series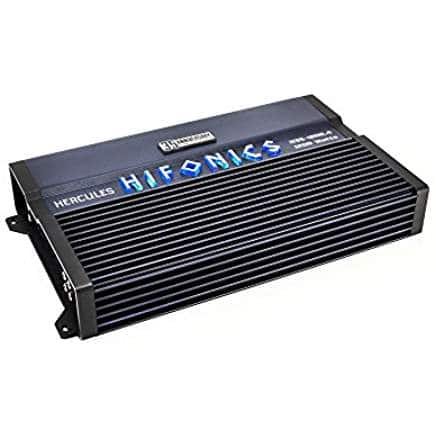 If you like the idea of the Hifonics Zeus Series, the Hercules Series could also be the best hifonics amp for your setup. The Hercules series was introduced as the 35th anniversary of Hifonics and offers an incredible entry level amp at minimum prices. Perhaps our favorite part about the Hifonics Hercules series is the excellent build quality.
If you take a look inside the unit, you can see that the electrical components are all properly secured to double sided military grade glass resin epoxy circuit boards. This also means that high voltages passes through the circuits with little data loss and distortion. Additionally, the Hercules series employs the Ultra Fi MOSFET outputs, which helps smooth out the power during peak performance.
The entire unit is also built pretty tough with and the casing pretty much indestructible. Overall, we really love this anniversary edition and the fact that it comes in black is a nice cherry on top.
– Anniversary edition
– Sturdy components and circuitry
– Ultra Fi MOSFET outputs
– Great overall build
Hifonics Goliath Series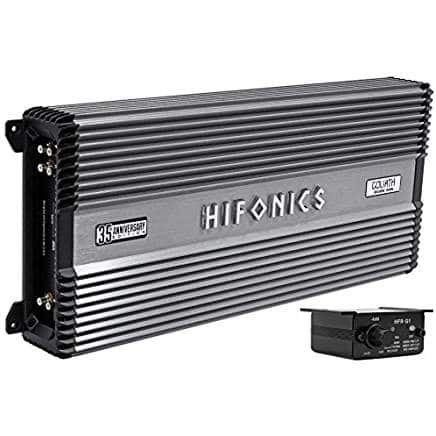 If you want the definition of a super amp, the Hifonics Goliath Series is the answer. This amp by hifonics has it all in terms of the latest technology and the best of the best quality materials. It is rated at 6000 Watt max and 3000 watt RMS, which will absolutely make any truck shake and rattle.
The standout features are probably its on board ParaQ bass EQ and its ultra D class design which uses high speed microprocessors. These processors help efficiently control current consumption, resulting in much lower distortion, less heat, and higher current efficiency. Most hifonics amps and most auto amps in general are not equipped with this kind of technology to handle heat and current as well.
The Goliath is packed with every feature Hifonics has every invented. You have accu cross, x curve for signal directing, a top notch heat sink, pre amp circuitry, tiffany style RCA connectors, and a Twin Turbo Coil Power Supply. Unfortunately, the price is a little high but compared to equally powerful amps on the market, this is a steal.
– Packed with latest technology
– On board ParaQ bass EQ
– Advanced way of dissipating heat
– Microprocessors to control current and heat
References
http://www.ecoustics.com/electronics/forum/car-audio/542894.html