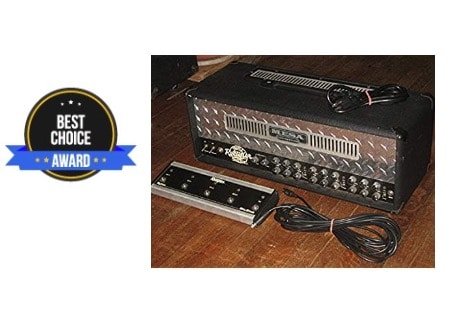 Mesa Boogie Triple Rectifier
The Mesa Boogie Triple Rectifier is the best mesa boogie amp because it has the best value. This is a 150 watt, 3 channel amp with 8 different voice modes. The great thing about this amp is that each amp is independently controlled and you can dial in unique EQ settings for each channel.
MORE INFO
Mesa Boogie is a very famous and renowned manufacturer of amplifiers, cabinets, simulations, pedals, tubes, and other audio equipment. They first got started modifying Fender Amps and gave them more input gain, which made them have this high gain distorted tone.
Mesa Boogie amps have been used by some of the biggest music stars in history and has become one of the most premier boutique names for amplifiers. Each amp is hand wired inside out in the US and handled with detailed attention. This usually ends up being a big deal for buyers, who want to know that a lot of care is put into their amps.
Finding the best mesa boogie amp maybe quite difficult because they are all pretty good. Just having any Mesa Boogie unit is good and can give you bragging right. Everyone knows that Mesa Boogie amps are extremely expensive, which kind of adds to the prestige.
Most people who buy a Mesa Boogie amp have a lot of money and want a really nice tone. If you play a Mesa Boogie amp or combo amp next to a cheap amp, there will be a noticeable different in sound quality. We would go as far as to say that Mesa Boogie Amps have the best tone out of any amp we have heard.
Mesa Boogie produces lots of equipment for various instruments and purposes. In particular, they have separate amps for guitar, acoustic, and bass. There are also stand alone amps, combo amps, and speaker cabinets. In general, the Mesa Boogie Road King is top of the line. Then you have the Mark series which is sort of a step down from the Road King. Finally, you have the Rectifier Series, which is their more affordable consumer friendly series.
Best Mesa Boogie Amp
Mesa Boogie Triple Rectifier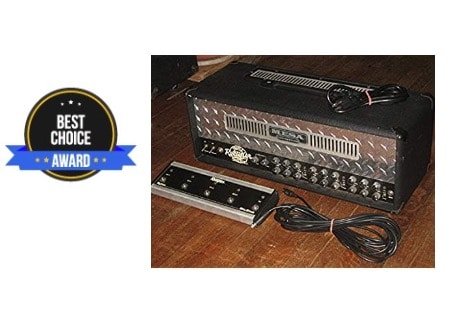 We think the Mesa Boogie Triple Rectifier is the best mesa boogie amp in terms of value. While it is not the top line Mark or Road King Series, it certainly makes a great argument in terms of value. This is a 150 Watt head amp with 3 channels with 8 modes. We really like the Multi-watt mode that lets you switch each channel form 100 watts to 50 watts. This gives you new sounds and tones you can create.
Additionally, the 8 sound modes give you access to all sorts of tones and effects. You have a clean or pushed sound in channel 1. The second and third channels have raw, vintage high gain, and a modern high gain effect. It is also very good to know that each channel has an independent gain, 3 band EQ, presence, and master tracking.
– 150 Watt amp head
– 3 Channels
– 8 sound modes
– Multi-Watt Channel
Mesa Boogie Lone Star Tube Combo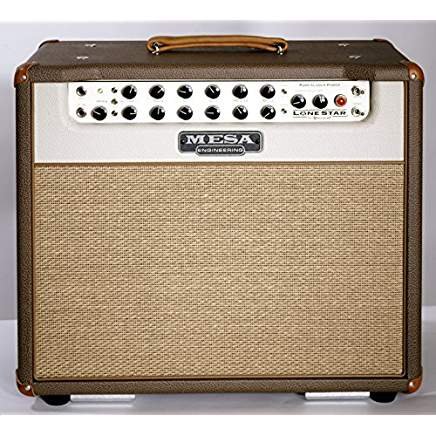 If you want the best mesa boogie combo amp, the Lonestar Special is the way to go. This is a very popular combo amp made by Mesa Boogie that can deliver up to 30 watts in 2 fully independent channels. Each of these channels run four EL84 tubes.
Perhaps the best part of the Lonestar Special is that you can assign one or all of these four tubes to create different watts to different channels. You can have 5, 15, or 30 watts in any combination. In other words, you can load one channel with 30 watts and load another channel with a lower wattage so you can overdrive it.
Also, each independent channel has a gain, EQ, presence, reverb, and master controls. We really like the all tube long spring reverb which also has a switch for bright and warm. Furthermore, there is a 2 button foot switch and slipcover. You get all of this in an all aluminum chassis, which makes it super durable in all scenarios.
– 30 amp combo amp
– 2 fully independent channels
– Each channel has independent gain and EQ
– Very durable
Mesa Boogie Single Rectifier
If you want the best mesa boogie amp and just want one of the cheaper models, the Single Rectifier is a good starting point. This 50 watt class A/B power head basically revolutionized the world of rock and roll for decades and is one of Mesa Boogie's entry level amps. It offers a truly useable power band with a a bright top end.
The Single Rectifier is based on a diode rectified two channel approach. One channel has two modes that includes a tight clean that can be changed to a vintage purr and a push mid gain clip.
The second channel is more interesting and offers three modes: raw, vintage, and modern high gain. Like all mesa boogie amps, the 2 channels in the Single Rectifier have independent gain, EQ, and master controls.
Finally, you have a 2 button footswitch with slip cover, a parallel FX Loop, and of course the great Mesa Boogie tone. Although the entry level price is still quite a lot for the average musician, we think the Single Rectifier is loaded with so many features that it is worth the price.
– 50 Watt class A/B power head
– Entry level Mesa Boogie amp
– 2 channel with 5 voices
– Cheap for a Mesa Boogie
Mesa Boogie Mark V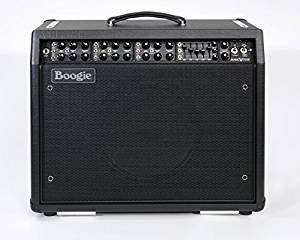 We think the Mesa Boogie Mark V is the best mesa boogie amp if you some money to spend. This amp is loaded with tons of features and circuits that it should really be viewed as an amp that contains many amps. With this amp, you get 3 channels with 3 modes each. These three channels are switchable via a footpedal and each mode is controlled by a mini toggle mode switch on the upper left of your channel.
The sound modes include clean, fat, tweed, edge, crunch, mark I, mark IIC+, Mark IV, and extreme. Furthermore, you have a separate 5 band graphic EQ for each channel! You can even toggle whether or not you want the EQ on all the time in that particular channel, off all the time, or activated by a foot switch. All in all, this is the amp of all amps. Also because it is a Mesa Boogie, it has a lot of resale value and you may even be able to sell it for more than retail.
– 3 Channel, 3 modes per channel
– 5 band EQ
– Superb Mesa Boogie tone
– Lots of resale value
Mesa Boogie Cab Clone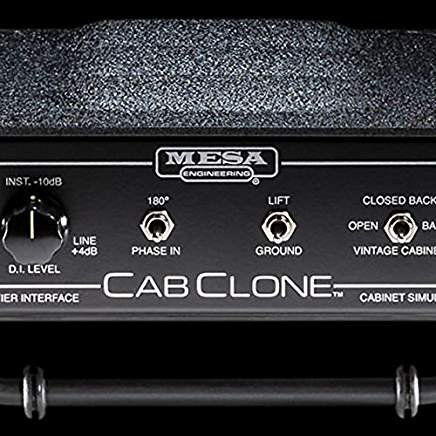 While the Mesa Boogie Cab Clone is not technically an amp, we still highly recommend it as great Mesa Boogie product. The Cab Clone is actually a pretty nice load box and compensated DI box at a very good price.
It helps you capture analog amp sounds with the need to run your amp into a PA or mixing in cabinet. In other words, you can use it with or without a speaker connected to your amp. It also allows the direct interface of your amp with a mixing console, mix preamp, or recorder.
This speaker cab simulator and load box is rated at 8 ohms and should be used for guitar amps up to 150 Watts. There are three modes you can select: closed back, open back, and vintage cabinet. The lift and ground switches and 180 degree and phase in switches are also nice features to have as well.
– Nice load box and DI
– 8 ohms rated
– Use for amps up to 150 watts
– Three simulator modes
References
https://en.wikipedia.org/wiki/Mesa_Boogie