#1.Sanus Systems Audio Rack Stand
When it comes to the best audio rack, we highly recommend that you try out the Sanus Systems Audio Rack Stand. This audio rack is perfect for storing your audio equipment up to 100 pounds on the top shelf. It has enough headroom for larger speakers as well. And lastly, the design is quite sleek and durable enough to not fade or rust over time.
Best Audio Rack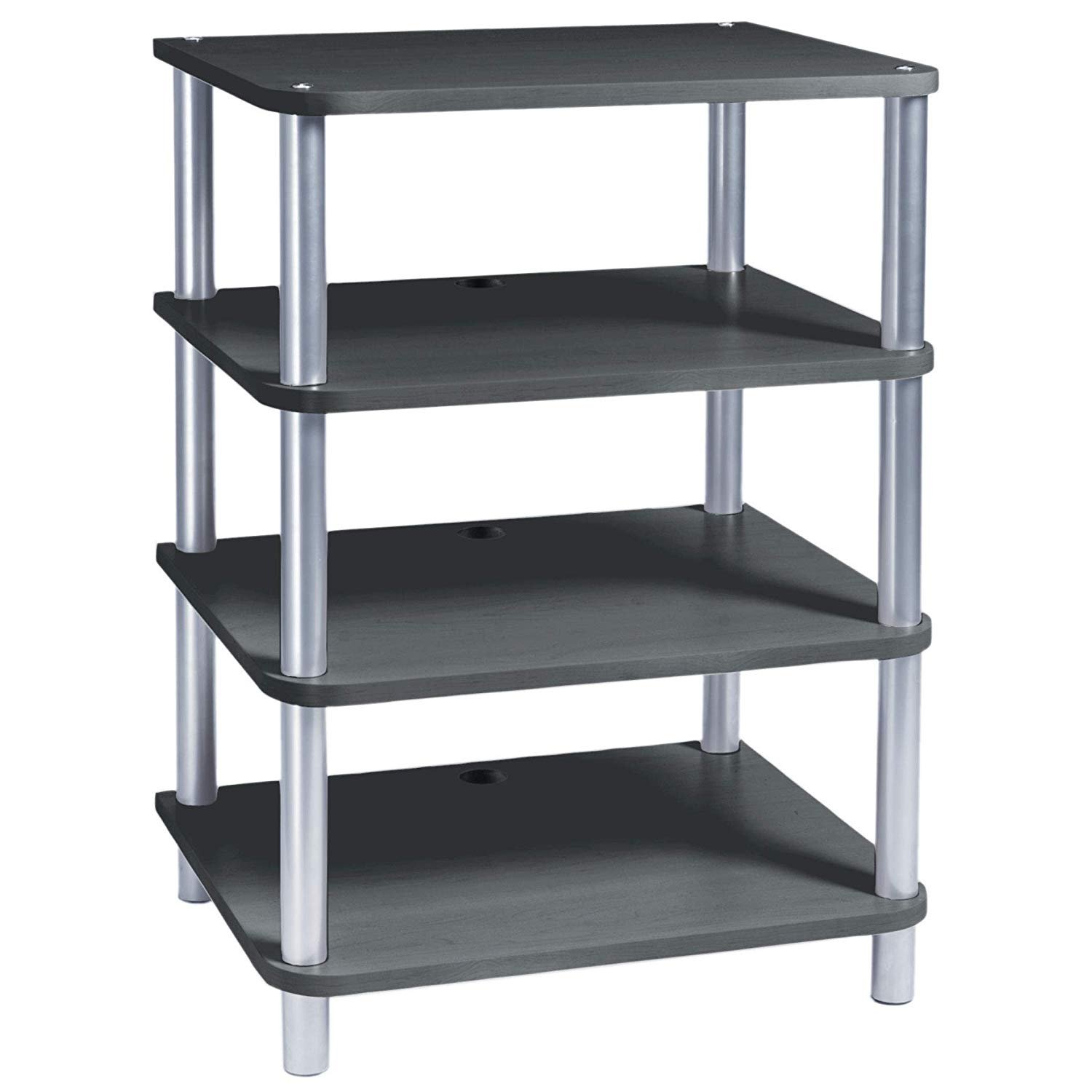 #1.Sanus Systems Audio Rack Stand
For those who are interested in the best audio rack, we think that the Sanus Systems Audio Rack Stand will do just the trick. It has a nice sleek look with smooth chrome pillars. In terms of overall support, the bottom three shelves can support up to 75 pounds and the top shelf can safely handle up to 100 pounds. This should be more than enough for any audio system that you have.
We also like the sleek black look of the shelves which definitely do a pretty good job of not fading too much over time, according to long time user reports. Also, it has a nice and open design so that airflow is maximized and your audio equipment doesn't overheat.
#2.Pangea Audio Audio Rack
Next up, we have the Pangea Audio Rack, which is the best audio rack for those who want to go for something a little more premium with plenty of support for your audio components. The standout feature is really that it looks nice and the devil is really in the details. Pictures just really don't do it justice. You have to just see and feel this audio rack in person to understand.
These audio shelves are both wide and deep, which gives you more than enough room for your audio components and speakers. The shelves actually don't support as much weight as the Sanus Systems. However, we think the trade off is that the Pangeas just looks better and has a more "baller" look and feel to it.
#3.BL Series Audio Rack
Another great option when it comes to the best audio rack is the BL Series Audio Rack. This audio rack have a premium cherry shelf finish that you obiviously have to pay a premium for. If you are looking this kind of wood finish and look, then we suppose that the premium is definitely worth it. Beauty is in the eye of the beholder so it is up to you to decide.
From a practically standpoint, we just can't really justify the premium price tag and would rather save the money to buy better audio equipment. However, we really just put this option here for those who really want that VIP look. Besides, it is also quite functional and extremely stable with lots of weight on it.
#4.Samson SRK-12 Universal Equipment Rack Stand
The Samson SRK-12 Universal Equipment Rack Stand is yet another nice audio stand that is very useful. This thing has wheels and is built extra tough. We like that you can also choose the different sizes you need. For us, we think that the 12 rack is the perfect size for most people's needs. If aethestics if your thing, this is not the right audio stand for you.
The standout feature is clearly that it can support a lot of weight and it is built pretty bulletproof. You have to assmeble the racks yourself, giving you some freedom on the spacing. Also, we just really like the heavy duty wheels as the entire unit rolls very well even with some heavy weight on it. This is the ultimate practical tool for storing and transporting your audio equipment.
#5.Nexera 101012 Jasper Audio Rack Tower
Lastly, we have the Nexera Jasper Audio Rack, which comes in a few nice colorways and has four open storage shelves. It is a great alternative to the BL Series audio rack mentioned above if you are going for that wood look but just can't really justify paying a huge premium.
While the wood finish is clearly not on the same level as that of the BL Series, for all intents and purposes the Nexera Jasper will do and most people won't mind. Also, the durability is definitely there and it goes without saying that the Nexera supports a decent amount of weight. We also really like the fact that the shelves are adjustable.
References
https://itstillworks.com/size-space-audio-racks-12195481.html