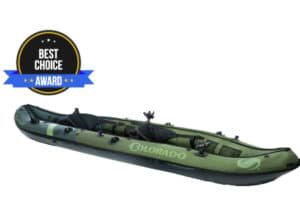 Sevylor Coleman Colorado
If you are a fan of fishing and exercising, why not have both? With the best fishing kayak, you can effortlessly treat water while hunting for your favorite fish. For those of you who are new to the sport, kayak fishing is basically fishing in a kayak. There are special kayak designed for this or you can rig your own by installing places to hold your fishing equipment. Kayak fishing has recently gained popularity over boat fishing for many reasons. First it is much cheaper than buying a boat.
While the best fishing kayak is still not cheap, it is much less of an investment than a motorized boat. Second, it is more environmentally friendly than your average gas guzzling motorboat. Third, it allows you to get to places you wouldn't be able to get to with a boat.  This is great for swamps and marshes where there is lots of junk in the water that could damage your motor.
Also, since kayaks are just much quieter than motor boats, it lets you be stealthy and creep up on fish like cobia or flounder, which can be easy spooked. You also have much better casting angles on a fishing kayak, which translates into a much higher catch rate. Finally, you get a lot more exercise with a fishing kayak, which is pretty self-explanatory. And if you ever get bored of fishing, you can always just go kayaking. The possibilities are endless.
Best Fishing Kayak Reviews
Sevylor Coleman Colorado 10-Foot Tandem Fishing Kayak (Inflatable, $$)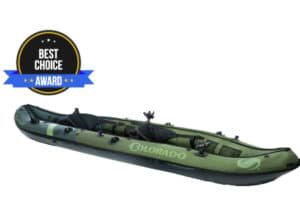 The Sevylor Coleman Colorado is the best fishing kayak if you are looking for something inflatable and extremely durable. Don't be fooled by the fact that this kayak is inflatable: it is built like a tank. It is ok to use an inflatable kayak – even the Navy Seals use inflatable crafts. This fishing kayak is made from 18 gauge PVC construction and features two comfortable seats. There is enough room for both people to fit comfortably with ample space for equipment.
It can handle about 470 pounds of weight. The seats are adjustable and definitely don't feel stiff so you can pretty much sit in them all day. There are also multiple air chamber, so if one just so happens to break, you fishing kayak won't just sink. To add to the durability, there is a 1000D tarpaulin bottom and 840D nylon cover. This makes the inflatable portion nice and thick. Basically what we are saying it is going to take a lot more than a scratch to puncture this thing. You have to want to make a dent in it to actually do it any harm.
The Sevylor Coleman Colorado comes with built in rod holders so you can row while fishing and paddle holders in case you get tired of paddling. You can even fit a trolling motor and a marine battery in this craft. In terms of storage, there are nice mesh pockets along the side to put gear. There is no wasted space: every piece of gear on the Sevylor Coleman Colorado was designed to fit its purpose. Pump and paddles are not included, but you do get a nice carrying bag and a pressure gauge. With an inflatable fishing kayak, you can easily go on fishing trips without a giant truck to tow your kayak.
Sun Dolphin Excursion 10-Foot Solo Fishing Kayak (Sit-In, $$$)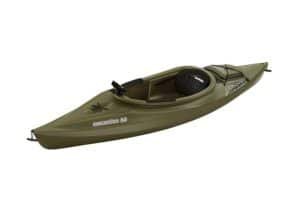 The Sun Dolphin Excursion is the best fishing kayak if you want to do some lone wolf fishing. This is a one man sit on fishing kayak, so it is designed for speed and a bit of stability, so it is fun for professionals and wells as and those who have some basic experience with paddling and balance. But let us just warn you, this kayak is not one of those speed demons. It is really designed as an entry level sit in fishing kayak.  It holds lots of gear with two flush mount rod holders and one swivel rod holder. The seat is really comfortable and has lots of padding, which is always helpful for your back.
The Sun Dolphin Excursion is made of polyurethane plastic, so pretty durable and tough, but obviously not fiberglass or Kevlar. There is large storage hatch in the back to store things like bait, food, and beverages. And since it is only 40 pounds, it is extremely lightweight and you can just throw this on your shoulders and carry it out the open waters. It makes transporting super easy as well. It has easy carry handles and you can toss it onto a rack in your truck by yourself. Overall, this is a great entry level kayak for a solo fisherman who wants the convenience of being able to transport this easily, the durability to survive out all day in the waters, and a nice balance between speed and stability.
Lifetime Sport Fisher, 10 Foot Tandem Kayak (Sit-On-Top, $$$)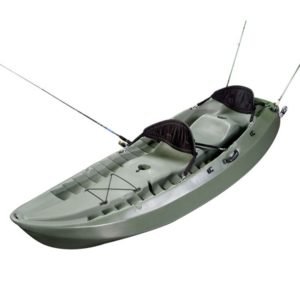 If you want the best fishing kayak for many people, we think you should consider the Lifetime 10 Foot Sport Fisher Tandem Kayak. It is so popular in the sporting industry for budget fishing kayakers that it has become iconic. This sit-on-top fishing kayak is designed to fit up to 3 people and 500 pounds. Realistically, you can only squeeze 2 people in this kayak since it only comes with 2 padded backrests. It is made of durable high density polyurethane plastic and weighs 66 pounds, a bit of a struggle to transport solo, but definitely doable.
We really like the stability of the Lifetime Sport Fisher. It is stable enough for you to even stand on it, so for those moment when you need some extra leverage to reel in a fish, this really comes in handy. This kayak comes loaded with accessories and functionality: it has three fishing rod holders, an interior storage hatch, trays for holding things, cup holders, plugs to drain the cockpit area, and a front cargo area with straps. The only thing we have to complain about the Lifetime Sport Fisher is that it doesn't have bottom cushiosn and iti s rather slow and heavy. But for the price, versatility, and features, you cannot find a better tandem fishing kayak than the Lifetime Sport Fisher.
Hobie Mirage Pro Angler, 14 Foot Solo Fishing Kayak (Sit-On-Top Foot Paddle, $$$$)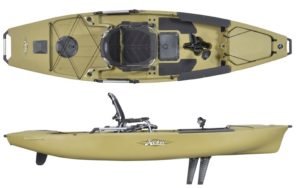 Hobie makes an incredible line of top end kayaks and we were lucky enough to test drive on of their top models: the Hobie Mirage Pro Angler 14 which is a sit-on-top kayak. This is the best fishing kayak if you are dead serious about the sport and want to paddle with your feet. Everything about this kayak wrecks seasoned veteran and professional hunter. It comes with a nice huge front cooler to store big fish, ice, beverages, food, and whatnot. It has a lot of storage for angling, including 2 vertical and 6 horizontal rod holders and a bunch of mounts for installing accessories like a fish finder.
The selling point of the Hobie is the Mirage Drive system, which lets you paddle around in the water with only your feet. This frees up your hands and gives you a much better chance of catching fish. Everything geared towards fishing is right at your fingertips. The fishing tackle is right in front of you in a compartment. There is a nice standing bar and a standing platform, which gives you extra stability when you are standing to fish. The seat is nice and comfortable, and adjustable at all angles. It feels like one of those high tech chairs found in fancy offices. The seat sits about 5 inches on top of your kayak, giving you more field of view. You can drop the seat down to the low setting if you want as well. All we have to say is that the Hobie Mirage Pro is decked out. As long as you have to funds to pay for it, we say this is the best fishing kayak if you want a pro model.
More Info on the Best Fishing Kayak
When searching for the best fishing kayak, you really have four different types to choose from: sit on top/open design or sit-in or closed design. The sit on top/open design fishing kayaks are probably the most common type because they are simply easier to get in and out of, move around in, they have easy access to lots of equipment and accessories, and are easier to bring in fish. You won't feel confined in a sit on top kayak and you'll have a great field of vision. The downside is you will probably get wet, you'll be less warm, and you maybe more nervous paddling so high up.
Sit in kayaks are great for fishermen who paddling in cooler weather and want to stay dry and warm due to the enclosed design of the cockpit. They are more suited for more experienced to professional paddlers who have more control over the kayak and its maneuverability. Since you have a lower center of gravity, you can go faster in the sit in fishing kayak, all less being equal.  The trade-off is that movement is restricted and it is rather difficult to enter and exit.
Once you have decided on a sit in or sit on top design, you then have to pick a boat length, material, and the type of fishing kayak you want. Finding the best fishing kayak is really up to your preferences here. In terms of boat length, in general the longer and more narrow kayaks will go faster, but the trade-off is that it is less stable. Shorter and wider fishing kayaks will be slower but also be a lot more stable. Many sit on top fishing kayaks are wider because they are designed for recreational purposes and need the stability.
You should also consider the material type when picking the best fishing kayak. The most common type of material is a hardshell polyurethane plastic that can come in one of multiple layers. If you want something more lightweight and more expensive, you should go for fiberglass, even Kevlar carbon, is ultimate fishing kayak material. There are also inflatable fishing kayaks, made of a rubber fabric. They are usually dirt cheap and portable enough to stuff into a backpack. However, they are generally pretty slow and risk getting punctured.
You can also have a pedal kayak. The paddle is operated by moving your feet, which frees your hands and allows you to fish and move at the same time. The trade-off is that they are usually pretty expensive and heavy, so difficult to transport.
So there you have it: all the different ways you can arrange a fishing kayak. Before diving into an expensive kayak you need to ask yourself some basic questions. Will you be using the fishing kayak for the open sea or freshwater lakes? Will you be in a warm or cold environment? How are you going to get the kayak back home? What kind of fish are your catching? The answer to these questions will help you determine the best fishing kayak for your needs. After countless hours of field research and testing, we have put together some reviews of what we think are the top fishing kayaks on the market today. Please see our recommendations below.
References: