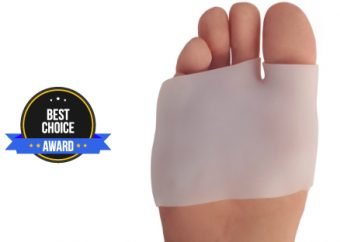 Dr. Frederick's Half Toe Sleeve Metatarsal Pads
The Dr. Frederick's Half Toe Sleeve are the best metatarsal pads for runners if you are looking for met pads with a great fit, good comfort, great pain relief, and extended durability. These met pads are great value for the dollar and fit snugly without slipping, with or without socks.
MORE INFO
If you experience general foot pain or pain on the head of your feet, it may benefit you to use the best metatarsal pads. Metatarsal pads or are also known as met pads and are simply foot pads put on the metatarsal head to relieve foot pressure. The metatarsal head is the area just below the toes of your feet and is the area that takes on the bulk of the pressure when you are standing or walking. With the best metatarsal pads, you can better distribute load on your feet by shifting the pressure from the metatarsal head to the shaft.
In other words, the met pad helps you transfer stress and unload an area of high stress on your foot. There is a common condition called Morton's Toe where the second foot bone is longer than the first, which causes changes in how you walk and some balance issues. Without the use of the best metatarsal pads, you are likely to having chronic foot pain. While met pads have been around since the early 1900s, they have only become popular recently and have been through significant improvements in design, materials, comfort, and durability.
These days, there is a wide range of met pads to choose from not all metatarsal pads are the same and not all of them work for everyone. Met pads differ from one another depending on a few factors including but not limited to pressure relief, size, scent control, ease of use, durability, and value. Be sure to read below in our buying guide section to get a better understanding of what to look out for when shopping for the best metatarsal pads for your feet.
Best Metatarsal Pads for Runners
Dr. Frederick's Original Half Toe Sleeve Metatarsal Pads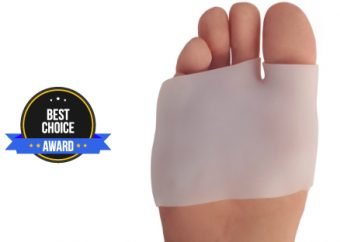 If you want the best metatarsal pads for running that come in half toe sleeves, the Dr. Frederick's Original Half Toe Sleeve Metatarsal Pads are the way to go. The first thing you will notice is that this met pad does not have a traditional fit in that it isn't a pad you just slide under your feet. Instead, you fit the entire pad into your toes, which offers a much tighter fit. This prevents the pad from sliding around, which is a common problem of normal metatarsal pads.
Some people wrongly assume that by wearing the Dr. Frederick's Half Toe will be very uncomfortable because it is squeezing their entire feet, but this is definitely not the case when we tested it out. Sure, it does feel a bit strange at first, but the material stretches out and becomes comfortable very easily. The met pad is made of TPE or thermoplastic elastomer, which is a medical grade rubber that stretches, slips on easily, and feel nice and soft.
These pads are easily washable and reusable. We recommend that you wear these pads with some snug fitting socks. And don't worry it won't be a crazy tight fit. We really like the cover area of these half toe met pads as it covers every inch of your forefoot area. Best of all, they don't slip and get out of position, since the entire unit is hooked in to your feet. While the Dr. Frederick's  Original Half Toe Sleeve Metatarsal Pads certainly don't offer a cure to your foot pains, they certainly do help alleviate some pain.
The Dr. Frederick's measures 5" x 7" x 1" and has a great gel cushion that is made of a very nice stretchy material. They weigh in at around 7 ounces, which makes it lightweight and it almost feels like it is not there. The gel also spreads out, so it can stretch to adapt to those with very wide feet. We suggest that you use socks that fit tightly around your feet along with the Dr. Frederick's so that it doesn't cause any rashes or blisters.
We ask a few industry experts and customers to gives their opinion on the Dr. Frederick's Original Half Toe. The experts all say that the this brand is very well known in the world of podiatry and highly recommended by many doctors. The company itself designed these pads to treat medical issues such as Morton's Neuroma, foot fractures, metatarsalgia, sesamoiditis, and other foot diseases. One customer said that these pads are a great fit as long as you can play around a bit with the position and sock tightness. It will take some time to get used to the fit so if they don't feel very comfortable at first don't panic.
Most people we spoke to like these pads because they are easy to fit and don't feel like they are wearing pads at all. They are reusable, which is always a plus. Some users of these pads even suggested using medical tape to help keep the pads in place, which is not a bad idea. Although the pads are held by your toes, there can be some slips if you are exercising. For runners, we suggest you add an extra layer of support and tape down the Dr. Frederick's to your feet.
DR JK- Ball of Foot Cushions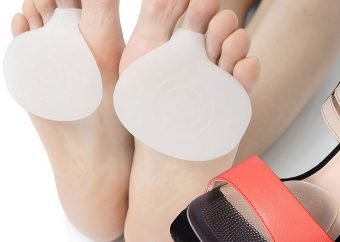 If you are looking for the best silicone metatarsal pads that are popular and offer great value, take a look at the Dr. JK – Ball of Foot Cushions. These met pads are made of medical grade gel pads that are also stretchable and very comfortable. Compared to the competition, we think the Dr JK pads offer one of the best values, as it has great performance and comfort at a very reasonable price point. These pads help alleviate the burning sensation in your metatarsal heads as well as give you all day support and comfort.
They are designed to elevate your flattened metatarsal arches, which ends up alleviating lots of foot pains. The pads are FDA approved and have more padding than most met pads on the market. They wear with a very snug fit in your sock and have enough traction to fit the shape of your feet without sliding. These gel pads are very easy to put on and get the right position and placement as there is a second toe clip loop. You won't even feel the toe clip is there after wearing it for a while.
Besides, if you still find that they don't fit or stay on properly, you can always tape them onto your feet. And as a bonus, you also get a gel ball foot pads for general purpose usage. All in all, the Dr. JK are light, durable, stretchy, and very efficient at eliminating foot pain. They are definitely worth every dollar and don't attract too much odor.
When we spoke to users of the Dr. JK Foot Cushions, the number one complaint was that they did not feel comfortable at first. Most people reported feeling funny walking with pads on their feet all day. However, most customers did say that this awkward feeling died off after a few days. Many users of Dr JK have also tried Dr. Fredrick's Met Pads. The users who prefer Dr JK over Dr. Fredrick's all said that they felt the fit was a bit better although the two are very similar. When we ask expert and podiatrists, they all said the two brands are essentially the same and it just comes down to preference. We will let you be the judge of this one.
HappyFeet Ball of Foot Cushions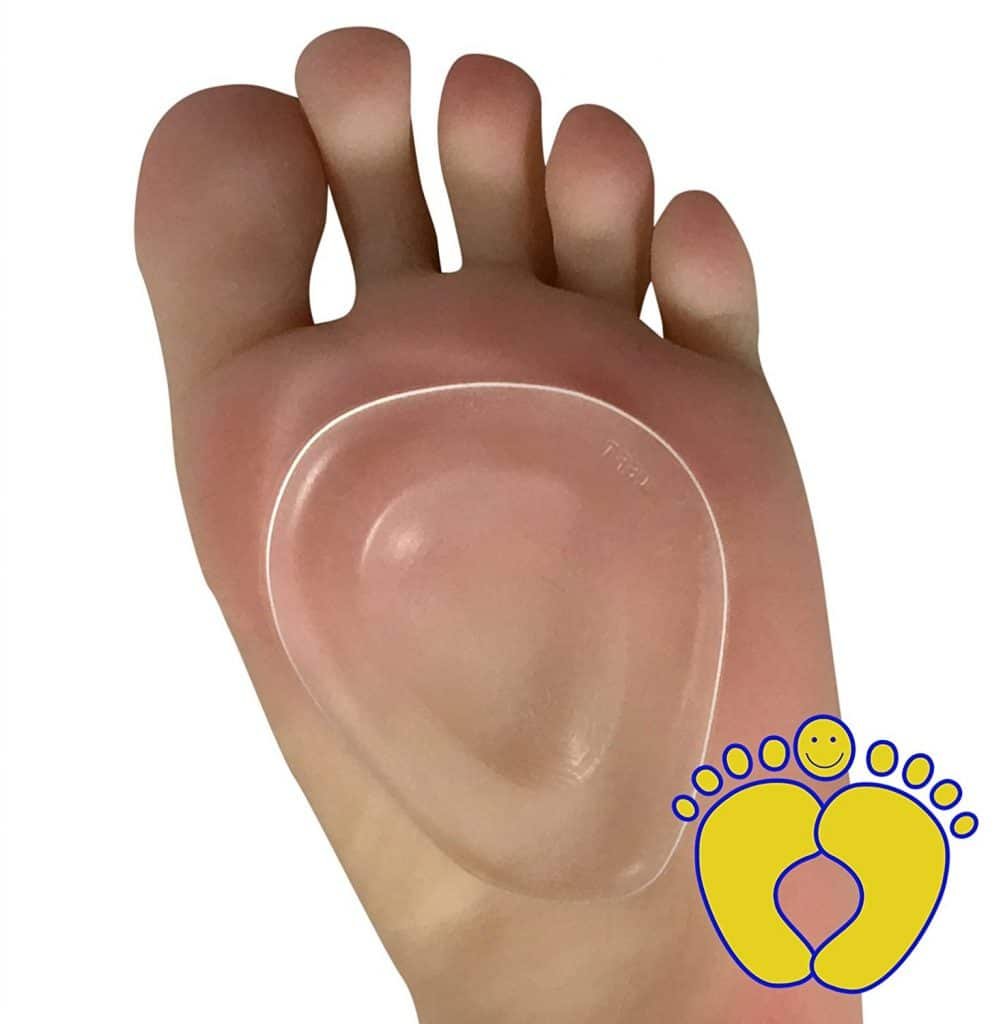 If you want the best metatarsal pads with the ultimate comfort, you should get the HappyFeet Ball of Foot Cushions. What we like about these met pads are that they are very versatile. The cushions are self- sticking via suction. This makes placement very easy. Also, you don't have to worry about pulling or stickiness. They are quite comfortable too. The soft gel cushions are made extra thick. Additionally, the shape of the unit doesn't involve latching onto something.
There is no toe strap or click on and nothing to wear over your feet. While this does increase the likelihood of slipping and the met pad moving out of position, it add a lots to comfort. So with most met pads, there is a trade-off. Those who want a pad that they can just stick on easily without having to lock it in place need to trade out these met pads. Additionally, the HappyFeet met pads are very durable, last a long time, and the cushions are washable.
These metatarsal pads also are odorless and don't attract any bacteria and dirt. Don't worry, they won't start smelling like your feet over time. Also Happy Feet gives you a 100% satisfaction guarantee. If you don't feel like they are right for you, you can always return them for a refund. We really like the fact that they are self-sticking. You don't need to use glue, adhesives, or worry about them sliding around. The self-sticking mechanism works over and over again because of suction and doesn't need to be replaced like glue. Our only complaint is that they are a bit thin. So those who want a thicker pad may have to look somewhere else.
We spoke to numerous "happy" Happy Feet users, as well as some not as happy ones. The common consensus between the happy users is that the Happy Feet offers great comfort and is even less noticeable on your feet than other pads that wrap around your feet. The common complaint is that they sometimes fall off and don't stick that well when you are running around. Even though they stick onto your feet quite easily, they also come off quite easily. We did not seem to have this issue when we tested them so maybe your experience will be a bit different.
When we asked podiatrists and industry experts about the Happy Feet, unfortunately most have not heard of this brand. They do like the idea of a self-sticking met pad and think that it should work to treat all kinds of feel ailments from blisters to callous pain to neuromas. One podiatrist even tried on the Happy Feet and reported that he really like it and would be recommending them to his clients in the future.
Overall, these met pads are a nice and convenient way to add a lot of comfort in your feet and prevent chronic foot pain. They are washable and compatible with all types of shoes. Also, the Happy Feet metatarsal pads don't really break down and can pretty much last you a lifetime. We do not hesitate to recommend this product.
Dr. Jill Felt Metatarsal Pads
We think the Jill felt Metatarsal Pads present a very good balance of effectiveness, price, usability, and ease of application. These metatarsal pads are 2.25" x 2.75" and come in at around 1.6 ounces and 1.4 inches of thickness. So compared to metatarsal pads from competitors, these are quite lightweight.  One of the main reasons we think Dr. Jill Felt are the best metatarsal pads is that we really like the durability. When we feel these pads, you can tell that they are not made of anything cheap. They can stretch and bend with ease and you can never really just tear them by stretching them too much.
Dr. Jill Felt has a very wide base so it helps alleviate a lot of the pressure around the balls of your feet. There is a self-adhesive that prevents these met pads from sliding around, which is always a plus. Another big reason we like these met pads is that they come in a 20 pack. If you want very durable support for your feet at a very low cost per pad, these are the ones for you.
If you want to make the pads fit better on your feet, you can always give these pads a little trim. You can also stick them underneath your insoles or in your socks if you want a different fit. These pads are highly effective in relieving foot pain and are quite thick and comfortable. One issue you may have with the Dr. Jill Felt pads is that the surface doesn't tend to get a little sticky after a few uses and washing off the sticky surface can be a bit of an issue. But then again, you do get twenty of these pads in one pack, so you should have more than enough to just toss one out if you feel it is past its shelf life.
When we interviewed some long term users of the Dr. Jill Metatarsal Pads, the community was quite divided. Some users swear by them, while others can tolerate them but are not too enthusiast. The most common praise is that they feel nice to the touch and come in a 20 pack, so basically disposable. Many users said that these are the best metatarsal pads for them because they are so cheap. They also said that they did not want to deal with cleaning met pads and would rather just throw them away and replace them with fresh new ones. If you are one of those people who are lazy to clean out a met pad, perhaps the Dr. Jill's are the right ones for you.
The users who were rather neutral about these met pads claimed that the pads were a bit too sticky and some of that can really rub off on socks and shoes. These same users say it is a bit annoying to have to clean their feet out in the shower with a brush to get rid of the residue afterwards. When then ask them if they had tried any other met pad and a majority of these users said that Dr. Jill was the first and last for them. This means that Dr. Jill Metatarsal Pads must be good enough in everything else to justify customers overlooking the stickiness issue.
The NatraCure Gel Metatarsal Sleeve
We really like the Natra Cure Gel Metatarsal Sleeve and think they are one of the best metatarsal pads for metatarsalgia in the industry. One of the main reasons why we like them so much is because they don't really slip at all due to the fact that you wrap the pads around your feet like a sleeve. The material is very soft and stretchy and hooks into your big toe. This also prevents the need for any kind of adhesive for making sure the pads stay in the right position.
We also like how the Natra Cure is well cushioned. They can be reused multiple times and machine washable. We highly recommend them as your go to met pads for long walks and runs. The soft gel in these pads really helps absorb shock from long runs and stress on your feet. Don't worry, the fabric that encloses the pads is very comfort and you barely really notice them. They can really fit feet of all sizes and even works for those with abnormally shaped toes.
Our only complaint is with the NatraCure is that they tend to get a bit bulky if you want to wear them with socks. You almost have to get shoes half a size bigger if you really want a comfortable breathable fit. However, we think that these pads cover enough area to be sock replacements. As long as you are ok with the fact that you could be sacrificing some breathing room, you should definitely get the Natra Cure Metatarsal Sleeves. They will for sure never slip out of position and after wearing them for a while, you will barely notice them on your feet.
We asked many customers who have used the NatraCure Gel their opinion on whether or not they liked the product. We sent them all detailed surveys and paid them for honest responses, so at least there is a good deal of truth to the results. The majority of users liked the NatraCure because it was the most tight fitting met pad on the market. They did say that it took longer than normal to get used to using such tight pads, but once the trial period was over, these met pads are amazing. They provide the best fit and prevents slipping, which is a very common issue when you are moving around and running.
However, it is not just all good reviews on the survey. Many users definitely complained about how hard it was to get these pads fitted and they require a break in period for them to comfort to the shape of your feet. Also, even though they are washable, they still collect dirt and dust quite easily. After a wash and dry cycle, they tend to shrink so you have to stretch them out again. This usually takes a few hours to get to back to their normal fit. We suppose that these issues are rather tolerable or else the users with these complaints would not be using them. When we asked the users to compare the NatraCure to the other pads we have reviewed, the most common comment was that NatraCure has the best fit and slip resistance, if you are willing to sacrifice a bit of comfort and bulkiness.
Best Metatarsal Pads Buying Guide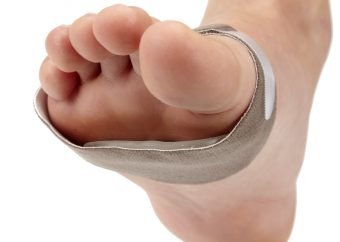 Metatarsal pads are great for relieving foot pain and prevent common foot problems such as calluses, bunions, and blisters. They help spread the transverse arch and prevent your toes from overextending. You can either place the pads by yourself or it can be done by your podiatrist. Placing a met pad onto your foot should be a seamless process, as long as you follow instructions.
It is important that you place the pads behind the connection point between your feet and toes. You don't want to place the pads too far forward under your toes. If you do, they will feel very uncomfortable and could exacerbate your foot problems. The first thing you should do is to take out your insole. This allows you to get a better view of met pad placement. Then you should place your entire feet on the insole. Use your fingers to find the point at which your last toe joint connects to your foot. This is your metatarsal head and you should mark the joint line with a pencil.
Then you should place the met pads just underneath this area and then slide the insoles back into the shoe. If you are successful at doing this, your toes should fall downward. The met pad should also draw your toes downward when you walk. This may feel a bit awkward or weird at first. However, it shouldn't take too long for you to get used to walking elevated. Before you begin to apply met pads, you should be acquainted with the features that separate one pad from another. Please see below for a thorough analysis.
Pressure Relief: The most important feature of a metatarsal pad is its comfort level. Ideally, you want a pad that gives you great comfort as well as good pressure relief. Often times, these two are correlated, but they don't necessarily coexists all the time. For example, you can have a met pad that is very comfortable, but still gives you foot pain. Or you can have a pad that is not very comfortable, but relieves your foot pain. In a perfect world, you should have both. The type of material used in these metatarsal pads has a lot to do with comfort and pressure relief. Met pads usually come in gel form although some are foam or memory foam. Try to find a material that is soft but not too soft, as you do need the support as well.
Size and Fit: Metatarsal pads will all come in different sizes and shapes. The key thing to make sure of here is to make sure the pad covers your entire forefoot. There are some pads and gels that even hook onto your toe to ensure a good fit. Without a proper fit, you will definitely feel uncomfortable walking around over time. If you have an extra wide foot, be sure to find pads that are extra long. You should also examine the product dimensions before buying them.
Scent control: Ideally, you want a met pad that does not absorb too much odor and dirt. The pads should have a neutral smell and should stay that way over time. Most of the time, you will be wearing socks over your met pads anyways. They shouldn't really pick up too much odor and bacteria. Also, you should look for met pads that are machine washable. It is nice and convenient to just throw them in the dishwasher or laundry machine.
Ease of Use:  Look for me pads that are easy to put on and take off. The best metatarsal pads should have some method of easy placement. They should hold in place without sliding too much. Remember, sliding creates friction which eventually causes foot blisters.
Durability: This should go without saying, but look for met pads that don't just break down after a few wears. Look for ones that will last for at least a year.
References
http://www.theinsolestore.com/blog/1-mistake-with-metatarsal-pad-placement/
https://www.correcttoes.com/foot-help/tips-and-how-tos/met-pad-placement/