KLD Pan Amps PB-1 100 Watt Attenuator
The KLD Pan Amps PB-1 is the best amp attenuator for those looking for a sturdy studio quality power attenuator that is also rather affordable. This 100 watt guitar attenuator is one of the better entry level pro level units you can get for your money.
MORE INFO
An amp attenuator or power attenuator is probably something most guitarists have heard of. However, most probably are not sure what it is exactly, how it works, and why you exactly need it. We think it is a very useful tool in your setup. Guitar attenuators essentially act as a master volume control in your amp. They are attached after your amp in the signal pathway and act to divert or dissipate some of your amps excess power, while still preserving tone. This is especially important when used in conjunction with distortion and overdrive pedals.
There are two main reasons why you would want to use a power attenuator. The first reason is to just be able to turn down your amp without having to adjust it at the amp level. If you are playing in your room or on stage and the sound person says it is too loud, you can simple dial in the right settings into you amp attenuator and the volume is lowered.
The other reason is to be able to preserve your tone while lowering the volume. This is probably the more important reason as many of the distortion and overdrive effects sound the best when the amp power is near max. However, the resulting volume maybe too loud for many people, so the amp attenuator serves to reduce the volume delivered to the speakers without altering the tone. Many people equate power attenuators to power soakers.
Finding the best amp attenuator is not the easiest as there are hundreds on the market with different wattage and ohm ratings at different price points. The most important thing to look for is a model that can handle the power of your amp, so be sure to at least match watt ratings. Also, you should be matching impedance as well. Keep in mind that there are power attenuators with multiple impedance ratings.
You should also be aware that attenuators do have a bad reputation of blowing up amps if not used properly. To avoid this, we recommend you by premium durable attenuators from reputable sources. Additionally, many guitar attenuators these days have extra features on them that make them more than just volume reducers. Many power attenuators can also be used as a dummy speaker load, so you can run your amp without a speaker cabinet. They can also be used to set up a wet/dry rig if your attenuator as a line out.
Best Amp Attenuator
KLD PAN AMPS PB-1 100 Watt Attenuator
The KLD Pan Amps PB-1 Attenuator is the best amp attenuator for those who want a sturdy and rather affordable premium power attenuator. We think the PB-1 is one of the better entry level professional studio quality attenuators you can buy for your money. Of course there are cheaper ones out there, but many of them are cheap knock offs, fakes, or just can't handle enough wattage.
With the PB-1, you can keep your amp's tube tone while keeping overall volume checked. This means you get to crank up your tubes while playing at lower volumes. Additionally, We like how this power attenuator gives you a lot of control at various volumes. It also includes a aluminum alloy case, which actually helps the PB-1 dissipate heat as well as protect its circuitry.
This guitar attenuator is designed to handle tube amps up to 100 watts, so we wouldn't recommend hooking it up to something more powerful. In terms of controls, there is the attenuation rotary switch which adjusts the level of attenuation. The minimum position offers a true bypass. Then theres the level knob, which well adjust your amp's output.
– Studio quality attenuator
– Aluminum alloy case
– Handles tube amps up to 100 watts
– Great value
Jet City Amplification Jettenuator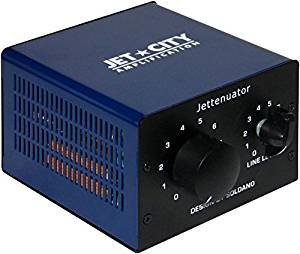 If you want a small and rather portable power attenuator, the Jet City Jettenuator is the best guitar attenuator for you. The stand out features are that it is small enough to carry around easily and it features multiple ohms, which is a huge plus. Expanding on this, the amp inputs are 4, 8, and 16 ohms making it more versatile than most attenuators on the market.
The Jettenuator features a continuous attenuation control knob and a line level output with its own level control. Perhaps one of the best features of this attenuator is the MicSim output, which is hard to find on other attenuators. Furthermore, the Jettenuator is fairly transparent and is quite pleasing to the ear when dialed in at the right settings.
Unfortunately, there are also some pitfalls with the Jettenuator. For one there is no bypass switch, which is a little annoying. Also, we found that the attenuation tends to be move in quantum leaps and doesn't quite smoothly transition. When you have a big amp, then no problem but with smaller amps, the unit takes off too much volume.
– Amp input multiple ohms
– Lin level output with control knob
– MicSim Output
– No bypass switch
THD Electronics HP8 Hot Plate Power Attenuator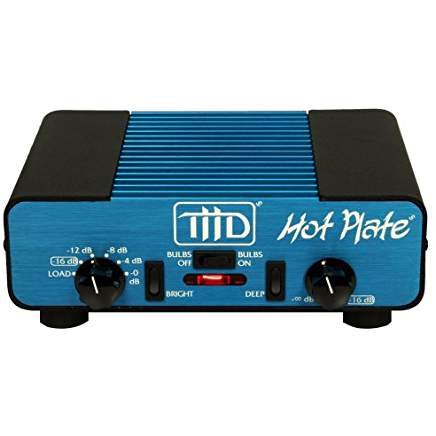 The THD Electronics HP8 Hot Plate is the best power attenuator if you want a unit that is frequency compensated. We believe the Hot Plate HP8 is one of the few attenuators out there that does this. It works by using a tuned network of complicated circuitry that will automatically adjust the overall EQ of your sound as the volume is lowered to fit the perceived frequency response of the human ear. The idea behind this advanced technology is that the ear will be more sensitive to certain frequency ranges depending on the volume level.
Besides the patented THD Hot Plate technology, this power attenuator is loaded with more useful features. The best of these is the built in noise reduction to reduce the hiss and hum between notes. Also, the HP8 offers a bright and deep switch to help further shape your tone and compensate for overly bright or dull cabinets. Finally, there is a line out that has its own volume control.
The Hot Plate HP8 is offered in five colors: gold, green, red, purple, and blue. Be very sure to select the right color as they all have different impedance levels. The gold is at 2 ohms, the green at 2.7 ohms, the red at 4 ohms, the purple at 8 ohms, and the blue is at 16 ohms. It goes without saying that the impedance should be the same on your amp, power attenuator and speaker cabinet.
– Compensates for overall EQ automatically
– Unique Hot Plate technology
– Bright and deep switches
– Line out and 5 different colors
Rivera RockCrusher Power Attenuator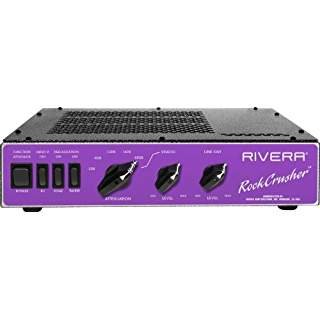 If you have deep pockets, then you should definitely open them up for the Rivera RockCrusher. It is the best amp attenuator for those who want a studio quality device with a high watt capacity load box, cabinet emulator, and a 11 band EQ all in one. While it does seem outrageously pricy at first, if you actually break down the individual components, you will quickly realize that it is not so bad after all.
We like the fact that this amp attenuator is so versatile and can be used in any setting. You can use it in your home, at practice, in a studio, or to rock a club for both recording and performance. Place it between your amp and cabinet and it becomes a power attenuator. You can also use it instead of your speak cabinet as a load box.
Furthermore, you can fine tune your tone by adjusting the 11 band EQ controls that covers the entire frequency spectrum. This also makes it the ultimate speaker emulator. Finally, it has a world class construction with a 16 gauge welded steel chassis and industrial rugged edges. In other words, we wouldn't be worried about breaking this unit.
– Premium amp attenuator
– 11 band EQ
– Load box and cabinet emulator
– Durable construction
Weber Speakers Amp Attenuator Mass III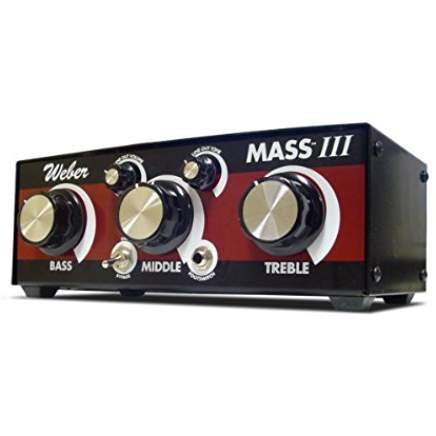 The Weber Speakers Mass III is a powerful attenuator that also gives you flexible controls over your tone. At full attenuation it can handle up to 100 watt amps and with slight attenuation up to 150w amps. Additionally, it can handle multiple ohms such as 4, 8, and 16 ohms.
The best part about the Mass III is that it has three knobs for tonal control. The main volume is actually controlled by the bass knob, while the middle knob and treble knob control mids and treble respectively. Please note that there is an actual tone stack for the speak signal which starts at the bass knob and ends with the treble knob.
Furthermore, the Mass III has an active bypass circuit that can be activated by a foot switch which is always handy. Finally, the Mass III can be used as a dummy load by turning the attenuator to zero, pulling the speakers, and just using the line out.
– Handles up to 100 Watt amps
– Can fit multiple ohm amps
– Incredible tonal control
– Active bypass circuit
References
https://en.wikipedia.org/wiki/Power_attenuator_(guitar)
https://www.allaboutcircuits.com/textbook/semiconductors/chpt-1/attenuators/