Boss GEB-7 Bass EQ
The Boss GEB-7 is the best bass eq pedal for those who want a great balance between performance and affordability. This pedal has a 7-band EQ designed specifically for bass frequencies. It also has a super durable body and foot switch.
MORE INFO
Why do you need the Best Bass EQ Pedal?
While the EQ or equalizer pedal isn't really an effect pedal, it is certainly an important one to change the overall shape of your sound. In this particular article, we will focus on bass EQ pedals. The primary difference between bass EQ and guitar EQ pedals is the frequency range that is swept. Guitar EQ pedals are considered more normal and have multiple band adjusters across a wider range of frequencies. These equalizer pedals will have higher frequency bands mixed in with lower frequency bands.
On the other hand, a bass EQ pedal is specifically designed for bass frequencies. So naturally, it will have bands in the form of knobs or sliders that are in the bass range. All this means is that a bass EQ pedal will be more detailed and give you more options to find. tune your sound. Of course, you can plug in a bass guitar to a regular EQ pedal, but you may not have the ability to fine-tune the lower frequencies. This problem is solved with a dedicated bass EQ pedal.
Finding the best bass EQ pedal is quite difficult as there are many options for you out there. First, you need to consider whether you want a stand-alone pedal or one that is part of another pedal. There are many distortion or preamp pedals with EQ settings already on there. However, many of these pedals have limited bands and don't go beyond three bands. If you need more fine-tuning, you definitely need a stand-alone bass EQ pedal.
Obviously, the most important thing to look out for in any bass EQ pedal is its tweakability or the number of bands on the unit. If you have more bands, this means there are more ways the bass frequencies are sliced up, which gives you more control over which frequency bands you want to boost or cut.
Next, you need to look for ease of use. Please keep in mind that there are two types of ways you can tweak each frequency band. The traditional way is with sliders but there are also knob-based EQ pedals. More importantly, you should look into how sensitive these knobs or sliders are as they can really impact how detailed you are and make cuts and boosts.
Best Bass EQ Pedal
1. Boss GEB-7 Bass EQ
For those who want a very durable pedal with all of the reliability of one of the biggest name brands in the music industry, do with the Boss GEB-7. This is the best bass EQ pedal if you like precise tonal control over 7 different bands.
The selling point of the pedal is that it gives you excellent build quality and reliability at a very reasonable price. The Boss GEB-7 is made of an aluminum die-cast body, a super durable pedal switch, and internal circuitry that can withstand being dropped. Additionally, the Boss GEB-7 eliminates most of the clicking noise associated with mechanical switches. No corners were cut to save costs here and produce a flimsy device.
In terms of controls, this pedal gives you 7 bands ranging from 50 Hz to 10kHz and is specifically designed to respond well to bass frequencies. The bands are controlled by sliders which are easy to use and have just the right amount of sensitivity. Each band allows you to cut or boost the specified frequency range by 15 dB. There is also a master-level slider to control output volume.
Some other nice features are the LED indicator, nonslip rubber base, and of course, the great custom sounds you can create by playing with the different band levels. At the current retail price and the given build quality, this is a steal.
– Great durable build
– 7 band EQ
– Very sturdy footswitch
– Value
2. Behringer Bass Equalizer Pedal
For those on an extreme budget, the Behringer Bass Graphic offers one of the most compelling solutions for a bass eq pedal. This is clearly the best bass equalizer pedal to get if you want something that is cheap and presentable. Although it certainly does not have the build quality of a Boss or MXR pedal, it has been designed to mimic these brands at a lower cost.
If you don't mind sacrificing a bit of durability, you should be fine with the Behringer Bass EQ pedal. Sure the sliders don't feel as nice as a Boss pedal and can be a bit sticky, but overall, it gets the job done.
In terms of controls, you get a 7-band EQ with the Behringer Bass Graphic Equalizer BEQ700. Like the Boss GEB-7, these frequencies also range from 50 Hz to 10 kHz with a 15 dB boost and cut per band.
The biggest difference between the Behringer and a more premium pedal is in the sub-bass frequencies. We find the Behringer tends to cut and boost with more sensitivity than other premium pedals and we can't really find a way to fine-tune this. In other words, changing the slider just a little will cut or boost out a lot of any particular frequency. There is no middle ground, which is a bit disappointing. If you are ok with this sensitivity, you should get the BEQ700 based on the cheap price.
– Very affordable
– 7 band EQ
– Sliders and build quality not too durable
– Very sensitive sliders
3. Tomsline AEB-3 Bass EQ
If you are looking for a budget-friendly analog EQ pedal, the Tomsline AEB-3 Bass EQ is the best bass eq pedal for you. We particularly like this analog model because it is not too noisy. Unfortunately, the switch does make a bit of a pop, but at the low price point, we can look past this issue. However, you can easily use it to reduce high-end noise and to reduce gain.
The Tomsline AEB-3 is a 5-band EQ that is specifically designed for the bass. These 5 bands are at 64.5 Hertz, 12.5 Hertz, 500 Hertz, 1 kilohertz, and 4 kilohertz. Additionally, the slider controls can help you cut and boost 18 decibels. Finally, there is a true bypass.
All in all, the Tomsline AEB-3 is a pretty solid all-around bass eq pedal. It can also create a mild tube-driven sound. We think the sliders and casing are pretty solid and protect the circuitry inside. Let's just say don't be afraid of dropping it a few times.
– Not too noisy
– Mild tube-driven sound
– Cheap EQ pedal
– 5-band EQ
4. Whirlwind FXEQ10BP Bass Ten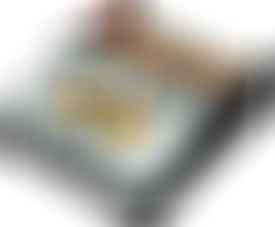 If you don't really have a budget and just want to get the most premium bass equalizer pedal on the market, the Whirlwind Bass Ten is your answer. This is the best bass eq pedal with a 10-band eq that lets you sculpt your bass sound anywhere in the frequency spectrum. The standout feature is just the amount of detailing put into this pedal. It goes as low as 20 Hertz, which is pretty much as low as you can cut or boost on any pedal. And we like how the highest band is only 3kHz, which is enough for bass players.
We really like how each band's frequency width is the same regardless of how much you cut or boost. The sliders are incredibly durable and very easy to use. They have just enough friction to make micro-adjustments to your cut or boost but are not overly sensitive.
If you like great build quality, you'll definitely like the Whirlwind Bass Ten. It is designed by Tony Gambacurta who is sort of a big deal in the EQ world. Overall, if you like great transparent sonics and a great quality pedal with excellent accuracy, the Whirlwind Bass Ten is the way to go. Unfortunately, you have to pay up.
– Premium eq pedal
– Bands from 20 hz to 3khz
– Great accuracy and clarity
– Very expensive
5. Rowin Bass EQ Pedal
The Rowin Bass EQ is a great little unit that is cheap and reliable. It is similar to the Behringer BEQ700 in that it is a knockoff of more premium eq pedals like the Boss GEB-7. This is a 5-band slider eq designed for the bass guitar. It has frequency bands centered around 62.5 Hertz to 4 kilohertz. There is also a control knob with a led indicator that lets you know whether or not it is working.
In terms of durability, we can't complain. It is not the most durable but it is still made of a nice aluminum alloy body with a durable foot switch. But at such a low entry price, you can't really expect more out of this pedal.
In terms of other specifications, you have an input impedance of 470k ohms and an output impedance of 100 ohms. Unfortunately, the power adapter is not included.
– 5-band EQ
– Specifically designed for bass
– LED indicator
– Very cheap
References
https://www.howtogeek.com/59467/htg-explains-what-is-an-equalizer-and-how-does-it-work/