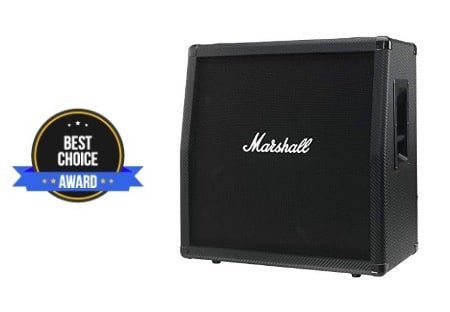 Marshall MG412ACF 4×12 Angled Guitar Cabinet
The Marshall MG412ACF is the best 4×12 guitar cabinet if you want a brand name cab. Marshall is a very well known player in the audio world and make very nice guitar cabs. The Marshall MG Series is one of their low budget high performance products.
MORE INFO
Back in the glory days, all you needed was the best 2 x 12 guitar cabinet and a 100 watt guitar amp, and you can rock any venue. The 2×12 cab is both iconic and powerful. It delivers one of the highest sound pressure of any cabs out there and will get your music delivered. However, the drawback is that it is definitely heavy and not portable at all.
For those of you who don't know, a guitar cabinet is basically wooden housing that contains guitar loudspeakers, amplifiers, and drivers. The guitar speakers can range from 6.5 inches in diameter up to 12 or more inches. A 4 x 12 guitar cabinet means a housing that contains four 12 inch speakers. Many cabinets contain built in amplifiers, but this is not always the case.
If you want light and portability, the 4×12 cab is clearly not the right fit for you. You won't be able to pack it in a suitcase and take it with you on the road easily. You'll need a 1×12 or 2×12 cab for that. But if you have decided that the 4×12 guitar cab is the right size for you, you will need to do a lot more research.
First and foremost, you need to examine the 4×12 cab quality and in particular its construction. This is very important in determining audio quality and acoustics. The rule of thumb is that the more expensive 4×12 cabs will be made of better materials and have better acoustics, with a more rich fuller sound. However, the trade off is that better materials are usually heavier. But, this also means the guitar cabinet will be less prone to sliding around when in action.
Next, you should focus on relevant statistics such as wattage and impedance. While in general higher wattage for the speakers means more power and volume, you should pay more attention to RMS power. Most wattage numbers given will be peak power, which is never really realized. Finally, you should learn more about the average output of the speakers, which is what RMS or Root Mean Square Power tells you. Impedance is also an important metric to pay attention to because you must match the impedance of the speak cabinet to amplifier or you will run into problems.
Best 4×12 Guitar Cabinet
Marshall MG412ACF 4×12 Angled Guitar Cabinet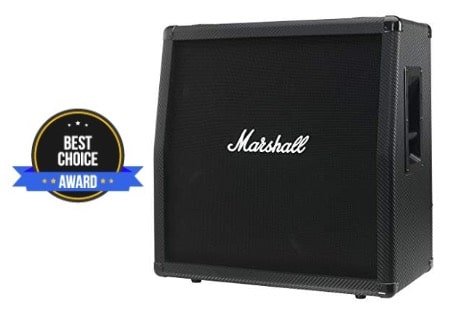 Marshall is a very well known player in the loudspeaker industry, and the MG Series is one of their most popular line ups. This 4 x 12" angled cab comes with custom Celestion G12-412MG speakers. It is the best 4×12 guitar cabinet if you want affordability, reliability, and decent sound. Of course the audiophiles are going to complain about it, but the average person won't be able to tell the difference. And for the price range, you can't really beat its quality.
Perhaps the best feature of this guitar cabinet is that it is suitable for beginners and pros. Additionally, we really like the cool and sleek carbon fiber look, which adds a nice finishing touch to the speakers. These speakers are pretty lightweight for being 4×12 cabs and sound alright for the most part. Also, they are great for getting on and off the stage fast and for practice.
In terms of specs, you have 4 speakers delivering 40 watts each so 120 W total. The Marshall MG 412ACF has an 8 Ohm impedance. Finally, it has a weight of 24 kg, which is pretty light. All in all, you can't go wrong with these speakers for the price.
-Very affordable
-Lightweight
-Suitable for beginners and pros
-120 W total @ 8 ohm impedance
Randall RX412 4×12 Cabinet
If you want huge sounds but can't afford to pay for a high end guitar cabinet, the Randall RX412 is a great middle ground. This is the best 4×12 cab if you are looking for a good deal. The Randall RX412 comes with 200 watts of power output, which gives you a rough idea of what you are dealing with. Also, it features four 12 inch Randall Jaguar speakers, which pack in lots of tight lows and tingling highs.
There is a 8 ohm mono input with quality plywood construction. You also get a black cloth grill to protect the speakers and to enhance audio quality. We ask a few users of this particular 4×12 cab what they liked and most said it delivers great sound at reasonable prices.
Of course you will always have your guitar snobs out there who will trash this guitar cabinet, saying that the jaguar speakers are terrible. Ok, we will admit they are not the absolute best, but you end up having to pay 10x more for a 30% increase in audio quality. Therefore, you do the math and ask yourself if this is worth it to you or not.
-Great mid level 4×12 cab
-8 ohm mono input
-200 watts of power
-Four 12 inch Randall Jaguar Speakers
Blackstar ID412A Angled Cab, 4 x 12"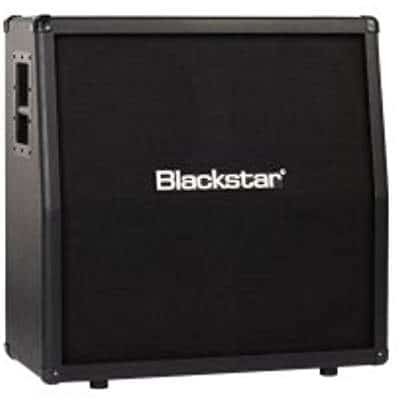 Blackstar is another very popular audio brand who makes excellent guitar cabinets. Their 4×12" guitar cabinet speakers produces a huge sound and comes in both angled and straight form. These are the best 4×12 cabinet speakers if you are going for power. They are loaded with four Celestion drivers and four 12 inch Celestion speakers. This all delivers a whopping 320 watts of power, which should make any venue rattle.
This is an awesome cab at 4 ohms. The sound is just amazing and sounds big, full, and crisp. There are not a lot of people who have reviewed this particular cab, so we urge you to take a chance on them. If anything, you can always return them. Furthermore, the Blackstar ID Series of Cabs works great with their ID series amps.
The cool thing about the Blackstar 412A is that it operates in conventional 4×12 mode or stereo 2 x 12 mode. This means you can hook up a pair of amps to it and run it in split stereo mode. This essentially means you get two separate 2×12 guitar cabs bundled together, which allows you to create cool tones and stereo effects.
We also like how it is very durable with a built in interlocking comb style joint and thick gauge wire. Overall, it is a great 4×12 guitar cab with clear mids, pounding lows, and crisp highs.
-320 watts of power
-4 ohm mono or stereo
-You can run split stereo mode (2x2x12)
-Very durable
Peavey 6505 4×12 Slant Cabinet
If you are looking for a solid 4×12 cab with stellar performance, you should take a look at the Peavey 6505. The first thing that stands out with this 4×12 cabinet is that it s quite heavy. It weighs in at nearly 90 pounds, making it a big to carry as one person. Perhaps the stand out feature is its high density plywood construction. Aldo, it definitely doesn't feel cheap and we think it sounds quite nice. The midrange is where the Peavey 6505 really shines while other cabs can get muddy pretty quickly. The low end is loud and punchy and the highs are nice and crisp.
In terms of specs, you are looking at 300W RMS power loaded with 4 12 inch Sheffield 1200 speakers. There is a 8 ohm input and it is an angled closed back guitar cabinet. So all pretty standard features for a cab. The one thing that has us a bit worried is the price. It is not exactly a cheap cab not is it an outrageously priced one. However, the price is definitely on the higher end of thing. But we feel that the slightly above market price really the only thing holding it back from mainstream success.
-300 Watts
-8 ohm input
-Great mids
-90 pounds and heavy
Schecter Hellraiser Stage 4×12 Straight Cab
The Schecter Stage series is really designed for the serious audiophiles and picky musicians. This 4×12 straight cab is not exactly the best looking guitar cabinet out there. However, in terms of sound, we would put it very high on our list. It features 4 twelve inch Celestion Vintage 30s speakers and premium matched tubes. Additionally, it has tremendous sound quality and is able to deliver clear crisp sound. The construction is also extremely solid and makes the entire unit extremely durable.
In terms of specifications, you are looking at 240 Watts and 16 ohms input. It is made of all plywood construction and a 12mm baffle board. Also, the Schecter Hellraiser Stage HR412-STE also has removable caster, metal pocket handles, and metal corner, all contributing to its rock solid durable and acoustics. Don't judge a book by its covers. Even though the Schecter Stage series may not look like it is worth much, you actually end up paying a huge premium for it.
-240 Watts
-16 ohm input (8 ohms per side)
-Celestion Vintage 40s speakers
-Superior sound quality
References
https://en.wikipedia.org/wiki/Guitar_speaker
https://www.premierguitar.com/articles/25482-speaker-geeks-wiring-up-a-4×12-cab