Tech 21 SansAmp GT2 Emulator Pedal
The Tech 21 SansAmp GT2 is the best amp simulator pedal for those who want one of the most popular amp in a boxes out there. This analog pedal has it all: multiple voices, 2 band EQ, and virtual mic placement.
MORE INFO
An amp simulator pedal or amp in a box style overdrive pedal is a bit of a tricky concept in the music world. While they are certainly a part of some people's pedalboards, other people feel like they are completely useless and most probably haven't even heard of the concept.
Let's just say this is definitely a niche market and those who really like amp simulator pedals will vouch for them regardless of other's opinions. At the end of the day, if you use a amp simulator pedal or an amp in a box, you are definitely making the sound person's job much easier.
And it almost always comes down to a cost issue. The cost of buying a real amp is always more than an amp in a box. Additionally, the amp simulator pedal can give you more options for sounds, as you can easily switch between two amp settings with a footswitch rather than reset your amp every time between songs.
Rather than going from your guitar, through your pedals and directly into the sound board, you should use an amp or amp simulator pedal and then mixing it into the soundboard. It will In other words, the amp is is the other half of your guitar. Instead of buying an amp and mixing the signal into your soundboard, you can also go around this through an effect pedal.
The amp in a box or amp simulator amp can simulate the amp, cabinet, and other pedals in one unit. It will make your life easier and you don't have to deal with problems that arise from mixing through a standalone amp, such as logistical setup issues, matching voltages, and costs.
Overall, we think the best amp simulator pedal should do a great job in replicating the sounds and tone created by a standalone guitar amplifier. However, a pedal won't be able to emulate an amp's headroom. What a amp in a box is great at is simulating the sound of an amp cranked up beyond breaking point at low volume.
There are numerous numbers of amp in a box pedals out there for you to choose from that picking out one is quite hard. It really depends on whether you want your amp in a box to act like a cranked amp on your clean amp. Some already have an amp and just want a second channel to mimix an overdriven amp sound.
Best Amp Simulator Pedal
Tech 21 SansAmp GT2 Emulator Pedal
The Tech 21 SansAmp GT2 is the best amp simulator pedal if you are looking for one of the most popular devices on the market. Although it has been on the market for a while, it still remains the go to amp in a box for many guitar and bass players. With the SansAmp GT2 and a proper DI box, you will never have to carry around your amp with you on your gigs anymore.
The SansAmp GT2 is loaded with features and controls that can amp your tone to your liking. There is a 3 mode voice switching, lots of gain controls, and a 2 band EQ. We like how you get to switch between 3 tube amp styles: a high gain tone, a classic British drive, and an american tweed sound. Next you get to pick your gain control, from either stock clean tube config, to a gain boost, or a hot wired amp mod. Finally, you pick your virtual mic placement, so here you have off axis, center, and classic options.
With this level of tone control, you won't need another amp emulator to properly carve out your tone. The SansAmp GT2 is a true range amp simulator, unlike most of the cheap amp in the box pedals out there that limit your frequency range. And last but not least, you get an all analog amp simulator with an all metal construction. What more do we have to say?
– Most popular amp simulator
– 3 mode voice switching
– 2 Band EQ
– Analog
Joyo JF-16 British Sound Effect Amp Simulator
For those who want the best amp simulator pedal but are on a strict budget, you should consider the Joyo JF-16 British Sound Effect Amp Simulator. This particular all analog pedal is part of the Joyo JF series that includes other amp simulator effects with different voicing effects such as the California distortion sound. Also, the Joyo pedal has a great reputation, but in the end it is a bit of a Tech 21 SansAmp knock off.
The best feature of the Joyo JF-16 is its built in cabinet emulation. This makes this pedal a DI pedal as well. You can connect it directly into a mixing deck, soundbox, or into your computer. So instead of having an amp and have it potentially failing on you, you can just throw this at the end of all of your pedals and have it like a clean amp.
In terms of controls, you have a three band eq control as well as a level, voice, and drive knob for shaping your overdrive sound. We recommend you keep the gain and voice knobs around 9 o clock range and further shape your tone with the EQ knobs.
– Very cheap
– California distortion voice
– Built in cabinet emulation
– Emulates a DI box
NUX AS-4 Amplifier Simulator
If you want the best amp in a box pedal that is quite affordable yet still is able to deliver fat and warm sounds of real amps, then the NUX AS-4 is the way to go. This amp simulator is quite simple in design and just has 4 controls. You can find the tone you want with the 2 band EQ knobs, and then set your level and distortion with the gain knob.
We believe that the NUX AS-4 does a pretty good job in simulating the characteristics of distortion and the cabinet sound of a real amp. Of course, it is not as powerful, but for the most part it gets the hob done without having to carry around a giant amp with you. Additionally, we like the fact that you get an extra amount of gain boost of the higher frequencies, which results in greater distortions.
Finally, you get a true bypass, which also minimizes tonal losses. In terms of durability, we can't complain as it seems to have a pretty solid aluminum alloy housing which hols up alright to drops. As a cherry on top, you get a LED indicator to show that its on and the battery level.
– Simple design
– Very affordable
– Gain and level knobs
– Pretty solid build quality
Radial JDX Amp Simulator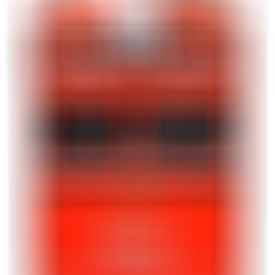 The Radial JDX is the best amp simulator pedal while also doubling as a direct box. We like the fact that the Radial JDX Direct Drive helps create a more realistic sound by simulating the real tone and feel of a real amp. This sets it apart from average DI units that simply just transfer sound from your pedals to the PA. This setup allows you to do your gig without having to carry around an amp.
However, you can still use it with your amp. The Radial JDX comes loaded with controls and voicing. In terms of tone voicing, you can set the switch from JDX 4×12, stack, or combo. We really like Radial's popular JDX tone shaping, which is modeled after the sound of a Shure SM57 in front of a Marsahl 4×12, thus the JDX 4×12 option.
The other two voices add a vintage Marshall tube head tone and a Fender Twin tone. You can further shape your tone by switching the presence switch from normal to bright for that extra bit of high end presence. Finally, the DI box is geared up with some nice controls. The is a 180 degree polarity switch to help you phase align monitors. You can also flip the ground lift switch to eliminate humming.
– Direct box and amp simulator pedal in one
– 3 different voices
– 2 presence controls
– Eliminates humming and buzz
Nady TA-40 Tube Amp Simulator
The Nady TA-40 is a rich 100% analog amp simulator pedal that offers a rich warm overdrive sound. We think this pedal does a great job emulating a tube amp distortion and creates all sorts of tones. You can go from crisp and clear to a ultra fuzzy distortion.
The Nady TA-40 is nice and easy to use. It has three easy to use control: level, tone and class A/B. The class a/b controls the amount of odd harmonics to input and together witg the tone create your desired distortion. Use the level knob to really drive the amp pedal.
We think that for the price, this tube amp simulator is pretty good. Also it has a pretty rugged casing and helps secure the circuitry inside. Furthermore, it is incredibly portable and can even run on a single 9 volt battery.
– 100% analog
– Rich warm overdrive sound
– Tube amp simulator
– Portable
References
https://en.wikipedia.org/wiki/Amplifier_modeling