Cougar Motor 9007 LED Bulb
The Cougar Motor 9007 LED Bulb is the best 9007 bulb if you want something affordable and high performing. The pair of LEDs delivers up to 7200 lumens @ 6000K color. The result is a cool and crips bright white light that is long lasting and void of dark spots.
MORE INFO
If you are in the market for some new headlights for your car, you may have come across 9007 bulbs. There are are type of dual beam bulb, which means they have the high and low beam integrated on one unit. This means there is only one headlight bulb per headlight.
Finding the best 9007 bulb for your car is not as easy as it seems. There are quite a lot of options out there, so you should first be aware of the terminology. 9007 bulbs refers to to type of connection and wiring which is slightly different from 9005. Keep in mind that a 9004 is very closely related to a 9007 bulb. Getting the wrong type for your car, means it won't fully hook up properly or you will need adaptors.
9007 bulbs come in three different types: halogen, HID, and LED. Halogens are the cheapest but have the shortest lifespans and are quite fragile. HIDs are extremely bright but may cause glare to some drivers. Some of them are also not street legal. Finally, there is LED, which is bright and energy efficient with long lifespans. However, they are quite expensive and require some setup before using.
A few other things you should note are the brightness and color. Brightness is measured in Lumens with a normal LED coming in at 3000 lms or more. You should pay attention to the amount of lumens the bulb uses for actual light as some will be loss in energy production.
Color is measured in Kelvins or K and usually ranges from 2000K all the way up to 7000K. In the 2000K range, you will get a more yellowish warm white color whereas in the 7000K range it will be more bright, cool, and white.
The most important thing to do is to make sure the 9007 bulb fits your car. You need to find the right bulb model number by either referring to your vehicle owner's manual, the model number on the previous bulb, or go online.
[embedyt] https://www.youtube.com/watch?v=Skpc7XKfL4Q[/embedyt]
Best 9007 Bulb Reviews
Cougar Motor 9007 LED Bulb
The Cougar Motor 9007 is the best 9007 bulb for those who want a well priced LED. When compared to most stock halogen headlights, the Cougar Motor 9007 LED blows them out of the water in terms of performance. It is stronger, brighter, and more durable than most standard bulbs.
In terms of specs, these 9007 bulbs have very high lumen at 7200 LM per pair. This makes it more than double the brightness of a normal stock headlight. Additionally, it has a cool white color at 6000K and delivers a crisp strong light at night. These bulbs have high power as well at 60W per pair. Furthermore, they are equipped with the latest tech to make sure the beam pattern is spot on and void of dark spots.
If you want to talk about durability, the Cougar Motor 9007 LED bulb blows its competition out of the waters. It has a high speed heat dissipation system that keeps the entire system cool at all times. Additionally, the entire unit is in a rainproof housing along with the driver and fan. The 10,000 RPM TurboCool fan help keeps this LED lasting more than 50,000 hours, even in extreme situations.
Sylvania 9007 SilverStar zXe Halogen Bulb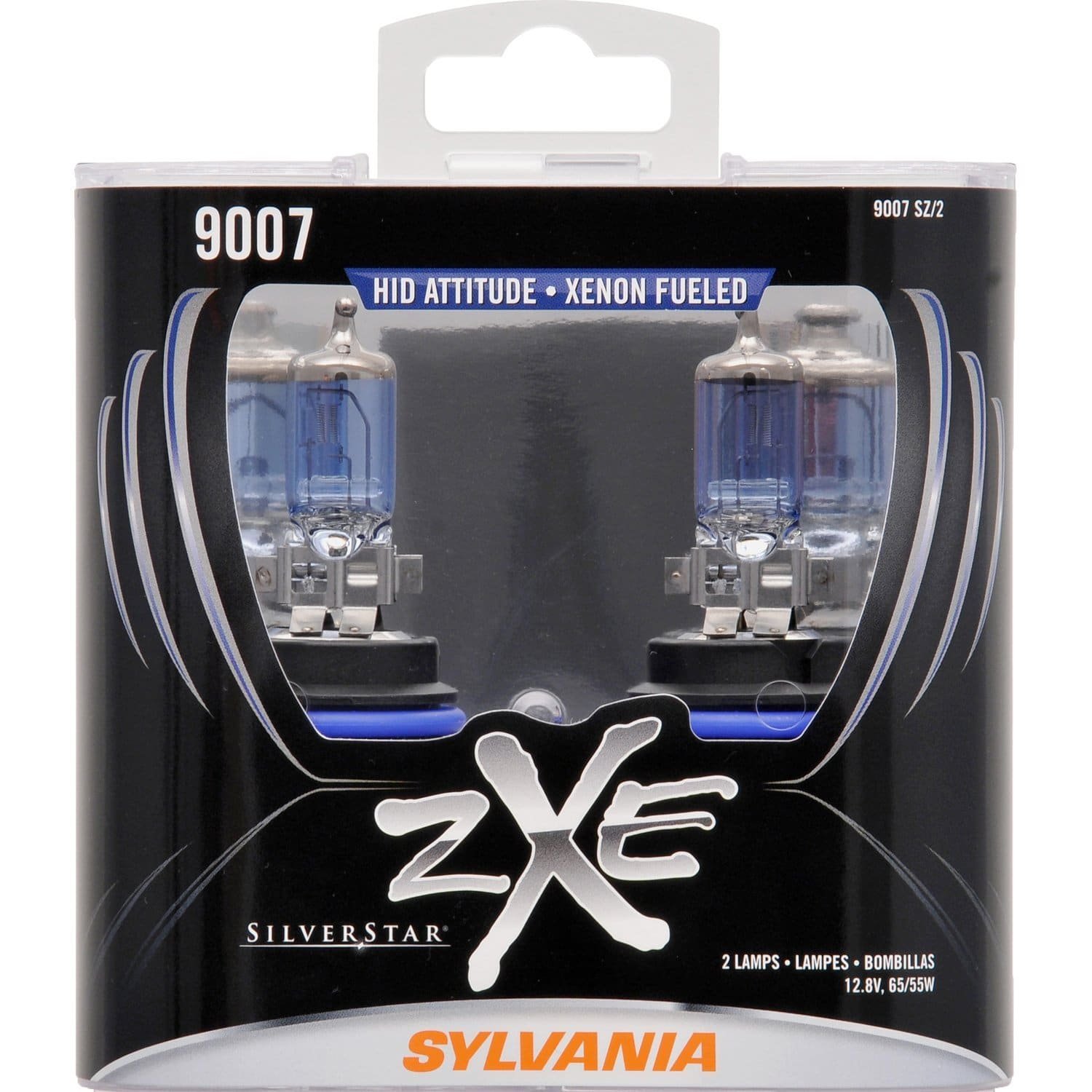 It should be no surprise that Sylvania makes our list. They are one of the top manufacturers of halogen bulbs for headlights. Sylvania is a dominate player in the cheap and affordable headlight industry. The Sylvania SilverStar zXe is the best 9007 bulb we have seen if you want halogen.
What we like best about the SilverStar is that it has more color, more clarity, and more downroad light than most of the halogens we have tested. 9007 Halogen bulbs are known to be yellowish in tint, not that bright, and no clarity, especially during the night. However, with the Sylvania SilverStar, you get a more crisp white colored light that rivals LEDs and HIDs. You also have a special cobalt blue coating that gives it some style during the day.
The most common review of the Sylvania 9007 SilverStar is that it is great bang for the buck. These 9007 bulbs offer wonderful performance at a pretty low cost. They are clearly better than whatever stock 9007 bulbs you have and relatively cheap.
Innovited 9007 HID Bulbs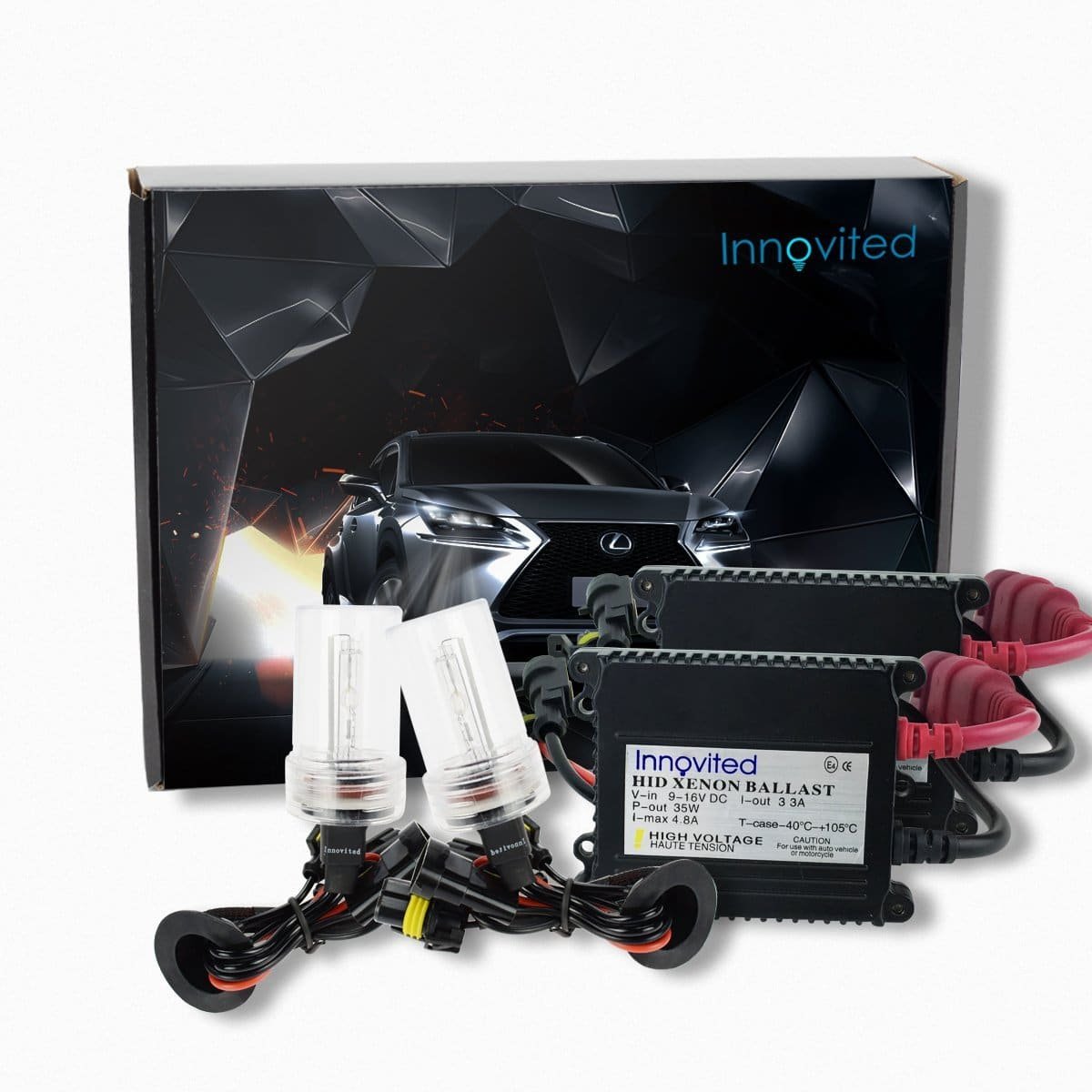 If you want the best 9007 bulb that is HID, you should take a serious look at Innovited HID. What we like about this 9004/9007 HID kit is that it installs incredibly easy and is mostly plug and play. This means that for most vehicles you don't need to tamper too much with wiring or resistors. The Innovited HID Kit includes two 25W HID bulbs and two 35W Ballasts with mounting brackets.
Most users like the fact that there is a wide range of colors to select from from yellow @ 300K, to pure white, all the way up to deep blue at 30,000K. Regardless of the color, this 9007 HID kit shines a very focused, clear, and deep light. It doesn't have any dark spots of fuzzy distortions. The light is quite strong even at long distances, so you can see very far at night.
In terms of the ballast, we like that it is an universal fit and will go into any car or motorbike. It is very slim and low profile. Additionally, it is waterproof and dust proof, so it can weather any storm.
OPT7 Fluxbeam 9007 Bulb LED Kit
The OP7 Fluxbeam is the best 9007 bulb if you want a premium LED. The selling point of the OP7 Fluxbeam is that it has arc glass technology. This basically means it is engineered to give you the correct beam pattern and eliminate dark spots, shorts beams, and non linear beams. The result is a perfect beam pattern that is uninterrupted.
In terms of color and brightness, the OP7 Fluxbeam does not disappoint. It has a clear white light at 6000K operating at 7,000 lumens total for the pair. This is a very visually appelaing color with a shade of cool blue. It is bright and crisp at night and shines further downroad than most of its competition. Furthermore, you should note that there is ZERO lag when you turn on this LED to a full 6000K color. Other LEDs can take up to 10 seconds to fully power on.
In terms of durability, there is a modular heat protection \system that results in increased airflow and 35% higher heat reduction. The Turbo cool fan spins at 7,000 RPM to deliver 5 CFM of airflow which is more than double its competition. All of this means you get a 9007 LED bulb that can withstand a true 50,000 hours of life.
PIAA Xtreme White Plus 9007 Halogen Bulbs
The PIAA Xtreme White Plus is a great light if you want something that performs well and is affordable. These are halogen 9007 bulbs that perform like low end LEDs but are priced like halogens. In other words, they are great value for your money. You won't get any crazy spectacular performance out of them, but they definitely get the job done for most situations.
In terms of performance, you get a 4000K bright white color with a bit of blue tint. It is fairly bright as crisp at night to help you illumination dangerous road conditions. Perhaps the best part about these 9007 bulbs is that fact that it has a good beam pattern. We think having a uniform bema pattern is actually more important than absolute brightness.
Overall, with the PIAA Xtreme White Plus, you get great color recognition, depth perception, and great contrast at night. Although it is not super bright, it also does not glare and the beam is good enough for most situations. We like it because it gets rid of dark spots and shines a linear beam void of glares and haziness.
References
https://www.walmart.com/c/kp/9007-headlight-bulbs
http://www.ebay.com/gds/What-are-the-Differences-Between-Single-Beam-High-Low-and-Bi-Xenon-HID-/10000000178258820/g.html