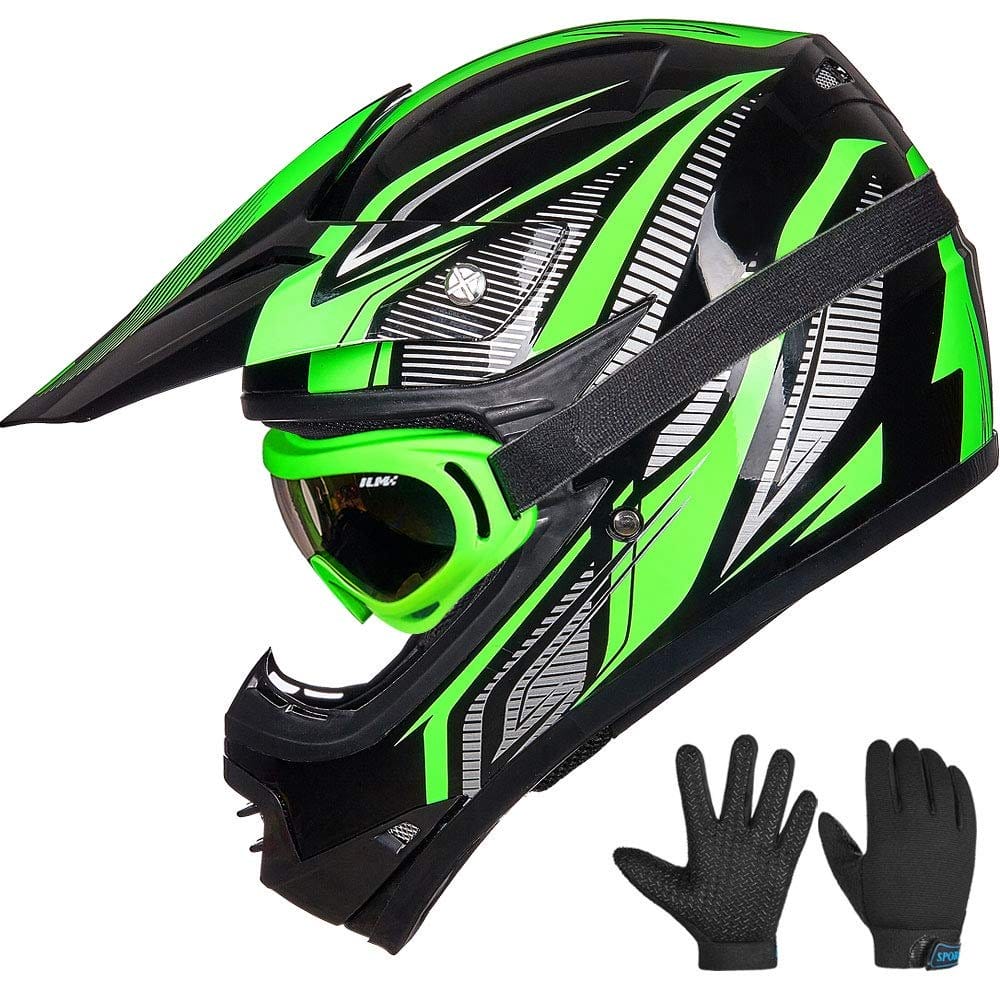 ILM Youth Series ATV Motocross Helmet Review
The ILM Youth Kids ATV Motocross Helmet is lighter than most helmets, which means that your child can enjoy biking without feeling that he is carrying an extra stone on top of his head.
The helmet is made with high-density foam padding and an ABS shell. As such, it provides better protection for your children's heads when performing off-road, in ATV, and participating in outdoor sports activities.
Multiple air vents provide a stream of cool air around the head, again providing extra comfort. I particularly like the removable and adjustable cheek pads that absorb sweat simultaneously. These definitely ensure an extra comfortable wearing experience for your kids for a long time.
The easily modifiable sun visor allows youth riders to adjust it so that they have a greater field of view. As your kids get older, they can change to a bigger helmet from the same manufacture. It'll be like the helmet will grow with them. So you can always use the same brand as your kid gets older.
Note that the ILM Youth Kids ATV Helmet is made for kids ages 7-12 and is DOT certified. Then you'll need to purchase much bigger sets.
What are the main disadvantages?
To be honest, the ILM helmets have, like everything else, some disadvantages. However, I believe that we need to take some responsibility for this. At times, this helmet may sometimes be a bit large and heavy for small kids. Okay, I said above that the helmet was extremely light. I get it. But read a bit more to find out my thoughts.
Well, the problem is probably with us as parents. We always want to think that our kid is stronger than he really is. I want to repeat myself, the helmet is definitely extremely light compared to other offerings. However, you may have to be a little bit patient for your kid to grow a little more before he can safely wear a helmet.
In the beginning, the bulky straps could be irritating for small kids. On the other hand, for older kids, this might need some help in tying the straps tight. The straps would probably make it difficult to use this helmet for first-time riders and may be uncomfortable. However, as time goes by, this little annoyance will disappear. Here is are the different sizes:
The ILM Youth Series Motocross Helmet Overview
This helmet comes in different colors like Blue, Red, Black, Yellow,, Pink and White. There are many different sizes for kids that come in medium/small, large, and extra-large sizes.
The different sizes are appropriate for a kid who is growing and a teenager. Again, this helmet has an adjustable velcro strap for strap adjustment.
Additional features are: 30mm crumple zone Five-stage shell ventilation High-density foam padding. It has removable and adjustable cheek pads.
What I like about the helmet is that it was designed with 3D scanning technology and an automated machine produced the first helmet set. That's an innovation in the helmet world.
It is one of few helmets that meet FMSS-218 and DOT safety standards.
It has been designed by people who understand how difficult it is to ride when you are sweating. That's why the helmet comes with a multitude of air vents. And as if this was not enough, they have added the possibility to remove inner linings to ensure there are more breathable and an increase in comfortable wearing conditions.
I want to strengthen the fact that the adjustable sun visor clearly provides better visibility. It simply allows riders to rotate the shield to block the blinding sunlight and thus ensuring higher riding safety.
I think the quick release buckle on the chin strap really helps wearers to take off the helmet in an easy manner. This is also true when you put on helmets, making them fit better as well.
In summary, the helmet is durable and has all the aerodynamic features you want in a helmet. It has definitely been designed to be used in ATV, MTV, dirt bike, motorcycle, mountain bike, touring, dual sports, and any other type of outdoor riding activities.
The ILM Youth Series ATV Motocross Helmet – Its Construction
Here are the features thought about during the design and used to construct the helmet.
The main plastic shell of the helmet is translucent while the carbon fiber base is color blocking with black on top of the nose, chin, and back area.
The foam padding is embedded with five layers of protection that provide the helmet with unprecedented protective benefits (when compared with other helmets).
The visor ensures great protection for the eyes. It has the appropriate features to offer protection to your ears during cold conditions.
The back protector prevents your kids from facing hard impacts.
The padded liner prevents your child from getting caught on any metallic objects while riding.
And finally, the flotation design on the visor help absorb crash impact and ensures that your kids breathe easily during rough rides.
The ILM Youth Series Helmet – Does it fit for my child?
There is an ILM Youth Helmet for every kid and they have models for adults too. The small version would fit kids from 3-8-year-old.
Be careful no to tight your kid's face too much as you may see that he/she has no room to breathe. So ensure you communicate with your kids during this process that you can find the perfect strap fit for your child.
The helmet comes in 4 sizes: S, M, L, XL. Now, you need to be aware that some children who are over the age of 12 years may need to wear an adult helmet, as they are so grown up. Don't try to force them to wear a kid's helmet if you are faced with this dilemma.
The ATV Motocross Helmet Performance
Each kids ATV helmet is sold with 1 pair of sports gloves and 1 pair of UV-resistant goggles which is designed with a sponge cushion for comfortable wearing
The ILM Youth Series ATV Motocross Helmet offers six different modular options for safety and comfort: single face, open face, single face half, dual face half, dual face full face, and top cover half. These versions provide the best fit and comfort to the user.
Although the ear pads can fit small children, the size range of ear pads is medium to large. The top cover half version was the best for my 8-year-old daughter and is a perfect fit.
The ILM Helmet – It is used by the Pros
Well, this is one of the few helmets that is used by the Pros. So you are sure that it is a good choice.
One thing that I keep hearing during races is that the High-Density Foam Protector is brilliant. What pros say is that the ILM Youth Series ATV Motocross Helmet is made from high-density foam materials. These are stronger and more durable than the traditional foam. So in the long run, you are better off buying this helmet than cheaper versions.
The hardness also makes it more resistant to scratches and dents. It is also easier to clean and thus, has a good long-lasting lifespan.
It is an On-Road/Off-Road Mountable helmet. And it has all the features needed for helmet-mounted cameras. In fact, it has been designed to be compatible with a camera mounting system.
With its convenient design, your kids can mount their helmets on any two-wheel vehicle and shoot photos and video or practice their driving skills.
Breathable Mesh: This is the prime reason why this helmet is the best choice for your kids and a favorite amongst Pros.
The ILM Youth Series ATV Motocross Helmet Conclusion
The first thing I love about The ILM Youth Kids ATV Motocross Helmet is its quality. I mean, it is really pure quality. And in buying the ILM helmet, you have a company that has a fantastic support service.
I think this helmet is great for racing. And I don't it will be a cause for problems for your kids in the middle of a race. It has all that you need including good sweating prevention features. With plenty of nice air vents, your kids will be able to use it during a race without major sweating drops coming from their forehead dripping on their face and visor.
The only thing I would change in this helmet is the upper cheek pad. They feel a bit loose, but you know what, I contacted the company and they sent me a different size cheek pad and they fit perfectly.
Otherwise, the helmet is well designed and is definitely comfortable for the kids. I really love the fact that it comes with a plastic visor to keep the sun and rain off the kids' eyes while riding in ATV.
References:
https://www.theguardian.com/lifeandstyle/2016/sep/22/bicycle-helmets-reduce-risk-of-serious-head-injury-by-nearly-70-study-finds