Electro-Harmonix Bass Big Muff
The Electro-Harmonix Bass Big Muff is the best bass fuzz pedal for those who want a huge classic fuzz sound. We also really like the bass boost switch which can really crank up the low-end grind in your sound. Also, it is lightweight, durable, and affordable.
MORE INFO
Why do you want the Best Bass Fuzz Pedal?
For those who want to add distortion to your bass tone, there is no better pedal than a bass fuzz pedal. In the music industry, distortion, overdrive, boost, and fuzz are used interchangeably, but they actually have subtle differences. The fuzz effect is the godfather of dirt distortion boxes and was originally intended to mimic the reedy tone of a sax.
Needless to say, it basically sounds like a warm vintage fuzzy tone with lots of girths and sustains. While the older fuzz pedals with made with germanium transistors, the newer ones have moved on to silicon transistors, which give a harsher sound but have more defined tones. The fuzz sound can be heard in many famous tunes, such as the legendary solos of Hendrix to the signature riff of Satisfaction from the Rolling Stones.
Many of you probably wonder why you should even bother with getting a standalone bass fuzz pedal. Can't a guitar fuzz pedal with a bass plugged in work as well? Well, the short answer is yes, but the sound may not be as good as you would like it to be. You can certainly run a bass through a guitar fuzz pedal since the circuitry will definitely allow it.
However, some guitar fuzz pedals will have a very tight low-end response, which may cut off some of the bass frequencies. While this sounds great on a guitar, it will definitely thin out your bass fuzz effect and tone. In other words, with dedicated bass fuzz circuitry, your low end will be preserved and you will better low-end response.
You should know that not all bass fuzz pedals are the same as they come in many varieties. Many will have other effects built in and some pedals will be aimed to fit a certain genre. Additionally, you should look at analog and digital bass fuzz pedals, as they are quite different in sound.
Best Bass Fuzz Pedal
1. Electro-Harmonix Bass Big Muff Distortion Pedal
For those who love a huge fuzz sound, the Electro-Harmonix Bass Big Muff is the best bass fuzz pedal on the market. This is one of the most popular bass fuzz pedals to date because of its unmistakable grit-grinding sound, especially if you crank up the tone knob. It is specifically designed for bass, it really shines in the low-end frequencies and really has a distinct sound. While it is advertised as a distortion pedal, it is actually a fuzz pedal.
In terms of controls, you have just three basic knobs and a switch. The knobs are volume, tone, and sustain. The volume knob is pretty self-explanatory, and the tone and sustain knobs really help shape your fuzz sound. The tone knob lets you dial in the amount of attack and treble, so keeping it low gives you a really bassy and funky sound.
Furthermore, the sustain knob dials in the amount of distortion. If you crank it all the way up, it gives you a really intense distortion that could turn into a muddy mess. Finally, there is a 3-position toggle switch that lets you switch between bass boost, normal, and dry. This is a nice little feature to have.
Overall, the Electro Harmonix Bass Big Muff is built very solid. It feels very durable in your hands and is something that you can probably drop without damaging the circuitry inside. Also, it is surprisingly lightweight for a pedal. Our only complaint is the lack of a separate dry and wet knob.
Huge fuzz sound
A very unique and distinct tone
Bass boost switch
Durable
2. MXR M84 Bass Fuzz Pedal
If you are looking for the best bass fuzz pedal with a separate dry and wet knob, the MXR M84 may just be the right one for you. This bass fuzz pedal is housed in an MXR enclosure, which is just as sturdy as the rest of the MXR lineup.
The standout feature is that there is a separate volume control for the clean and wet signal, which is rare to find. Most fuzz pedals out there just combine the two into a blend knob to save on complicated circuitry. Blend knobs tend to lose some of their kick in the lower end, so this is fixed with separate knobs.
The rest of the controls are pretty standard. You have dry tone and fuzz knobs to control the attack and level of fuzz distortion. Additionally, there is an optional 9-volt battery slot and a true bypass.
In terms of sound, we can't complain about how well the lows responded to different levels of tone knob adjustments. The overall sound is very warm smooth and organic with lots of lows.
– Sturdy enclosing
– Separate wet and dry knob
– Optional 9 volt
– Smooth organic sound
3. Darkglass Duality Dual Fuzz Pedal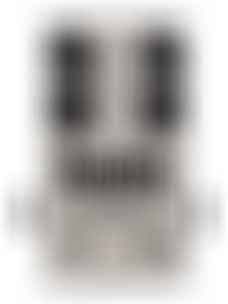 The Darkglass Duality is the best bass fuzz pedal for those who want 2 different fuzz circuits. This bass fuzz pedal by Darkglass is designed with some serious craftsmanship and cutting-edge technology.
First and foremost, it contains two distinct fuzz effects: an old-school gated saw-tooth wave fuzz effect and a modern high-gain fuzz effect. This is controlled by the duality knob. Setting it to the left activates the saw tooth effect and to the right for the high gain effect.
We absolutely love the unique controls offered in this bass fuzz pedal, which also help contribute to its unique fuzz effect sound. Perhaps our favorite is the filter knob, which applies a low pass filter to cut or bring up the higher harmonics. Then you have the level knob, which sets the output volume of the wet signal. Finally, there is a blend knob to mix wet and dry signals.
Overall, we really like this pedal and think it has a really unique mixture of fuzz sounds. With the Darkglass Duality, you can create old-school vintage sounding fuzz sounds and modern fuzz effects.
– Two fuzz settings
– Low pass filter controls
– Unique sounds
– Great value
4. Aguilar Fuzzistor Bass Fuzz Pedal
The Aguilar Fuzzistor is the best bass fuzz pedal if you are looking for an all-analog pedal that uses silicon transistors to create a deep fuzz sound. The beauty and stand-out feature of this pedal really is the raw organic fuzz effects it produces. It is hard to describe without giving you some audio samples, so I urge you to search for them online.
This pedal has four basic controls: blend, level, tone, and fuzz. The blend is pretty basic and just mixes in the dry and wet signal. Level sets the output level so that you can get nice smooth fuzz tones at any volume. Additionally, it lets you match your dry and wet signals.
The fuzz control actually impacts how hard you hit your transistors in the circuitry, which directly impacts how hard your fuzz sound is. Finally, you have a tone control, which only changes the tone of the fuzz signal.
– All analog pedal
– 4 basic controls
– Great organic sound
– Durable
5. Tech 21 Bass Fuzz Boost
The Tech 21 Bass Fuzz Boost was created as a response to bassists who were frustrated with the original Boost Fuzz Pedal for guitarists. This is the best bass fuzz pedal if you want a two-for-one pedal that can produce both a solid fuzz tone and a boost feature.
Additionally, it is great for those with both active and passive instruments. The boost feature is quite nice in a layer on top of the fuzz settings and adds a bit of 3D lift to your fuzz sound. Overall, the bass boos fuzz sound is darker than most fuzz pedals and has a great low-end character.
In terms of controls, there are five knobs: level, tone, drive, clean, and boost. The level and cleanness impact the amount of effect and unaffected signal while tone and drive change the fuzz settings. Finally, as the name implies, the boost knob gives you up to 21dB of clean boost.
– Includes a boost knob (21dB)
– Deep dark sounds
– Great durability
– Solid value
References
https://en.wikipedia.org/wiki/Distortion_(music)
https://www.theatlantic.com/technology/archive/2011/03/50-years-of-making-fuzz-the-sound-that-defines-rock-n-roll/71959/