For anyone who wants to shape and finish wood, metals, plastic, and other materials, you may happen to own a belt sander. It is a handheld or stationary machine that rapidly removes material using fine grit sandpaper. The sandpaper that fits onto the belt sander is called a sanding belt. This is different from a sanding block, which is a handheld manual block with sandpaper on it.
For those of you looking for the best sanding belt for metal, knife making, knife sharpening, wood, or any other material you are at the right place. The sanding belt will come in many different sizes, but they all operate the same way. The sanding belt is stretched across the belt sander's two wheels, creating tension. When the belt sander's rear wheels spin, it forces the sanding belt to shift forward.
Sanding belts come in four different materials: aluminum oxide, zirconia alumina, silicon carbide, and ceramic. Aluminum oxide sanding belts are the most popular and also the most abrasive. It works on lots of materials including metals and glass. It has one of the lowest unit costs. There is also zirconia alumina, which comes from water-resistant polyester. This is ideal for wet or dry projects. Next, silicon carbide tends to be harder and sharper than aluminum oxide. It is typically found in fine grit rather than coarse. Finally, there is ceramic, which is very tough and sharp. It is used in high-pressure applications and in bonded abrasives.
What is the Best Sanding Belt?
Powertec Aluminum Oxide Sanding Belt
If you want the best sanding belt for wood and metals, the Powertec 110680 series is the way to go. It is a premium open coat aluminum oxide sanding belt that is 4 x 36 inches. However, if you want other dimensions, Powertec definitely sells a variety of different sizes and grit levels. This particular unit comes in 80 grit and is great for most materials from wood, to aluminum, to non-ferrous metals, plastic, and even fiberglass.
The Powertec Aluminum Oxide Sanding Belt strikes a good balance between performance, value, durability, and versatility. It works great on narrow and wide belts and is suitable for a wide range of sanding applications. It also tends to resist a lot of moisture and heat. The Powertec works ok in wet applications as well.
All in all, this is a solid sanding belt at a very reasonable price. It holds up well over time and lasts longer than most of its competition. It is reliable and doesn't tear easily or fall apart at the seam. You just need a quick cleaning with a cleaning block every once in a while and it should wear nicely and sand well.
Red Label Abrasives 1 x 30 Knife Makers Fine Grit Sanding Belts
The Red Label Abrasives Aluminum Oxide Series is the best sanding belt for knife making and knife sharpening. While it can certainly be used for sanding wood, plastic, fiberglass, and other metals, it is specially formulated with knife making in mind. The Red Label Abrasives Series has everything size and grit. You can choose from standard sizes such as 1 x 30, 1 x 42, 2 x 36, 2 x 42, 2 x 48, 2 x 60, and 2 x 72 inches. You can also get grits from coarse to medium, to fine and ultra-fine.
Red Label Abrasives is a very reliable manufacturer of sanding belts. It is a well-known player in the industry and trusted by plenty of professionals. These sanding belts are all hand-built and made with excellent quality and craftsmanship. There is a reason why Red Label Abrasives has been in business for over 35 years.
These sanding belts are engineered to be bi-directional so that they can both in both directions. They also contain resin over resin bonding to reduce heat overload. Finally, they are rather water-resistant and suitable for wet applications. Overall, this is a great set of sanding belts that are great for honing and sharpening knives and other tools. They fit all 1 x 30-inch belt sanders.
Red Label Abrasives Ceramic Sanding Belts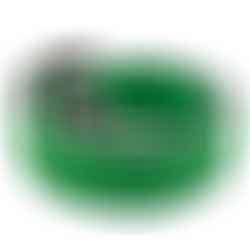 If you want a ceramic sanding belt, the Red Label Abrasives sanding belt is one of your better bets. This is a premium top-shelf ceramic belt made for the removal of ferrous metals such as steel, stainless steel, cast iron, and carbon steel. You can certainly also use it for nonferrous metals such as aluminum, bronze, copper, brass, and titanium. If you want the best sanding belt for metals, you can't go with this one.
The Red Label Abrasives ceramic series come in many different sizes and grits. This particular one is 2 x 72 inches but surely you can order other sizes. The sanding belt also comes in different grits ranging from 36 to 220 grits.
We really like the fact that this sanding belt has an extra long cutting life. It is built ultra strong and never slips out of position. It allows you to hone in on your targeted area and creates uniform sanding. Also, the tape joint is bi-directional so it can run in both directions.
Compared to sanding belts made of zirconia, the Red Label Abrasives sanding belt is definitely more durable. It can run wet and dry and is actually more flexible than we had initially thought.
Pro Sharpening Supplies Silicon Carbide Sanding Belts
If you are looking for a premium silicon carbide-based sharpening belt, we highly recommend the Pro Sharpening Supplies Silicon Carbide Series. This particular model is 1 x 30 with 1000 Grit, but you can certainly choose other sizes and grits. We think this is the best sanding belt for knife sharpening and knife making. You can certainly use it to polish off other surfaces, but the 1000 grit extremely fine paper, is great for thinning and sharpening things.
This is the best 1×30 sanding belt for knife sharpening and polishing edges. The silicon carbide grit gives you a very durable abrasive coating to create an almost mirror polished edge. It fits all standard-sized 1 x 30-inch belt sanders and is bi-directional. this means the sharpening belt runs pretty smoothly in both directions.
The only bump that can be felt is a piece of tape reinforcing the back. Otherwise, the splice is flat and is a butt splice at an angle. We highly recommend that you use a belt cleaner to extend the life of the sanding belt.
Norton Abrasives Zirconia Alumina High-Performance Portable Sanding Belt
If you want a sanding belt made of zirconia alumina, the Norton Abrasives series is a great choice. This is a 3 x 21-inch sanding belt with 80 medium grit. It is great for light sanding of all sorts of surfaces as well as the removal of rust or coatings. The Norton Abrasives is suitable for portable sanders and is a great all-purpose grinder. It is the best sanding belt for wood, metal, plastic, and fiberglass.
Zirconia alumina has several advantages over standard aluminum oxide sanding belts. It is self-sharpening and more durable than aluminum oxide and does a better job of removing coarse finishes. The zirconia alumina-based sandpaper also has an open coat of abrasive grains that cover 50 to 75 percent of the surface. This helps reduce clogging and leads to more flexibility in materials that are hard to sand down.
We also like the cloth backing instead of the normal paper backing. The cloth backing is more durable and more tear resistant than paper backings. This also helps the unit absorb more flexing and allows the fit odd shapes and contours better.
References
https://www.familyhandyman.com/tools/power-tools/everything-you-should-know-about-belt-sanders/view-all/
https://www.boschtools.com/us/en/boschtools-ocs/sanding-belts-22813-c/