Gunk Foamy Engine Brite Engine Degreaser
Using the best engine degreaser or best engine cleaner can make your engine so clean you can eat on it. There are many reasons why you should keep your engine clean and spotless besides for aesthetic reasons or to sell it. With a clean engine, you can find a leak much easier as well as worn-out belts. Also, you prevent engine rust.
Oil leaks are probably one of the main reasons an engine collects dust and gets dirty and greasy in the first place. If you change your oil often, you should also clean your engine while you are at it. The best engine degreaser or best engine cleaner comes in two different types: water and solvent-based. Solvent-based degreasers generally work better and cut through grease faster and better, but their downside is they smell very bad.
If you are sensitive to harsh smells, we would suggest you use a water-based degreaser. Cleaning your car engine is quite simple. Since degreasers work well when they are warm, start your engine first for a few minutes and then turn it off. Then protect anything electrical by covering it with plastic. Afterward, place some absorbent mats or a large pan under the engine to soak up any toxic engine runoff. Finally, apply the degreaser and lightly rinse it off with water.
If you are using the best engine degreaser, you shouldn't have to hand scrub anything at all since the degreaser should do all of the dirty work. There are so many products on the market, it is hard to pick the best engine degreaser or the best engine cleaner. Luckily, we have done this for you. Please see below for our picks.
Best Engine Degreaser Reviews
Gunk Foamy Engine Brite Engine Degreaser

Gunk is the best engine degreaser if you are looking for a foamy cleaner that is used by many auto shops when they clean your engine professionally. There is a reason Gunk Engine Degreaser is the most popular degreaser on the market: it works!
Unlike many engine degreasers sold today, Gunk's formula was specifically designed to be used on engines, although they can pretty much be used on any surface as well. The best part about using Gunk is that there is absolutely no need to scrub. Since it is a solvent-based formula, it reacts with and removes grease and dirt extremely fast. And if you prefer a gel spray, Gunk also has that product. It is the same thing but in gel form.
We like the foam spray more but it just comes down to personal preference. Rinsing the foam off is pretty easy as well as the foam comes off very easily with a light spray. This degreaser really does the job and removes the toughest grease and dirt. This is the best engine degreaser if you want a dedicated engine cleaner at a cheap price. We highly recommend this product and many others would vouch for it as well.
Spray Nine Grez-Off Heavy Duty Degreaser

Spray Nine is the best engine degreaser if you are looking for an all-purpose water-based degreaser that not only works for engines but for pretty much any surface such as a workbench, exhaust hood, garage floors, asphalt, steel, tools, bike chains, and machinery.
Water-based solvents tend to be less intrusive and do not give off a smell. However, they are not as effective as solvent-based degreasers at dissolving and removing dirt. We find that this is definitely not true for Spray Nine. We think it is because it has a highly concentrated formula that makes it just as effective as solvent-based cleaners. Spray Nine is non-flammable, VOC compliant, and biodegradable.
And since it is water-based, it is gentle on your engine parts. We think it is really cool you can just use this as an all-purpose cleaner. We have tried this on bike chains, lawn mowers, chainsaws, and a greasy workbench and the results are always pretty good. New stains are easily removed and old stains still require a bit of work to get out. All in all, if you are looking for the best engine degreaser that is water-based and can be used for other purposes, get the Spray Nine.
Chemical Guys All Clean+ Citrus Based All Purpose Super Cleaner
Chemical Guys make the best engine degreaser on the market if you want an all-natural citrus-based solution that works on anything. It comes out of the box as a highly concentrated formula but can be diluted if you are not working on tough-to-remove stains and grease.
Other than machinery and metals, you can also use this product on carpet, fabric, vinyl, and leather if you dilute it a bit. It is recommended to dilute it 10 to 1 for fabrics, 4 to 1 for machinery, and original if you have a really tough stain to remove. We really enjoy the versatility of this product.
It is strong enough to remove grime and grudge from engines and chains but gentle enough to even remove stains from the carpet without damaging it. It is a foam cleaner that is self-reacting, meaning you won't have to scrub your engine at all and just let the degreaser do all the work. In terms of cleaning your engine, we find not diluting the product to work the best.
Since engines can get quite dirty, you want to maximize the cleaning power of this product. Chemical Guys is a name that has been around the block and is a trusted brand. We highly recommend it for cleaning engines and would place its cleaning power just below the Gunk Engine Degreaser. But since it can be used with other surfaces, we think Chemical Guys is a better value. If you want the best engine degreaser that is gentle on light surfaces and can also clean up heavy grease, get this product.
Meguiar's D10801 Super Degreaser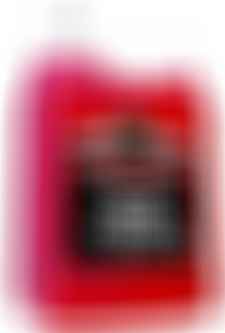 If you want a really good engine degreaser from a reputable brand, Meguiar's Super Degreaser is certainly a viable option. This is a strong and fast-acting degreaser that breaks down the toughest grease. The best thing about this product is that it can be used in every form of upholstery to engines. It can even be used on leather. Since this is a bit of a concentrated solution, we recommend diluting it first. The dilution rate really depends on what type of material you are cleaning and how dirty it is.
The Meguiar's Super Degreaser is residue-free, so it won't leave nasty stains or streaks. You should transfer the degreaser to a spray bottle first before using it. After testing out many different types of engine degreasers on the market, we can pretty much say that Meguiar's is a top performer.
It dissolves engine soot much better than most. The problem with other degreasers is that you have to leave it overnight for it to work properly. With Meguiar's the process is almost instantaneous, without damaging your engine.
All in all, Meguiar's degreaser offers tremendous value for the dollar. With the gallon jug of this, you can clean the grease out of pretty much anything. You are not just limited to degreasing your engine. Also, it is quite a gentle degreaser on your hands. It will not dry out your hands or leave a nasty after smell.
Griot's Garage 10959 Engine Cleaner
If you want the best engine degreaser that is mild on your engine part, get the Griot's Garage 10959. This is a spray-on degreaser that works great for cleaning engines that are dirty, but not filthy or grimy. You just simply spray it onto your engine bay. Then use a microfiber towel and help it loosen up dirt and debris. Then you just rinse it off and the surface should be clean enough to be dressed or waxed. If you find that you have particularly oily engines, you should try to use the Griot's Garage Oil & Grease Cleaner first to get rid of the first layer of grime.
When you are washing off the Griot's Garage, be sure to cover up any air inlets, spark plugs, batteries, as well as alternators. Although this stuff is a mild cleaner that is designed to be very gentle on your engine parts, it will still damage other areas of the car if you are not careful. Please do not spray it on anything with electrical connections. The reason you should get the Griot's Garage Mild Cleaner is to protect your engine from damage. If you don't have too much grime and grease, there is no reason to overdo it with a powerful engine degreaser. It may end up harming your engine more.