Pueen Nail Art Crystal Stamper
Pueen Nail Art Crystal Stamper is the best nail art stamper that stamps well and efficiently transfers nail polish. This set comes with one crystal stamper handle, two stamper heads and 2 scrapers.
MORE INFO
If you are trying to get into nail stamping and don't know where to start, you are in the right place. Making cool and intricate designs on your finer or toe nails requires a lot of tools and time. Of course you can always just pay a visit to the nail salon, but that would take the fun out of it all. Plus it maybe quite costly.
Nail stamping requires you just have a nail stamper, stamping nail polish, stamping plates, and a stamping scraper. You apply nail polish into the grooves of the stamping plates and make it even with the scraper. Then, ideally with the best nail stamper, you stamp out the design from the stamping plate and transfer it to your nail.
You may blindly assume that all nail stampers are created equal. Nail stampers come in all sorts of shapes and sizes. First and foremost, you need to pick a size that more or less lines up with the size of your nails. So keep in mind here that longer stamps generally suit longer nails.
You need to also consider firmness of the rubber, which determines how distorted the transferred image becomes. A firm rubber reduces image distortion but you may have a harder time getting nail polish completely on it. In other words, it maybe hard to pick up certain images. Also, a squishier curvy rubber will adjust to the contours of your nails better. A firm rubber is more suitable for flat nails.
You should also consider the handle and how well it fits in your hands. Finally, you should consider how easy it is to clean. Some of these nail stampers just wipe off easily while others require nail polish remover or acetone.
What is the Best Nail Stamper?
Pueen Nail Art Crystal Stamper
The Pueen Nail Art Crystal Stamper is the best nail stamper and scraper if you are looking for a premium set. This set includes one crystal stamper handle, two stamper heads and 2 scrapers. Let's start with the nail stampers first. The stamper has a soft silicon head that is 28mm wide with a silver stainless steel handle finish.
The stamper heads are interchangeable and are pink and off white colored. It goes without saying that it stamps very well and transfers nail polish seamlessly. The head texture is somewhere between firm and squishy so you avoid crazy distortions when stamping. It can also conform to the various contours of your nails.
We also really like the handle, which has a nice grip to it. You can really get some good leverage with this handle. It feels sturdy and doesn't not feel like it is on the brink of breaking if you apply lots of pressure. Also there is no need to prep or prime the stamper. The stamper handle itself is shaped like a diamond so you can comfortably grip it between your fingers. Plus it looks pretty cool.
In terms of the scraping cards, there is not much to say other than they work great. The scrapers are pretty even and sturdy. They are definitely not made of cheap plastic, so don't worry about using force when needed. Finally, the nail polish scrapers have teh Pueen logo imprinted on them, which looks pretty dope.
Winstonia Jumbo Jelly Stamp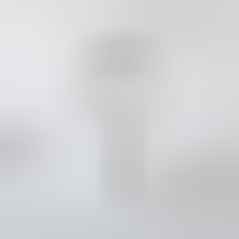 If you want a cool looking see through stamper, the Winstonia Jumbo is the best nail art stamper for you. The selling point of this stamper is the fact that the entire unit is transparent. This is not to only look cool, but also serve a functional purpose. With a see through design, you can view what you are transferring before you actually stamp it on. This allows you to properly align the images correctly, without the need for guessing.
The coolest part about the Winstonia Nail Art Stamper is the fact that you can view what you are printing onto your nails without even lifting up the bottom. There is a reverse image of the stamp on the back of the clear jelly pad so you have a direct view of it from up top. This is some pretty cool technology.
In terms of small nit picky stuff, the Winstonia has you covered as well. There is no need to prime the pad. Also cleaning is quite easy with a lint roller or scotch tape to remove residue. The manufacturer urges you to not use nail polish remover or acetone. Finally, you have a free scraper card included, which is nice little bonus.
Goliton Nail Art Stamper Set
If you want the best nail stamper for value, you can't go wrong with the Goliton Nail Art Stamper Set. This set comes with 3 different sizes stampers and two different sized nail polish scrapers. We really like the variety in stampers supplied here and believe this is what makes the Goliton set stand out.
First let's talk about the stampers. You get a green rectangular stamper that is 5/8 inches wide by 1 inch high. This is our go to stamper as it fits most projects perfectly. Then there is the pink stamper, which has a circular heads that is 7/8 inches in diameter. This one is good for medium sized stamping pads. Finally, you have the double ended stamper, which has two circular stamping ends attached. One end is a larger circle at 1 1/8 inch diameter and the other is a smaller circle at 5/8 inches in diameter. The smaller stamper is the smallest surface area of the set and used for little touch ups and finishes.
Next, this kit comes with a metal scraper, which is bit of an upgrade to the cheap plastic ones that come with most nail stamper sets. It does a great job scraping and works better than most scrapers that we tried out. The only issue is that it can kind of scrape away your stamping plate over time. We never really had an issue with this but some other people think differently.
Born Pretty Silicon Jelly Clear Stamper
If you want the best clear nail stamper, the Born Pretty Silicon Jelly Clear Stamper is one of the better options. This stamper is used for nail art stamping and works great with stamping plates of all sizes. You get one stamper and one scraper with this box set. In terms of the stamper, it is clear colored and mostly transparent. It looks pretty cool and definitely feel quite sturdy. There is even a nice like cap to put on the stamper head when not in use.
The Born Pretty stamper head is somewhere in between squishy and hard. It really has achieved a perfect Goldilocks scenario in terms of firmness. This makes it both easy to firmly transfer all nail polish from the stamping plate to your nails. Also, it can adapt to the curves of your nails. And because it is not too squishy, you will never really get a distorted image on your nails unless you try really hard to mess it up.
What we like the most about the Born Pretty Stamper is that it is nice and cheap. Born Pretty is a reputable company in the nail art industry and it is amazing how they can make such a value product. This stamper even comes with a scraper. We will fully admit that the scraper is a pretty basic plastic one, but hey, it is free with the stamper.
CICI&SISI Nail Stamper
If you want the best nail stamper that has two levels of firmness, you should check out the CICI&SISI stamper. The selling point is that it comes with two stamper heads: one that is white and squishy and another red piece that is a tad more firm. At least you have options with this set, unlike other stampers which only come with one level of firmness. If you don't like the squishier head, you can always swap it out with the firm one. Swapping them out is also very easy.
This stamper is quite small, but long enough to comfortably fit even in big hands. The handle is made of metal and feel sleek and smooth. This handle is also very sturdy and durable and doesn't feel like it will break anytime soon. We did have some initial problems at first priming it and picking up an image. But once we got used to how it worked, we didn't find any more problems. So, yes, there is a bit of a learning curve with the CICI&SISI stamper.
References
http://www.wikihow.com/Use-a-Nail-Stamper