Born Pretty 6ml Stamping Polish 25 Color Set
The Born Pretty 6ml Stamping Polish is the best nail stamping polish for those want want variety and value. There are plenty of vibrant colors to choose from in this 25 color set. These polishes are specifically designed for nail stamping with high pigmentation.
MORE INFO
So you have though about stamping your nails, but you probably don't know where to begin. This article will hopefully shed some light on this topic and help you pick out the best stamping nail polish. Everyone wants to have intricate artwork on their nails, but not everyone knows how to do it properly. Most people just to a nail salon but you can save a lot of costs by just doing it yourself. You can get impressive nail art on your own with a technique called stamping.
Stamping is basically a technique where nail polish is transferred over from an engraved designed onto your nails. For stamping, you need a bunch of tools: nail stamper, nail scraper, stamping plates, stamping nail polish, base coat, top coat, as well as clean up brush, cotton pads, acetone, and paper towels. For this article, we will focus on helping you pick out the best stamping nail polish.
Stamping nail polishes differ from regular nail polish in that they are usually thicker and more pigmented. They are specifically meant to go in a stamping plate where you transfer the design over to your nails via a nail stamper. When looking for stamping nail polishes, have a look at the color selection first and obviously find some colors you really like. Then you need to find stamping nail polishes that are durable and long lasting. Finally, look for stamping polish that will transfer easily with a fast dry time.
What is the Best Stamping Nail Polish?
Born Pretty 6ml Stamping Polish 25 Color Set
The Born Pretty Set is definitely the best nail stamping polish if you are going for value. This set comes with 25 bottles of various colors. It has basically every color you can possibly need and different shades of the same color. In this set, there are plenty of light colors as well as darker colors. Furthermore, these colors all have a lot of pigmentation, so it is great for a stamping nail polish. You can use them as regular nail polish as well but you have to be quick.
At around one dollar per bottle, you are getting great value for stamping nail polish. we think the colors look amazing and there is plenty of variety to choose from. It dries fast and transfers easily with a nail stamper. Additionally, it is also quite difficult to accidentally scratch them off once dry. So once you have completed the transfer, they tend to last for quite a while.
One of our small peeves about this set is that we wish we can get more per bottle. The picture of the bottles looks a lot bigger than what we actually received. So our only real complaint is that we found ourselves ordering more of the Born Pretty Stamping Polish Set. Luckily, it is cheap enough to not break the bank.
BMC 6iece 2nd Generation Creative Nail Art Stamping Polishes
BMC produces some of the best nail polish for stamping in the industry. This 6 piece set is a great set to get to get started with any nail stamping project. What separates BMC stamping products from the rest is the heavier pigmentation, which results in a better transfer of die. It is able to achieve this without the 5 most common toxic ingredients found in most stamping nail polishes.
With this set you get 6 beautiful colors. There is a silver color, gold color, purple, red, white, and black color. Of course you can also mix and match these colors to get unique blends. We also like they are have a bit of a matte finish and not exactly your standard boring colors. The colors are vibrant and last much longer than its competition. They are also easy to work iwth on a stamping plate and work well will plates of all types.
Keep in mind that this is only stamping nail polish and doesn't include the other tools necessary to finish the job. If you want a stamping plate or scraper and nail stamper, you will have to purchase them separately. All in all, we love this polish for nail stamping and recommend that you get other colors by BMC to add to your collection.
Misaky Art Template Pin Pai Nail Stamping Polish Set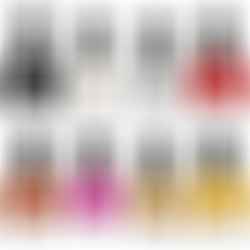 When it comes to picking out the best stamping nail polish, you can't really go wrong with Misaky Art. These are specialty nail polishes designed for stamping purposes. They are natural water based nail polishes, which means they are extremely good at transferring designs over to your nails. With this set, you get 8 pieces of various colors ranging from light to dark. We are sure you can find a use for each one in different situations.
What we really like about this stamping nail polish is the fact that this polish uses environmentally friendly resins and natural colorants. Nothing in here is toxic and it is safe to use around children. But these are kind of bonuses or extras that we find agreeable but not necessarily a selling point.
What does sell us is the fact that the Misaky PinPai Nail Polish Set transfers very well from nail stamper to your nails. In other stamping nail polishes, a lot of the design and die is lost in translation as you apply the stamping nail polish to the stamper plates and transfer it over to your nails. Fortunately, with this stamping nail polish, you don't really have this problem.
Pueen Super Intense Nail Stamping Polish
If you want the best polish for nail stamping, you should definitely give the Pueen Super Intense a try. Now keep in mind that this is not a set, but instead sold individually. Pueen Super Intense is sold in over a dozen different vibrant colors, so we are fairly certain it will be easy for you to find one that you like.
The most noticeable thing about this nail stamping polish is that it is super intense. What does this even mean? The pigmentation and color profile is strong and extra thick. This means that it will overpower other colors and you can even stamp over other colors. They are great to be either used as a base color or to be stamped over. Because it is highly pigmented, they are great for nail stamping. This is because some pigmentation will be lost from the transfer process, but a intense color polish will overcome this loss of color.
Finally, we like how the Pueen Super Intense is free of toxic and harsh chemicals. It does not have the big 5 chemicals like formaldehyde, DBP, Toluene, Camphor, or Formaldehyde Resin. The finish is pretty glossy and we would pretty the intensity at a 9 our of 10. Also, there are some cool finishes to choose from including rocking metallic, which comes in a semi-gloss finish.
Konad Nail Art Stamping Polish

Konad Nail Art makes the best nail stamping polish if you want something with lots of glitter and glam. They have a wide selection of colors and finishes, but the problem is there is no box set. You are forced to buy them separately, which can be annoying. However, by doing it this way, you avoid inefficiencies and waste.
Konrad Nail Art's products are quite expensive and their art stamping nail polish is not exception. On a per bottle basis, they command some of the highest prices, but do they hold up to their premium? We bough a few colors to test out and came to the conclusion that these come out absolutely gorgeous.
We think the Konrad Nail Art Stamping Polish is worth the premium as they last longer and have more vibrant colors than most of the competitors we tried. While the box sets are great, you end up using only a few of the colors anyways. If you know what you want, you should just go with Konrad Nail Art. It is definitely quality over quantity.
References
https://en.m.wikipedia.org/wiki/Nail_art