MyGift Chicken Wire Spice Rack
If you cooking a lot with spices, chances are you are looking for the best spice rack or spice holder. As we all know, spices do wonders to our dishes and make them more colorful, aromatic, and fragrant.  Knowing when and where to use these spices is what separates the good chefs from the great ones. There are many different spices out there and each one deserves special attention.
If you just have loose hanging spice jars out there stored in different locations, there is no organization to your life. And without organization, how can you be a good cook? The answer to all of your problems in life is the all mighty spice rack of spice holder. Ok, we fully admit that there is nothing particularly special about its function.
You can simply arrange all of your spices against a wall in your kitchen, as long as you have some organization. By using the best spice rack or spice holder in your kitchen, you give it some extra charm that your kitchen is dearly missing. It turns an otherwise stale kitchen into one with a well-organized posh décor. And needless to say, you spices will be a lot of more organized. There are a variety of spice holder styles despite the fact that they all pretty much function to organize your spices in one way or another. You have wall mounted spice racks, rotating counter top spice holders, static racks, spice drawers and spice chests.
And to make your life even more complicated, you have to consider things like spice holder material, size, and location before committing to a purchase.  As you can see, you can always overcomplicate a seemingly easy item to purchase. We have put together a buying guide below to help you better understand the decisions involved in picking out the best spice rack.
Best Spice Rack Reviews
MyGift Chicken Wire Spice Rack
If you want the best spice rack that can be wall mounted, the MyGift Spice Rack is the answer. The unit is about 20 inches by 17 inches and includes 4 separate rows for spices or whatever you want to put up there. The material is made of chicken wire and is light yet durable. It supports a lot of weight, so don't worry about it falling down.
You can mount this unit to your cabinet, pantry doors, walls, and a shelf.  Even if you are too lazy to mount it, the entire unit can pretty much stand alone against a wall. It is extremely easy to put together and pretty much works out of the box. You can also put cooking ingredients such as oils and sauces inside as well as cosmetics, craft supplies, and bathroom essentials.
Unfortunately, spice jars are not included, so you have to buy them separately. It can accommodate spice jars and containers up to 2.25 inches in width, which is equivalent to a standard jar of peanut butter.  We think the MyGift Spice Rack works great for those who want to save space and have a convenient way to organize their spices and sauces. It is reliable and has never broken apart on us, even at maximum weight. We think it is the best spice rack for those who want a wall mounted one and would not hesitate to recommend it to anyone.
Blümwares 12 Glass Spice Jar Rack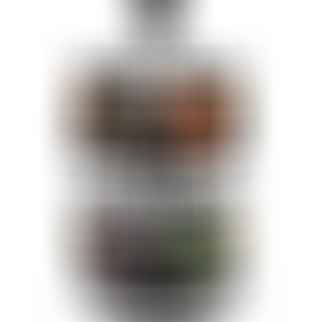 The Blümwares Spice Jar Rack is the best spice rack for those who want a rotating spice holder. But we will fully admit, the main reason we like this product is because it looks like. The Blümwares Spice Jar Rack has a nice sleek modern design that looks like it can fit into the kitchen of a Michelin Star Restaurant.  It has a smooth stylish metallic finish and the rotating mechanism for the two tiers of racks is very smooth and effortless.
When you spin the unit around, the spice jars are pretty much locked in place so it becomes very difficult for one of them to become dislodged and fall out. Best of all, it comes with 12 glass jars that definitely don't feel cheap. This eliminates the need to buy spice jars separately and having awkward fits. The Blümwares Spice Jar Rack basically comes assembled straight off of the rack, so you don't have to twist any knobs or put anything together.
And it just so happens to be the perfect size as well, as you really only need to have about 12 spices that you frequently use. Countertop space is very precious and the Blümwares Spice Jar Rack definitely keeps that in mind. Overall, this is the best spice rack for those who don't use too many spices and want a stylish sleek looking spice holder on their kitchen countertops.
YouCopia SpiceSteps 4-Tier Cabinet Spice Rack Organizer

If you want the best spice rack to put inside your kitchen cabinets, the YouCopia SpiceSteps is the way to go. We like this unit because it not only organizes your spices, but also any sauces and basic cooking ingredients. There is enough space to store 24 spice bottles in 4 different levels.  These levels are presented in a way that is tiered so you get to see all of the different spices.
Although the unit is only made of plastic, it is designed to go in your cabinet anyways, so nobody will see it in plain site. The YouCopia definitely has more functionality than style. It includes 96 stickers to label your spices and bottles so you have an easier time telling them apart. The unit also supports a lot of weight, so don't worry about stacking it up with lots of weight.
Unfortunately, the spices bottles and containers are not included, but since the tiers are about 2.25 inches deep, they can pretty much fit any spice jar that is reasonably large. We find the YouCopia to be a very good low cost solution to organizing your spices, jars, and sauces. Although it is designed to fit in a cabinet, you can definitely still put it on a kitchen countertop, as long as you don't care much about style.
Best Spice Rack Buying Guide
Spice racks and spice holders have been used for thousands of year by various civilizations as a way to store and organize important spices. These days, they come in a variety of styles and sizes,  that can be mounted in different ways. They have transformed from a tool that purely serves the purpose of organization and storage to a device that enhances the aesthetics of a kitchen.
When you are shopping for the best spice rack, be sure to look out for the type of material used to make the spice holder, the size, and the location. In terms of materials, the spice holder itself can be made from wood, metal, plastic, or some kind of polymer.  For spice containers, they are often made of glass or ceramic and come in jar form. Some containers have lids while others have screw tops. Some may even be in the form of a shaker. Wooden and metal spice racks are definitely good looking and have more of a traditional feel.
Plastic and polymer spice racks are more functional and durable. You may also want to determine the size of your spice holder, which depends on the number of spices you have to store. Be sure to figure out the size of the included containers as well, and be aware that sometimes the spice containers are sold separately such as pepper mills. Finally, you must determine the location of the spice rack as it will dictate what type you should get. If you want to have it in a cabinet, it is best to get one that can rotate. If you will be laying it out on the kitchen countertop, make sure the dimensions are reasonable enough to fit the space. In terms of spice holder styles, please see below for more information.
Wall-Mounted: These racks are great for those who want to keep their spices close to themselves.  The main advantage is that you can see all of the spices at once and the spice containers usually have an open design, so you don't have to worry about splattering spices everywhere. But best of all, wall mounted spice racks simply look nice and are great to have around the kitchen to show off. They definitely augment the décor of your kitchen.
Rotating Counter-Top Rack: These spice holders are good for those who don't have that much space and need a stylish way to access all of their spices. Many rotating countertop racks have many levels and are usually taller than they are wide. This conserves crucial countertop space and still allows you to access your spices with a twirl of the spice rack.
Static Counter: These are just ordinary spice racks with very simple designs. Many of them are single tier holders, meaning there is only one layer of spices. The spice containers can really be made of anything, from glass jars to ceramic jugs. They are designed to be cheap and effective. They usually don't hold as many spice units as a well mounted or rotating spice holder so they are suitable for a normal amateur chef who doesn't have so many spices to juggle with.
Spice Drawers:  These are drawers or chests that can either go inside of a cabinet or be stand alone on a countertop. They can keep spices in the dark so that they have a longer shelf life. Also they can be stored inside a cabinet or displayed outside as a collectible. If you don't want to openly display your spices, these spice drawers maybe the best option for you.
References
https://www.wimp.com/clever-uses-for-spice-racks/
http://lifeasmama.com/genius-ways-to-repurpose-a-spice-rack/