Eparé Steel Pepper Mill- Stainless Battery Operated
If you find yourself spicing up your food often with pepper, it may be time to invest in the best pepper mill. Pepper is a very popular spice that has been around for ages and found in most cultures. While it is predominately used to for food, it can also be used for medicinal purposes.
It is one of the oldest traded spices as it cured meats and help preserve them. Black peppercorns come from a fruit that grows on the Piper Nigrum L. plant and usually plucked out while still ripe. When it dries up and oxidizes, it turns black. Peppercorns can actually turn different colors depending on how they are prepared. The common variations are black, white, green, and even red.
With the best pepper mill, you can grind up fresh peppercorn to use as seasoning for your food. Of course you can always buy the pre ground pepper for dirty cheap, but freshly ground pepper tastes much better and doesn't have that artificial flavor. Additionally, having a pepper mill at the dinner table adds a bit of class and style. Your guests will love the fact that you are seasoning their food with freshly ground peppercorn. Pepper mills can be quite different from each other based on type, performance, ease of use, and features. We have put together a buying guide below to help you with your decision.
Best Pepper Mill Reviews
Eparé Steel Pepper Mill- Stainless Battery Operated

If you don't feel like dealing with manually grinding pepper, the Eparé Steel Pepper Mill is the best pepper mill for you. This device is a battery operated pepper mill and actually grinds seasonings of all kinds including but not limited to peppercorn, sea salt, kosher salt, Himalayan salt, and other spices. The Eparé Steel Pepper Mill comes loaded with features.
First of all, it is made of stainless stell and looks like a piece of art in your kitchen when not in use. It has a great grip and excellent durability, so don't worry about dropping it. After you have adjusted the grinding level to whatever size you want from fine to coarse, you just start grinding by pressing and holding down a top button. And since you can operate this with one hand, it allows your other hand to be totally free to do other things, such as to hold onto meats to get more stability.
There is even a nice LED light that shines over your food in dark light settings so that you can clearly see how much you are seasoning. This grinder has about a ¼ cup of capacity for peppercorns, and the container is see through so you can constantly monitor your spice levels. The Eparé Steel Pepper Mill is great for those who are too lazy to grind using their hands or need the convenience of grinding with one hand. Also, if you will be grinding pepper for a long time, this definitely saves you're the trouble of continuous cranking a pepper mill by hand. We really can't find any flaws with this device other than you have to replace the batteries every once in a while. It grinds perfectly and smoothly without jamming.
Olde Thompson 10.5″ Imperial – Wood Pepper Mill
If you want the best pepper mill with a classic wood design, you should get the OldeThompson pepper mill. This particular pepper mill stands at 10.5 inches tall, but Olde Thompson also offers its collection in 5.25, 13, and 17 inches. This is a manually operated pepper mill that grinds by twisting the body. We really like the fact that at the top, there is a knob to adjust to grind size from fine to coarse. In terms of performance and ease of operation, this pepper mill grinds very smoothly.
You don't have to apply crazy amount of force to twist the unit and so the pepper grinds just come out effortlessly. This pepper grinder is easy to refill if you run out of peppercorn. Just lift the wood case up and pour in the new stock of peppercorn, which is sold separately.  You can also put sea salt inside but not salt crystals as they tend to corrode the grinder mechanism.
This pepper grinder is quite durable and the wood does not rot or change color when water is on it, making it easy to clean up as well. The OldeThompson pepper mill is the gold standard in many restaurants and definitely fits on any dining table. It even comes with a nice gift box and can be the perfect gift for a friend or family. Let's face it, who does not need a pepper mill or pepper grinder?
Chef'n Pepper Ball, Clear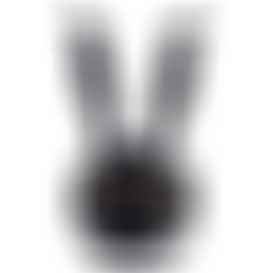 If you are looking for the best pepper mill in the form of a squeeze bottle, get the Chef'n Pepper Ball. This pepper mill has a very unique design and is operated by simply squeezing together the top two handles back and forth. The great part about this pepper grinder is that you can operate it with one hand, making it convenient for you to multi task while cooking or plating.
Also, there are five grind settings in case you want your pepper grinds to come out small or large. In terms of refilling it, there is a door that slides open and allows you to easily pour peppercorns into it. There is even a funnel included to make refilling faster. The Chef'n Pepper Ball even comes with a full case of peppercorns, so it works right out of the box. We think the best part about this pepper grinder is the unique design.
It has a clear see through container and bunny like ears, so it kind of looks like a rabbit. The kids will love it and it brings something unique to the table. Our one complaint like most other people is that it is a bit difficult to grind the peppercorn. The grinding mechanism for squeeze pepper mills are all the same and it works just fine as long as you squeeze it more times. Sure, it is easier and faster to grind with a twist pepper mill, but that is so boring! If you don't mind taking some more time to churn out pepper grinds, the Chef'n Pepper is the right grinder for you.
Best Pepper Mill Buying Guide
Pepper mills are basically grinders that are designed specifically for the purpose of grinding peppercorn. Whether you have to grind the peppercorn manually or electrically, the basic concept behind both mechanisms are the same. The peppercorn is sandwiched between two plates with some kind of abrasive material in between them.
When the plates are rotated, the abrasive material cuts up the peppercorn into small bits. At the bottom of one of the plates will be small holes to let the ground bits out. Some of the more advanced pepper mills will even let you adjust the size of the holes so that you get different sized grinds. When searching for the best pepper mill for your kitchen, please consider the following factors before committing to a purchase.
Type: There are two main types of pepper mills: manual and electric. Most pepper mills will be manually operated. Manual pepper mills can further be broken down into three types: burr mills, traditional pepper mills, and squeeze mills. Burr mills are very traditional and have a handle at the top of the mill that you can rotate to activate the grinder. They look cool and sophisticated and will impress most people.
Next you have traditional pepper mills, which don't have a nice looking handle. The grinder in this type of mill is activated by twisting the entire body of the mill or the top portion. This is definitely the most common type of pepper mill on the market. Finally, you have squeeze mills which are activated by squeezing a pair of top handles together. These pepper mills look modern, fancy, and can be operated by one hand.
There are also electric mills, which is designed for those who are lazy. They can be battery operated or pulled into the wall or both. The advantage of electric pepper mills is that they can be operated by one hand and are great for those who find manual pepper mills difficult to manage.
Size: You have to make a decision on how much pepper you will be grinding. If you have a big family or need a lot of pepper for certain recipes, it maybe easier to get a large sized pepper mill. Keep in mind that peppercorns don't have an infinity shelf life and they can go bad as well. If you don't find yourself using the pepper mill that often, you should get a smaller sized mill.
Ease of Use: Pepper grinders should be easy to use and should grind pepper effortlessly. This applies mostly to manual pepper mills, in particular the cheaper ones. Some of the cheaper models will take lots of effort to operate and some large peppercorns may even get stuck. Please avoid this situation and get a pepper mill that operates very smoothly.
Material: Pepper mills can be made with all kinds of materials including but not limited to wood, glass, acrylic, and metal. Wood is probably the most popular material because it gives you a nice firm surface to grab onto and it looks classy. There is also the acylic pepper mill, which is seen in many of the cheaper models. Glass pepper mills are also very cool and usually come with a squeeze operated pepper mill.
Features: For the most part, there is not too much variation between different kinds of pepper mills. After all, they all just simply grind peppercorns. However, some have settings such as being able to control the size of your grinds and an easy dump option in case something gets stuck. Some pepper mills have special designs with non-traditional shapes. Ideally, you should also look for pepper mills that are easy to fill, easy to hold, durable and sturdy, and gives you consistent grind sizes.
References
https://en.wikipedia.org/wiki/Peppermill