Crafty World Professional
Rotary Cutting Mat
The Crafty World Professional is the best self healing cutting mat if you want one that is flexible, durable, and precise. The mat comes in three sizes and works on both sides. It is a full 3mm thick and has a great surface that self heals to prevent small scratches and cuts from sticking.
MORE INFO
If you are into sewing and quilting, you may be interest in buying the best rotary cutting mat or best self healing cutting mat. This is especially true if you ever use a rotary blade to cut your fabric. For those of you who don't know, a cutting mat is a flexible mat that can be for all sorts of sewing, quilt making, and crafts. It serves as measurement tool as usually made of a durable material such as vinyl or rubber. Cutting mats usually have some sort of grid guideline on one side to help you make precise cuts. The cutting mat usually protects the surface you are cutting on as well as ensures accuracy in your cuts.
For the most part, the material used for cutting mats is usually self-healing. This means it absorbs small cuts and can remain durable for a long time. People often use a rotary cutter while using a cutting mat for sewing or any sort of art craft. This is like a pizza slicer. You can also use an utility knife, which is more like a straight blade.
There are many uses for a self healing cutting mat. You can use it to protect your table when using a sharp blade. You can also use it to make sure that your handwriting is nice and uniform. Additionally, you can use rotary cutting mats to trim large pieces of fabric to the correct size. Cutting mats vary in type, size, thickness, surface texture, measurements, and durability. We will go into detail about these factors in our buying guide below. If you are interested in getting the best rotary cutting mat or the best self healing cutting mat, please read our reviews below.
What is the Best Self Healing Cutting Mat?
Crafty World Professional Self-Healing Rotary Cutting Mat
The Crafty World Self Healing Rotary Cutting Mat is the best self healing cutting mat for paper cutting. This is the one cutting mat to rule them all. We think there is a reason why it is one of the best sellers online. It is precise, durable, and flexible. And of course, the self healing feature actually works and makes the cutting mat last much longer than its competitors.
This mat comes in three different sizes: 9 x 12 inches, 12 x 18 inches, and 18 x 24 inches. It is quite flexible and is not prone to warping. This means you can roll it up without the mat changing shape on you. The Crafty World Professional Self-Healing Rotary Cutting Mat is great for those who need that portability.
Another thing that makes the Crafty World superior to ordinary cutting mats is that it is extremely easy to work with and accurate. The edges are numbered with 1/8 measurements with the most common cutting angles. The grid lines and measurements just seem a bit more well defined than the competition. The added clarity and precision may not seem to matter at first. But after using the Crafty World for a while, we can't seem to go back to inferior cutting mats.
We think the Craft World Professional will exceed your expectations, as it certainly exceeded ours. In our rigorous lab test, it did much better than most of its competitors in terms of durability. It is a full 3mm thick, so basically professional grade. And in terms of value, it is double sided, so you essentially get two cutting mats for the price of one. Finally, the self-healing technology works very well. It tends to reseal cuts better than most.
You have two colors to choose from and 3 different sizes. We are sure you can find the right one for your needs. The base is also non slip so when you are measuring things, you get a nice firm surface. And if you are not satisfied with the product, there is always the 10 year 100% money back warranty.
Dahle Vantage Self-Healing Cutting Mat
The Dahle Vantage Self Healing Cutting Mat is the best rotary cutting mat if you want maximum healing. Out of all of the cutting mats we tested, we think the Dahle Vantage has the best self healing features. This is because of the excellent material and build quality. It has a 5 layer design and is 3mm thick with expensive PVC construction. When you work with the Dahle Vantage cutting mat, you definitely feel like you are working with a quality product. The surface feels just right: not too smooth and not too rough. The thickness is perfect and allows the mat to be flexible.
In terms of efficiency at the task at hand, the Dahle Vantage certainly gives you the "advantage." The grid lines contain inches and metric measurements to prevent the need for conversions. The markings are very straight forward and obvious. There are also scale lines made for diagonal cuts and markings to help you cut off shapes. Whether it comes to cutting, sewing, cropping photos, and other crafts, the Dahle Vantage is one of the better choices.
In terms of design and versatility, the Dahle Vantage excels above its competition. It is available in three colors: black, blue, and transparent. The cutting mat can also be used on both sides which means double the useful life. Finally, as just a little added bonus, the mats are shipped flat. This way, you don't have a working surface that is pre-warped. We really like the transparent color, which seems to be quite rare in the industry.
Alvin Professional Self-Healing Cutting Mat
The Alvin Professional is the best self healing cutting mat for cardmaking. It is also great for those who like choices. What do we mean by this? The Alvin Professional comes with quite a lot of sizes to choose from from standard 12L x 8.5 inches W all the way up to 96 inches x 48 inches. Unfortunately, with color there is only one choice. Green on one side and black on the other. However, both sides have grid lines which is a plus.
In terms of the surface, the Alvin Professional is made of a unique vinyl composite material. It can accommodate both rotary and straight utility blades. The surface is also anti glare so you can get a clear read on the measurements and your work in the sunlight. And of course, the surface is scratch resistant and self-healing. The 3mm thickness and self-healing properties make the Alvin Professional extremely durable.
Getting accurate work done on the Alvin Professional is quite easy with the clearly marked grid lines and measurements. Unfortunately, it only displays in inches and not metrics, so you will have to do the conversion yourself. However, you do have all of the markings to make diagonal cuts and odd shapes. All in all, you have a great performing cutting mat that is significantly thicker than most on the market. It comes with many odd sizes, so great for those looking for an exact dimension.
Fiskars 3 Piece Rotary Cutting Set
If you want the best self healing non toxic cutting mat that comes in a set, the Fiskars 3 piece is the way to go. Included in this set is a classic stick rotary cutter, a self healing cutting mat, and a clear acrylic ruler. Let's talk about the cutting mat first. It is extra large at 18 inch by 24 inches. The surface is self-healing and double sided, so you definitely get value here. You have a very easy to read measuring grid that comes with very well marked numbers. It also comes with bias lines so you can do angle cutting and making simple shapes.
Second, the acrylic ruler is a great accessory to help you cut fabric in various shapes. It features a 30, 45, and 60 degree line indicator and a highlighted seam allowance. This ruler is also very accurate and has markings that don't conflict with the markings on the cutting mat. It has a nonslip surface so that it doesn't slip under you when you go in to make a cut.
Finally, you have a well made rotary cutter. It features a symmetrical design so both left and right handed people can use it. There is a blade guard as well so that you can safely store the cutter and keep them away from your kids. The blade is very sharp and and cut through multiple layers of fabric. It also holds the fabric flat so you can make neat straight cuts.
Overall, you have a nice beginner set that is basically everything you need to get started on any arts and craft projects. This set is quite accurate and gives you the ability to make straight cuts without jagged edges. This of course assumes you know how to keep stable hands. If you want an all in package, this is the one to get.
The X-ACTO Self-Healing Cutting Mat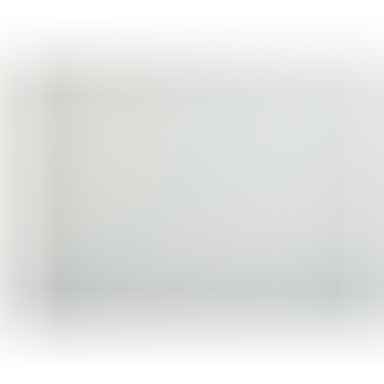 For those looking for a self-healing cutting mat with a non-stick bottom, you should consider the x-acto. This is a pretty standard cutting mat with all of the essentials. It has a self-healing PVC surface that can take really sharp cuts to the surface. Small cuts and scratches stand no chance against the resilient material of the X-ACTO. We would say this particular cutting mat outperforms most of the competition. It is up there in performance with our other recommendations.
We recommend you get this cutting mat with the award winning X-ACTO knife set. This knife helps your make precise cuts in whatever project you are working on. In terms of accuracy, you have a surface that has a one-inch grid printed on it. There are also 40, 45, and 60 degree angles to make angled cuts and to create shapes. The numbers and grid spacing is quite easy to read. However, we wish there was a bit more space in between the measurements. Sometimes it is a bit hard to tell 1/8 on an inch.
The selling point of this cutting mat is definitely the protection and non-stick bottom. We cannot tell you how many times we tried other premium cutting mats only to have the entire unit slide when you are trying to make a precision cut. With the X-ACTO cutting mat, you have a safe and sturdy base that won't move on you at the critical moment. We also like how the X-ACTO cutting mat protects your furniture and countertops as it is nice and thick. It is also quite lightweight and portable so you can take it anywhere
Best Self Healing Cutting Mat Buying Guide
Using the best self healing cutting mat is a great way to ensure that you get a proper cut for your art projects. They are an extremely cheap way to help you be more precise in your work. Cutting mats are not just reserved for sewing or art crafts. They are a great assets to everyone from bakers to quilters.
As a baker, you can use a quilted cutting mat to divide dough into even amounts. You can use the self healing cutting mat to prevent the dough from sticking and the grid marks as a guide to ensure even cuts. Also, because the cutting mat is self healing, you can run a rotary tool through it without worrying about damaging it.
As a professional calligrapher, you can put your drawing paper on top of your self healing cutting mat to make sure that you have equal sized lettering. Also you can ensure that your ink does not leak through underneath to your table. a
Finally, as a quilter, you can use a rotary cutting mat to cut out precise squares. It is much easier to use a proper rotary cutter and the best self healing cutting mat over scissors and your eye. The grid marks will ensure you get the right sizes for your cuts and the rotary cutter will ensure that you get an smooth cut.
Selecting the best rotary cutting mat is not so easy. There are many factors that go into consider including but not limited to type, size, thickness, surface texture, measurement type, durability, storage options, and ease of cleaning. Please see below for more some details.
Type: Cutting mats can either be hard surfaced or soft surfaced. Almost all mats are "self healing" to some degree, regardless of whether they are hard or soft. It really depends on the material how resilient it is to small micro cuts. Hard cutting mats are more rigid and usually resist cuts and tears because your cutting blade will just skim over the hard surface. Soft cutting mats will have more self healing features as tiny scratches in the mat are "healed" afterwards. The type of surface you work on really depends on personal preferences and the type of workspace you like.
Size: Self-healing cutting mats can be small and portable to large and full sized. In general, a larger cutting mat will be more accurate because the grid marks will be easier to read. The general rule of thumb is to figure out your workspace size first and then choose the largest mat possible to fit that workspace.
Thickness: Generally speaking, cutting mats can be either 2mm or 3mm in thickness. 2mm are usually hobby grade cuttings mats while 3mm are more professional grade mats. The 2mm mats usually have thiner cores and are much easier to cut through. In general, the thicker the cutting mat, the better than quality.
Surface Texture: The texture and glare at the surface of your cutting mat is also quite important. If your cutting mat is too smooth, then you have a propensity to slip up on your work. If your surface is too shiny or reflective, you could mess up measuring your cuts. The ideal texture and glare is something that is not too slick or too rough. Also, look for something that is anti-glare.
Measurement Type: You should be looking for numbers that are fully numbers and easy to read. The hash lines should extend and help with easy alignment. You should also make sure the cutting mat has lines that help with cutting diagonals.
Durability: Obviously, if you get the best self healing cutting mat, you expect it to last. The durability of your cutting mat will depend on the material being cut, the type of knife used and its sharpness, and the amount of pressure you use. Also, it goes without saying that the quality of your cutting mat will go down with repeated usage. We advise you to change the cutting area of your cutting mat to maximize its useful life.
Storage Options: We advise you to store your cutting mats flat so that they don't bend or wrap. Many self healing cutting mats have some sort of hanging hole to help you store them properly. We would definitely avoid rolling them up or leaving them in areas with a lot of heat. You should also avoid storing them in extremely cold areas to prevent them from cracking. While many cutting mats are shipped rolled up, please do not store them rolled. Finally, consider the portability of your cutting mat. You may be able to put it in your portable tool box as well.
Ease of Cleaning: You should properly clean your rotary cutting mat to extend its shelf life. Try using a gentle all purpose cleaner every week or so to wash it clean with warm water. Please do not use harsh detergents or soaps to wash your self healing cutting mat.
References
https://en.m.wikipedia.org/wiki/Self-healing_material
https://www.quora.com/How-does-a-self-healing-cutting-mat-works