Stanley 020800R FatMax 4-in1 Mobile Work Station
The Stanley FatMax is the best portable tool box for those who want a durable tool box with huge capacity and the capability to be transported on wheels. This portable tool box can also double as a nice work station and has multiple compartment to store all of your tools.
MORE INFO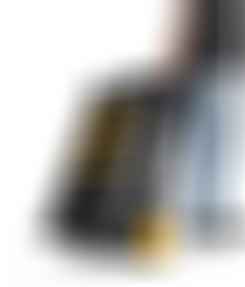 If you are a handyman find yourself working a lot with tools, you may be interested in the best portable tool box. A tool box is basically a storage unit that can hold all of your hand tools so that you have a place to access all of them. This puts organization into your life and allows you to have a place where all of your tools are in the same place.
There are some portable tool boxes that come with wheels that you can drag along to your worksite. Then there are handheld toolboxes that are light enough for you to carry by the handle, making them truly portable. So picking the best portable tool box for your situation really depends on how many tools you have to store. Most portable tool boxes will have compartmentalized bins and innovative ways to organize your tools.
If you are a plumber, an electrician, a handyman, or just a home-repair do it yourself guru, you will appreciate the level of organization in this tool chests. You want to look for features such as central locking mechanism, extendable handles, compartmentalized drawers, extendable handles for transport, powder-coated finishes, foam interior for tool protection, durable wheels, etc. As you can see, there are a lot of features of a tool box that can make it durable and convenient.
Some even have great anti-theft protection and ways to hold the tool box in place. When you are shopping for the best portable tool box, you should be looking for its organization structure, durability, portability, weight threshold, style, and value. We have put together a buying guide below to help you make a more informed decision.
Best Portable Tool Box Reviews
Stanley 020800R FatMax 4-in1 Mobile Work Station
If you want the best portable tool box that can be transported via wheels, the Stanley 020800R FatMax 4 in 1 is the way to go. This tool box has a tired cantilever multilevel rolling system that allows ou to effortlessly roll the unit around one handed. The tool box maybe too heavy to carry around if you want to lift it up, but with durable wheels, you can transport it easily.
You can even drag the Stanley FatMax up a set of stairs without lifting the unit, since the 7 inch full rubber wheels are durable enough to take a heavy beating. There are 4 storage areas and the tool box comes with trays, organizers, and a large bottom bin for big tools. There is a V-groove track at the top of the lid that will help you secure big items like pipes and saws while you work.
The front latch opens up very easily and all you have to do is pull up the latch. The load capacity is 70 pounds and can hold 10 gallons of volume. The Stanley FatMax also doubles as a work bench and is a big reason why we like this portable tool box so much. Also, we really like the opening system as it lets you access all of the compartments at once. It can hold all of your tools and very easy to move from one place to another. And the price is just right for the amount of storage you are getting.
Dewalt DWST17806 TSTAK VI Deep Box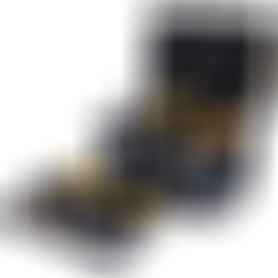 If you are looking for the best portable tool box that is a great fit for bulky power tools, the Dewalk TSTAK VI Deep Box is the way to go. This tool box has heavy duty metal latches and hinges so that you can transport around your tools. It has a weight capacity of 44 pounds, so definitely enough to hold up most of your power tools.
And if you can't carry around 44 pounds without breaking your back, you shouldn't have messing around with tools anyways.  The capacity is about 3.7 gallons and the size is about one square feet. This is big enough to hold a circular saw, but maybe not a circular saw. The great thing about the Dewalt TSTAK series is that they can all be connected together since their sizes and connecting points are the same.
So technically, you can connect three of these tool boxes together for more storage. While the Dewalt TSTAK VI Deep Box lacks compartments and multiple layers, the whole reason it is called a deep box is so that you can store big power tools. This tool box is made ultra-durable and made with premium PVC. But this is to be expected from anything made from Dewalt, a brand name that has been around the tool industry for a long time. We don't hesitate to recommend this portable tool box as a convenient and safe way to transport your power tools.
Bostitch BTST19802 Rolling Tool Box
If you want the best portable tool box that is a 2 in 1, you should get the Bostitch Rolling Tool Box. This is a premium portable tool box and really packs in a lot of utility. Our favorite thing about this tool box is that it can be taken part in two separate tool boxes. The top bin can be lifted up and acts as a separate portable tool box. The combined unit can hold up to 70 pounds of tools and has a useful volume of 10 gallons, which is big enough for most power tools and all sorts of accessories.
The 7 inch full rubber wheels have a lot of traction and are so well attached onto the unit that you can definitely afford to drop it on the wheels without breaking. Although the tool box is a bit pricey, we think it comes with enough compartments and features to justify this price. This a large out bin on the bottom, a main box up top, and two drawers for smaller tools and accessories in the middle.
The drawer slides out very smoothly and never really jam. Although this tool box is higher than most of the competition, the roller wheels are big enough to handle the dimensions and workload. It does feel a bit awkward to drag around given its size, but once you get used to its weight and size, you will love this tool box.
Best Portable Tool Box Buying Guide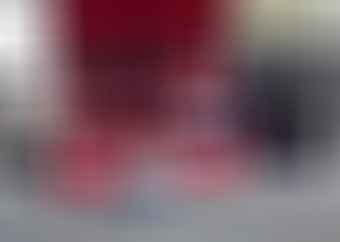 While you can certainly use any box to store your tools, not all of them will have the structural integrity and organization as a box specifically designed for tools. You don't want to be that handyman traveling around with a cardboard box full of old tools or only a tool belt. The box may fall apart while you move it from one place to another and your tools are so disorganized that it will take you forever to find the tool you want.
With the best portable tool box, you can avoid all of these small inconveniences by having a sturdy tool box with rugged handles, organized compartments, and a padded interior. And these tool boxes are not so overpriced and expensive that the average handyman can't afford them. Please see below for some features to consider in a portable tool box.
Organization: When judging the quality of a tool box, we think the most important thing to look at is the organization structure. You want a tool box with lots of trays and multiple layers and compartments. The size of these compartments should be sized properly for the tools and accessories to be stored. There should be plenty of small compartments as well for tiny accessories like screws, tape, stoppers, and nails.
Durability: The durability of the tool box is another very important aspect of having a great toolbox. Ideally, you want to have a very quality build with premium materials that are lightweight. The interior should be lined with foam so that your tools and accessories don't break if they are shaken around.  The handles should be able to extend and retract, and they should be durable enough to support the weight of the entire portable tool box. A good portable tool box should also a theft-proof. So if you really want to the get in, you couldn't easy just break apart the tool box. Also, the tool box should pass the drop test – so it should stay in-tact when you drop it from a reasonable height.
Portability: If you are interested in the best portable tool box, you should obviously be very concerned about its portability. Portability also depends on the size of the tool box. If you don't have so many tools to carry and transport around, you should get a handheld tool box that allows you to carry everything in one compact box by the handle. If you need to transport your entire tool set and bring along big items like chainsaws, you may be more interested in a large cooler style tool box that can be transported on wheels and be dragged by a handle.
These are portable as well as they can be transported by one person.  There are also some wheeled tool boxes that also have a mini handheld toolbox embedded inside. This way, you can still transport everything from one location to another, and bring along a small box of tools if needed.
Style: Finally, you should care a bit about design and style. If you had a choice, you probably won't want to get a tool box that is bulky and ugly. If the tool box is going to be bulky, it should at least be efficient and ergonomic, meaning there should be no wasted space or design. Be sure to pick a color and design that you like.
Value: This goes without saying, you should be looking for portable tool boxes that give you value for your money. For the most part, you pay for what you get in terms of tool boxes and the quality scales with price. There is a limit however and value definitely starts getting to a plateau as you get to the top end stuff.
References
https://en.wikipedia.org/wiki/Toolbox