Mirka Gold 5 Inch Hook and Loop Sanding Disks
The Mirka Gold 5 Inch is the best sanding disk for metal, removing epoxy, paint removal, plastic, wood, and pretty much any surface. It is an aluminum oxide based disc that cuts fast and is strong and durable.
MORE INFO
For those who like to fix things around the house or for work, chances are you own a belt sander or random sanding orbital. These machines help you sanding down and polish various surfaces. If you have a random orbit sander, you will need sanding discs of various grit sizes. These disks are attached by either a pressure sensitive adhesive or a hook and loop system.
If you are looking for the best sanding disc for metal, paint removal, cars, removing epoxy, and polishing any surface, you are in the right place. Sanding discs come in many varieties and features. These include but are not limited to size measured in diameter, grit, open mesh, patter, dust repellent, disc backing, abrasive material used, and center hole.
Size and grit are the most important features to look out for. The size typically ranges from 1 to 20 inches in diameter. More importantly, it must fit your orbital sander. Grit size refers to the fineness of the sandpaper. It is crucial for removing debris and polishing surfaces. Grit sizes can change depending on the stage of the project. They typically range from 60 grit all the way up to 3000 grit.
Other features are quite important to look at as well. You should also look at the stretch resistance of the sanding disc. You can have open mesh disks that are transparent or semi transparent. They are reusable after washing and don't clog easily.
Other things to look at are sanding patterns and whether or not these sanding disks are dust repellent. The disk backing determines its durability and you can have paper, cloth, or fiber backings. You should also look at the type of material used in the sandpaper such as aluminum oxide, silicon carbide, or ceramic. Finally find out whether or not it has any holes, the weight, and number of disks that come with the set.
What is the Best Sanding Disc?
Mirka Gold 5 Inch Hook and Loop Sanding Disks
If you want the best sanding disc for metal, paint removal, cars, wood working, removing epoxy, marine, or anything industrial, go with the Mirka Gold Series Sanding Disk. These sanding disks are made of aluminum oxide, which is the standard abrasive material found on most sandpaper. It delivers fast and long cuts and has superior grain support due to its high strength resin bonding.
The special stearate coating is semi open and certainly helps maximize resistance to loading and clogging. The semi open coat helps deliver a uniform polish that is consistent. Additionally, the Mirka Gold Series is sharp, durable, and long lasting on higher paper grades and won't shred on the edges. Because of the aluminum oxide grain and high strength resin bond, it is fit for pretty much any type of surface.
This is a 5 inch hook and loop sanding disc and will fit most 5 inch orbiters. In terms of specific compatibility, this sanding disc fits the Dewalt DW421, DW423, the Ryobi, Bosch 3107, 3725, and the Makita B05010. The Mirka Gold Series comes with an assortment of different grits from 80, 100, 12, 150 to 220 grit. You get 10 pieces of each grit level.
Mestool Gold 5 Inch Sanding Discs
The Mestool Gold 58-AP is the best sanding disc for wood and metal processing as well as automotive refinishing. We like it for its extreme value as a you 100 per box and it is priced well below similar 5 inch sanding discs. In terms of quality, we don't think you are sacrificing much. It is made of aluminum oxide grain with resin over resin bonded grains for added efficiency and results.
We like the fact that it is suitable for sanding at high speeds over any surface. These 5 inch hook and loop velcro discs have special anti-clog stearate coatings that help extend performance and improve durability. The coatings also help prevent clogging and pill formation. The grit depth on each sanding disk is clearly visible and the felted area sticks quite well. With the Mestool Gold series, you get a nice even sanding everytime that doesn't leave marks.
These sanding discs work great for fiberglass, auto body work, and trying to remove epoxy. The holes line up quite well to most random orbital sanders and hold on well. It is designed to fit most 5 inch random orbital sanders. Best of all, you get 100 sanding discs per box of various grits from 60 to 220. This is a great deal compared to most sets out there.
Powertec 8-Inch Aluminum Oxide Self Stick Sanding Disc
Powertec sells some of the best self sticking sanding discs on the market. These 8 inch discs are industrial strength sanding discs constructed with premium aluminum oxide grain. With its pressure sensitive adhesive and C weight paper, you get fast and uniform cutting over most surfaces. It is the best sanding disc for paint removal and for removing epoxy. You can also use it for wood, fiberglass, plastic, and non-ferrous metals.
We really like the resin on resin bonding, which gets you a lot of heat resistance. We would say these sanding discs are great for pretty getting nice edges. It works great at paint and epoxy removal and wood. It starts to break down a bit for steel and other ferrous metals.
This is a 8 inch self sticking sanding disc with 80 grit. You get 10 sanding discs in one package. Powertec sells other sizes and grits, so check out their other products if you want a wider selection. We can tell you that their sanding discs are all quality and durable.
Sungold Abrasives 5-Inch Hook and Loop Sanding Discs
If you are looking for the best orbital sanding disc for wood, metals, plastic, and cars, the Sungold Abrasives Hook and Loop discs maybe your answer. These are 5 inch all purpose sanding discs made of aluminum oxide. The selling point is that it delivers a very fast cut on a flexible c-weight latex impregnated backing paper. Also, it stays on your rotary sander quite well. We cannot say the same about other cheaper brands, as they tend to fall off easily.
Another thing we like about the Sungold sanding discs is that they have extra coating on them. This open coat grain comes with non-loading stearate that minimizes loading. The aluminum oxide grain is also P grade treated. This is just a fancy way of say it will extend abrasive life and lead to fast and smooth cuts.
The sanding discs are also waterproof, with the full resin on resin bonds that adhere to the grains and cutting surface. This particular set comes with 25 hook and loop sanding discs of 400 grit. They are all 5 inches in diameter and fits most 5 inch sanders. If you want different sizes and grit count, Sungold Abrasives supplies them as well.
ABN 2 Inch 80 Grit High Density Zirconia Alumina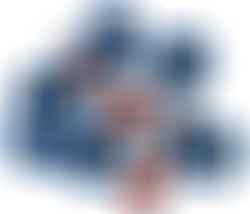 If you want small sized sanding discs, you should check out the Auto Body Now ABN High Density Flat Flap Roloc Roll Lick Wheels. These are the best sanding discs for cars, marine, motorcycles, and auto detailing. The 2 inch ABN High Density is made of zironia alumina instead of the usual aluminum oxide. This material basically self sharpens and drastically improves the shelf life over aluminum oxide discs.
In terms of performance, the ABN High Density performs an aggressive cut while maintaining durability. They work great on metals and auto bodies. Because they are semi open, these sanding discs end up softening the load on metals. The most unique part about these sanding disks is the grooved design on the back, so it is definitely not flat. These flap discs are great for leveling, buffing, stripping, and prep work.
These sanding flap discs are 2 inches in diameter, so definitely on the small end. They have a 80 grit and come in 10 pieces for pack. You can find various sizes and grit levels as well. Best of all, the back of these discs are made of lightweight fiberglass, which helps increase strength and absorb vibration from your tools
References
http://www.doityourself.com/stry/how-to-use-a-disc-sander
http://www.instructables.com/id/Get-the-Most-out-of-your-Dremel/