Aircat 1150 Killer Torque 1/2-Inch Impact Wrench – Best overall (you need an air compressor)
Why do you need the best impact wrench?
If you are a professional handyman or like to fix up things around your house, chances are you have considered buying the best impact wrench. Impact wrenches have traditionally been used for automotive repair work as their high torque and power are used to take apart stubborn hard-to-remove bolts. Now, the impact wrench has found its way to the common consumer and is used in manufacturing and construction.
They can be used in any situation where you need to put on or take out a nut or a bolt. Impact wrenches are power tools in the shape of a gun that rotates a mass clockwise or counterclockwise with high torque. The primary difference between an impact wrench and an electric drill is that the impact wrench is simply much more powerful and delivers much more torque. Even the best drill can't stand up to the power and torque delivered by the weakest impact wrench.
However, compared to drills, impact wrenches cost more makes more noise, only accepts hex-shanked drivers and drill bits, and can't really work with delicate and precise jobs. With the best impact wrench, you end up putting less strain on your wrist. You also can effortlessly drive long screws, power through some seriously dense material, are less likely to strip screws, and fits into small spaces better due to the smaller frame. Impact wrenches can be powered by either compressed air, hydraulic power, or electricity, with compressed air being the most common source of energy. For more information about the best impact wrench, please see our buyer's guide below.
Best Impact Wrench Reviews To Get The Job Done In 2023
1- Aircat 1150 Killer Torque 1/2-Inch Impact Wrench – Best Pneumatic Air Compressed 

If you want the best impact wrench that runs via an air compressor, you should get the Aircat 1150. This impact wrench is known to deliver heavy torque at 1295 ft-lb of loosening torque and 200-950 ft-lbs of working torque. It comes at a reasonable price range and is comparable to some of the professional-grade impact wrenches in terms of performance. It has 1400 blows per minute, which makes it one of the strongest hard-hitting impact wrenches for this price range.
Both amateurs and professionals can find some good use for this wrench. It is extremely quiet at 86 dB and weighs in about the same as a generic ½ inch pneumatic wrench at around 5 pounds. We like it because it is rather lightweight due to its all-black composite body.
It comes with a comfortable grip and controls on the back allowing you to change settings with your thumb. It has one reverse setting with full torque and three tightening settings. Some people say that the bits slide off quite easily from the head, but when we tested it out we did not find this to be a problem. All in all, this is a great pneumatic impact wrench to have in terms of value and delivers professional-grade power and torque at reasonable prices.
2- DEWALT DCF899B 20V MAX XR Brushless High Torque 1/2″ – Best Cordless Impact Wrench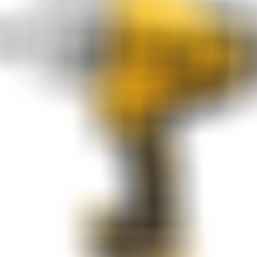 If you are looking for the best impact wrench that is battery-powered, you should seriously consider the Dewalt DCF899B. Dewalt is a recognized and respected brand name in the power tools space and the DCF899B is quite a work of art. It runs off of any Dewalt 20V Max battery and has three different speed/power modes. This allows you to handle delicate projects by shifting the setting to the low-speed mode as well as taking on heavy-duty work with the maximum torque setting.
In terms of performance, it delivers a max working torque of 700 ft-lbs and a loosening torque of 1,200 ft-lbs. The trigger is variable speed, so the speed depends on how hard you press in on it. There is a trigger lock as well to prevent you from accidently pressing in on it when not in use. The brake system on the Dewalt DCF899B is also quite nice in that it will completely stop turning when you let off the trigger.
We can't say the same about some other impact wrenches. In terms of design, it is yellow and black in color with the yellow part being plastic and the black sections with a soft rubber mold. The nose cone is made of metal and there are rubber bumpers around the edges to protect the entire device. You have to keep in mind that because it is cordless, it is not going to be small and compact.  The product is nearly 10 by 10 inches in width and height and weighs just over 7 pounds. There are some nice extra features that help you work better and more efficiently such as an LED work light and a battery fuel gauge. Also, the battery life is pretty good for a cordless impact wrench that delivers this much power.
3- Kawasaki 841426 1/2-Inch Impact 7.5-Amp Wrench – Best Corded
If you want the best impact wrench that is corded, you should consider the Kawasaki 841426. This ½ inch impact wrench is designed for those on a budget and doesn't really need crazy amounts of torque. If you are a professional, we would suggest you look somewhere else. In terms of performance, the Kawasaki 841426 only has the bare essentials because the selling point is the low price point.
It only has a maximum working torque of 220 ft-lbs with an impact per minute of 2700. There is also no setting to adjust torque speed. However, the trigger is variable speed so if you hold it down all the way, it will go faster. We have tested this out on common household projects and it works like a charm.
There were very few circumstances where we found that we need to manually work hard to loosen or tighten a bolt. But keep in mind, this is just for easy projects and do-it-yourself tasks, but if you are taking on anything heavy-duty, we don't think this impact wrench will provide enough torque. Overall, this is a great economical corded impact wrench with decent performance and durability.
Best Impact Wrench Buyer's Guide
Having an impact wrench around your house is great for tough projects when a drill is too weak to remove or put in a bit or screw. The basic concept behind how an impact wrench works are that a motor builds up energy through a rotating mass and pushes this mass into an anvil that creates a lot of torque for a fixed bolt. These wrenches can rotate clockwise and counterclockwise and are designed to remove and put bolts, nuts, and screws in tough dense material.
They limit the amount of impact that the operator feels on his or her wrist, thus the name impact wrench. The torque generated from an impact wrench is much greater than that from a manual wrench or an electronic drill. There are a variety of impact wrenches on the market and each has its pros and cons. We have highlighted some features to look out for when shopping for the best impact wrench.
Pneumatic impact wrenches
Pneumatic impact wrenches are the most common type of impact wrenches. These wrenches are powered by compressed air. You will need a fairly decent-sized air compressor to shoot compressed air to power the wrench. The air consumption of pneumatic impact wrenches is quite high but they also are able to deliver tremendous amounts of power and torque. Another advantage is that these wrenches are pretty lightweight because they are not powered by electricity and therefore don't need fancy motors. The disadvantage is that it is tough to control their speed and power on them. Many don't really have variable speed triggers and sometimes end up providing too much power.
Corded impact wrenches
These wrenches are powered by electricity via an electrical cord to an outlet. They are similar in performance to pneumatic wrenches but tend to be a bit heavier and longer. Electric motors tend to run heavier to generate the same amount of force as a compressed air motor. Also, they are limited in sizes and are often limited to 0.75 and 0.50-inch sizes. The biggest advantage is that you don't need an air compressor to run it. However, if you are nowhere close to an outlet, this can become a huge disadvantage.
Cordless impact wrenches
These types of impact wrenches are starting to become more popular than corded impact wrenches because of their portability. They are usually powered by lithium-ion batteries ranging from 18 to 28 volts. Lithium-ion batteries provide a good amount of power and can be recharged very fast. The one obvious advantage of having a cordless impact wrench is its portability. You can just this to make repairs on the road or around your house where there is no outlet readily available.
They have lower torque because batteries simply can't deliver the same amount of torque as compressed air or corded wrenches. However, this could come in handy when you are taking on delicate tasks where you don't want to over-tighten or strip out screws. The disadvantages of cordless impact wrenches are they are less powerful than pneumatics or corded impact wrenches for the same price. There are cordless impact wrenches that can deliver a high power, but they are much more expensive. Also, you have to deal with battery drain, which can happen very quickly depending on the model. They are also the biggest in size and weight because of the extra space needed for the batteries.
Shape and Socket Size
Impact wrenches can either be inline or pistol. Inline wrenches are shaped like an oversized screwdriver and pistol impact wrenches are like a gun with the grip being below the motor. There are also a variety of socket sizes that correspond with certain impact wrench shapes. In terms of socket sizes, generally, you have the smallest at ¼ inch going all the way up to a few inches. ¼ inch sockets are found on both inline and pistol wrenches. You also have 3/8 inch, ½ inch, and ¾ inch which are mostly found in pistol-shaped wrenches.
References
https://en.wikipedia.org/wiki/Impact_wrench