Electro-Harmonix Soul Food
The Electro-Harmonix Soul Food is the best klon centaur clone because it strikes a great balance between performance, versatility, and price. The Soul Food shines in the mid range and replicates the legendary klon centaur with its own pleasant twist.
MORE INFO
The original Klon Centaur pedal is a legendary pedal that was handmade by Bill Finnegan in the 1990s. They are popular because they create this transparent overdrive effect, which adds gain to the signal without changing up the tone. This is a groundbreaking overdrive that differs from most overdrives in the way the gain is used to mix in more clean signal.
Around 8,000 units were created total in this period and since then they have stopped production. This means that the original Klon Centaur pedal has become in high demand and fetch prices on the internet over $1000.
The people who love and swear by the original Klon Centaur call it an amp in a box. The centaur can definitely function as a full on transparent boost with the gain dialed all the way back the the treble in the middle. Some use it as a boost while others use it for its tube like distortion. In other words, it adds a slightly warm overdrive to a tube amp.
Luckily, you can still get a hold of this legendary pedal and reproduce its effects by buying the best klon centaur clone. However, not all clones are created equal and some are obviously much better sounding than others. Be very careful when picking up a klon centaur clone as there is a huge aftermarket for these units and not a lot of reliable ones.
Although even the best klon centaur clone on the market cannot exactly replicate the sounds of the original, they sure can come close. Some clones even take the original Klon Centaur and add their own spice to it. Regardless of what clone you get, make sure it comes from a reputable source and has many positive user reviews. There are many fake clones out there and a lot of poorly made ones. Luckily we have filtered through many of the trash to help you find the best.
Best Klon Centaur Clone
Electro-Harmonix Soul Food
For those who seek the legendary clean boost and overdrive effects of the Klon Centaur can get it for a fraction of the cost with the Electro-Harmonix Soul Food. To us, this is by far the best klon centaur clone made to date. And to be honest, we never really bought into the hype of the original klon's. Sure it is a great pedal, but we just don't think it is worth the overinflated price tag. In other words, you will be alright with the Electro-Harmonix Soul Food overdrive pedal.
The EHX Soul Food can do pretty much everything the original Klon Centaur can do and more. It has a transparent overdrive, boosted rails, volume, treble, drive controls, true and buffered bypass, and is super responsive. Sure, it is not a 1 to 1 replica, but it does a respectable job in producing a similar overdrive and clean boost sound and even has its own unique distinct tone. Some people would even go as far as to say they prefer the Electro Harmonix Soul Food OVER the original Klon Centaur sound.
One of the things the Soul Food is great at is cutting the drive for using it as a clean volume boost. You can get a wide range of clean gain all the way until 50% of the drive knob and more punch as you turn the knob right more. While there is not a whole lot of low end presence, there is nice mid range punch which some guitarists may prefer.
When you crank up the drive, you will get more sizzle than the original and quite an aggressive top end, which you may have to dial back with the treble controls. Finally, you should note that the pedal plays just about any pickup configuration and extremely easy to dial in settings.
– Shines in the midrange
– Not 1:1 replica but nice twist
– Cleaner, low gain side of overdrive
– Great price for the sound
J Rockett Audio Designs Archer Overdrive Pedal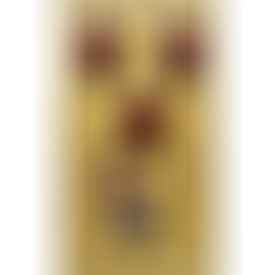 If you are one of those tone obsessed guitarist, we are pretty sure you would like the J. Rockett Archer. It is the best klon centaur clone if you want a near 1 to 1 replica. The story goes that J. Rockett was actually deeply involved in the Klon predecessor, the Klon KTR. Something happened with J. Rockett and the original contract, so J. Rockett decided to replicate the original Klon Centaur with his own company. The result is a replica known as the Archer that pretty much spot on nails the Klon Centaur sound.
In a sense, the Archer is 2 pedals in one. If you turn the gain all the way down, you can just use it as a clean boost, which many people use just for this. Once you dial the gain somewhere in between zero and 11 o clock, and leave output somewhere in the middle, you get a nice clear roar of a beefy classic rock tone. There is a cool noticeable bump in the mids with most settings, and this is exactly part of the original Klon Centaur.
If you max out both gain and output, then the sound gets very saturated and turns into more of a brown sound. Furthermore, if you like a more gritty and loose sound that lacks tight definition, you can certainly explore higher settings.
Finally, let's get down to the question most people are interested in: how does it sound compared to the original Klon Centaur. we would say if you dialed in the same settings on both and did a side by side comparison, you will have a slight difference in the mid range and high end response. However, you can pretty much get the same sounds if you tweak the J. Rockett Archer a bit following your ears. we even tried a blind sound test between the Archer with the right settings and the original and really got confused which one is which.
– 1:1 replica of the Klon Centaur
– J. Rockett was deeply involved with original Klon
– Clean boost with gain minimized
– Sounds very much like the original
Creme Brulee Overdrive Pedal
If you want the best klon centaur clone that is very affordable, the Creme Brulee Tone Bakery is the way to go. At around $100, it does a great job in replicating the Klon Centaur's transparent, clean crunchy tones that are also very responsive. We must warn you that at around $100, there were definitely some measures taken to save costs such as featuring board mounted jacks.
However, we felt that the cost costing measures didn't get too ridiculous, as the Creme Brulee still maintains great build quality. The knobs are all sturdy, dial very smoothly, and stay that way once you are set. The unit feels well built and not just a cheap piece of plastic.
Like the original klon centaur, the Tone Bakery has three knobs: gain, treble, and level controls. In terms of sound, we would best characterize it as having a smooth, fat and full sounding overdrive.
But most of you are probably more interested in how to performs side by side with the original klon centaur. In general, we would say there is a noticeable difference in compression and dynamics. However, we would say this difference is only noticeable when played next to the original. On its own, we find it difficult to parse out any sort of errors. Overall, this is just a great overdrive alternative to the klon centaur with a very affordable price.
– Very affordable
– Decent build quality
– Nice fat and full sounding overdrive
– Sounds similar to the original
Arc Effects Klone V2
If you want the best klon centaur clone and willing to take a gamble, you should try out the Arc Effects Klone V2. What we mean by taking a gamble is that it is not marketed properly and has limited user reviews online. However, you need to trust us in that word on the street says to trust the ARC Klone.
While there are many clones of the Klon Centaur on the market, the ARC Effects was actually amongst the first. This doesn't necessarily mean it is the best but at least it means they have been around the business for a while. The reason they are still circulating is that the sound is superior to most replicas out there.
By popular demand, Arc Effects came out with version 2, which fixed some issues of the old design. In particular, it added a bass boost by including a DIP to the circuit board. This switch is easily accessible as well. The sound like all sounds is hard to describe but it does a very good job in replicating the original sound of the Klon Centaur. Each of these pedals are handmade and wired for buffered bypass. They are not the cheapest or best looking, but they certainly perform better than most replicas out there.
– Great boutique clone
– One of the first replicas
– Superior sound
– V2 includes bass boost
Wampler Tumnus Overdrive Pedal V2
It goes without saying that the wampler Pedals Tumnus V2 is a legendary Klon Centaur clone. This is quite an expensive replica overdrive pedal for a reason: it has a great smooth and creamy tone and it can definitely take a beating. We really like the attention to details offered in this pedal. The Tumnus V2 stays true to the original in that it contains a buffered bypass tone just like the Klon Centaur. Note that this is not a true bypass.
With the Wampler Pedals Tumnus V2, you can use it as a standalone overdrive or boost the front end of your amp. And like the original, you have a three knob interface. If you turn up the gain, you will get a very clear boost that is also rich. Additionally, it works great when stacked with other pedals such as fuzz or distortion.
– Expensive
– Great replica
– Version 2
– Buffered bypass
References
https://en.wikipedia.org/wiki/Klon_Centaur
http://www.coda-effects.com/p/klon-centaur-circuit-analysis.html