1. Golden Heavy Body Acrylic Paint
Why do you need the Best Acrylic Paint?
Painting is one of the most cherished forms of art and is a beautiful way to express yourself and your thoughts. By using the best acrylic paint, you have a flexible and durable medium that is considerably more affordable than working with oils. Acrylic paint is a very versatile painting material and is capable of producing a complexity of textures and tones with many different kinds of techniques.
You can paint on many surfaces with acrylic such as paper, canvas, metal, and wood. You can also get the watercolor effect by adding a bit of water to acrylics. You can also add different mediums to make acrylic thicker and make it look more like an oil painting.
Best Acrylic Paint Reviews
1. Golden Heavy Body Acrylic Paint Classic Theory Color Mixing Set (Artist Grade)
We think Golden Heavy Body is the best acrylic paint if you are looking for an all-around superb artist-grade paint but are willing to pay up for it. This particular set comes with 8 colors (in 2 oz tubes) and a great mixing guide to get pretty much any color you want. The quality of the Golden acrylic paints is truly amazing. It is one of the most respected brands in the industry and is used by many professionals in the art community.
If you ask anyone who is knowledgeable on this subject, they will agree that you can't go wrong with Golden. This heavy body paint is quite thick, but not crazy thick like the Liquitex Heavy Body. It has the best pigment load out of any of the other brands we tested. Paints with high pigment loads are more concentrated so you generally need less paint to achieve the same color. This is great for mixing because paints with low pigment loads will become dull easily. These paints also tend to dry to an opaque matte finish and have very little color shifting. There are no matting agents in these paints, so the gloss of each color will vary.
Also, there are no fillers, no dyes, and no extenders added. We really like the feel of the Golden Heavy Body acrylic paint. They give off a very rich look and apply with a smooth buttery consistency.  Our only complaint is the price, but it is the best acrylic paint set if you think about the value you are getting for that premium price.
2. Crafts 4 All Acrylic Paint Set (Student Grade)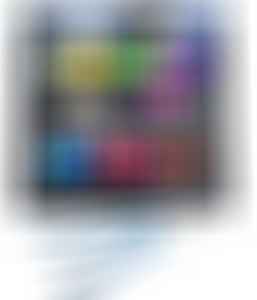 Crafts 4 All is the best acrylic paint if you want a cheap but quality student-grade set. This acrylic paint set comes with 24 colors that cover the entire color spectrum and blend and mix well. The quality is great for a student-grade product and at this price point, you are getting great bang for the buck. There are not too many 24-color sets that come with a variety of colors that can be found for dirt cheap. This set includes a more than adequate selection of colors and because there are 24 colors in this pack, there are multiple shades of the same solid color.
This gives you an extremely wide color palate and leads to unique interesting blends. This huge selection of colors is great for students and beginners who still probably don't know how to probably mix colors well. Having more choices definitely makes it easier to create more specific blends. This paint works well on all types of mediums including but not limited to canvas, wood, ceramics, and fabric.
The paint has a thick consistency and does not leak or run. Although we approve of the quality, we also understand that it is a student-grade acrylic paint set. As a nice perk, this set comes with three different-shaped brushes that work pretty well for amateur painters. Overall, the Crafts 4 All acrylic set is the best acrylic paint for beginners and students who don't have too much money and want to get into painting. The 8 colors include a nice mixture of the full-color spectrum and are great for mixing.
3. Liquitex Complete Classic Heavy Body Acrylic Paint Set (Artist Grade)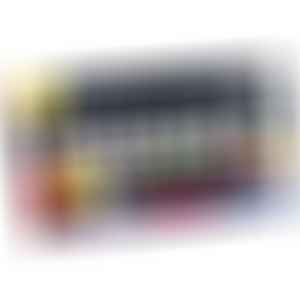 If you want the best acrylic paint set that is something in between professional/artist grade and student grade, Liquitex Heavy Body is a great choice for you. Liquitex is a well-known brand in the professional art world.  This complete classic set comes with 8 solid colors in 2 oz tubes, gloss medium & varnish, two brushes, a canvas board, and an acrylic book. While this paint set can certainly be classified as professional-grade and is definitely a well-known artist-grade paint, we wouldn't make the jump to selling art with this paint.
This is by no means saying the paint is bad. What we are simply saying is that if you truly want top-notch professional grades, you should look somewhere else like Golden. We think the Liquitex Heavy Body is great for part-time professionals and students who are practicing and want to become professionals. Our biggest complaint is that the pigment load is not really up to our expectations for the pro-grade paint. It turns white too easily when mixed with white paint.
Although it is a very thick paint with high opacity, tends to dry very easily, which means you end up having to use more paint to achieve a smooth layer. Additionally, there is quite a bit of color shift from wet to dry paint. But in the end, it comes down to personal preference and budget. The Liquitex is not a bad artist-grade paint, but we think you can find better. However, it does have its time and place: if you're a person who likes to work with a palate knife or has thick paintings, you should go with the Liquitex Heavy Body.
More Info on Acrylic Paint
So what is acrylic anyways? The basic explanation is acrylic is a water-soluble medium made with synthetic resin and pigments. Because it is water soluble, acrylic paint dries very fast and you do not have to dilute the paint with solutions for cleaning or the palette. Because the best acrylic paint dries very quickly, you also don't have too much room for error, and must work very fast. After acrylic dries on its canvas, it becomes water resistant, which means you can roll up the canvas and store it without being afraid of cracking or damaging the paint.
Acrylic paint also has crisp edges and hard lines, so you can easily paint with a graphic composition, mask out areas easily by covering them with thicket paint and mix bright colors. The trade-off is that it is hard creating smooth blends on a large scale because acrylics also dry quickly.  Another good thing about using the best acrylic paint is that they don't really fade over time. Oil on the other hand will go yellow over time. However, the trade-off they change colors when they dry. Finally, with acrylics, you can work in confined spaces or an unventilated area because they have no bad odor. Oil fumes, on the other hand, can overwhelm you over time.
Generally, you can buy acrylic paint in two different grades: student grade and professional grade. Student-grade acrylic paint has lower pigment levels, and a smaller selection of colors, and may include fillers which could weaken the color. Professional grades on the other hand come with a wider range of colors and have a lot of finely ground pigments and higher permanence ratings.
They also have higher price tags. We recommend you start with a student grade set if you are on a budget and slowly introduce professional paint into your collection if you care about preserving your artwork. Also in professional-grade paint, some colors are more expensive than others, but overall they are still cheaper than most oil paints. The general rule of thumb is that the more earthly colors are the cheapest and the color is made from cadmium.
References: