STI 2 Point Rifle Sling
The STI 2 Point Rifle Sling is the best 2 point sling because it's a very high quality sling with an affordable price. This sling is reliable, comfortable and easy to use. It provides quick adjustments, allowing you to adjust it to the most convenient length whenever you need.
MORE INFO
If you are a shooter and you have a rifle such as an AR15 or M4, then you need a 2-point sling. This convenient equipment allows you to easily carry your rifle on your body, and help you to get a steady shooting position if it has proper design. Certainly there are slings of other types like single-point slings and three-point slings, but they may be more complicated to use or less durable. In this article, we will focus on discussing the best 2-point slings on the market.
A 2-point sling is not a simple strap or harness tied on your weapon. It uses small components such as clips and buckles, allowing the sling to have adjustable length and easy installation. Since a firearm usually weights a lot, these small components especially the clips, should be very tough. It's very common that a weak clip can't stand the weight and breaks, dropping your weapon to the ground. In addition, some slings may have a shoulder pad to prevent shoulder strain and to increase the comfort in carrying.
To provide a full-time support lasting for months or even years, a standard 2-point sling should have high tensile strength and be wear-resistant. The webbing should not be too elastic, since its very uncomfortable carrying a bouncing gun for hours. Most of the manufacturers use strong nylon as the strap material, so the differences mainly come from the widths and the length adjustment ranges of the webbings.
A typical American sling may be 1 inch (25.4 mm), 1 1⁄4 inch (31.75 mm) or 1 1⁄2 inch (38.1 mm) wide, while standard European slings are 20 mm wide. Moreover, some slings can't be shorten to less than 55 inches as they use shoulder pads or strap covers, which provide comfort but limit the adjustment of length.
When searching for the best 2-point sling, the results may be different according to your demands. If you are using it for target practice, the simplest may be the best, because more components translate to more weight, smaller length adjustment range and less shooting stability. On the contrary, for hunting you may want to try a more complex 2 point sling.
Best 2 Point Sling
STI 2 Point Rifle Sling
If you are an experienced user of tactical weapons like M4 or AR15, you definitely know the difficulty of quickly adjusting your sling. That's not the only thing you need to worry about, because a good sling must be reliable in any situation. We highly recommend the STI 2 Point Rifle Sling as the best 2-point sling for the AR15 or M4, because it's a premium sling which perfectly meets these demands.
The STI 2 Point Rifle Sling is an American sling of military grade. It works with all 1.25 inch attachment hardware, and can be adjusted to 55 inches at most. Also, there is no doubt that this sling is compatible with all of your tactical weapons. The webbing is made of top grade heavy duty chafe resistant nylon, allowing it to have a very reliable performance. Additionally, this sling is weather resistant and won't be weaken by inclement weather conditions. Finally, the whole sling is wear proof, allowing it to last for years.
We think the best feature of this sling is that it can be adjusted quickly. There is no need to disconnect the sling and with a single thumb you can easily adjust its length without having it jam or tangle on you. This feature also allows you to get the most convenient length of your sling right after you change your weapon position.
Since it has no clip or shoulder pad, this sling has lighter weight and bigger length adjustment range. However, it may take longer to install and be less comfortable to carry. Based on its reliability, the STI 2 Point Rifle Sling is highly recommendable for target practice and military use, and is also suitable for other uses such as hunting.
– Best M4 sling
– Weather and wear resistant
– Quick adjustment and easy to transfer position
– Light weight and big length adjustment range
Core Survival Paracord 2-point Sling
For professional shooters and hunters, the Core Survival Paracord 2-point Sling can be the best equipment. This sling is strong enough to carry any tactical weapon, and it adds value of over 75 feet of useable cordage.
As a 2-point sling, the Core Survival Sling is fully adjustable, allowing this sling to be suitable for climbing and marching. Another nice feature is its softness, and you will not feel any painful pressure points when carry a gun with it. In addition, when you are in need of strap or want to use this sling on a short rifle, you can unbraid the short section of cord.
The Core Survival Paracord is an improved product as the manufacturer has used full metal components instead of the old plastic ones. The metal clips on its ends are super convenient to use,They have the right size for a variety of connecting parts, and are strong enough to support any movement when you are carrying your gun. In addition, these clips are durable as they are designed for lifetime use.
It is worth mentioning that the customer service of this product is very good. The manufacturer does listen to suggestions and make improvements as we discussed above. Furthermore, the product is guaranteed by a lifetime warranty.
– Paracord sling
– Full metal components
– 75 feet of useable cordage
– Great customer service
Magpul Two Point Sling
The Magpul Two Point Sling is the most versatile sling on the market. We really like it because it can work as a one-point sling if you use optional adapters made by Magpul. This sling is so comfortable and reliable that customers seldom regret buying it even though it costs significantly more than competitive products. This sling provides the best experience for all sorts of rifle users for hunting and sport shooting.
When using a 2-poing sling, the Magpul is super reliable. It has a strong nylon webbing but no clips. In other words, it will always keep your gun on your body when you carrying it. Furthermore, this sling is durable. The webbing and the buckles are wear proof and weather resistant, supporting years of grind outdoors. In testing, this sling survives tens of thousands of cycles in wet, dry and sandy environments, static load testing without slippage for 72 hours and weighted six foot dynamic drop tests.
It's a comfortable experience when using the Magpul sling. As a top grade sling, the Magpul sling certainly has a quick adjustment. You can quickly adjust its length with one hand. Also, the webbing is smooth that it won't make you feel uncomfortable when it rubs against your neck.
By adding some special adapters, this sling can be used as a one-point sling, allowing very stable shooting. Needless to say, it's much more comfortable when you start shooting.
– One-point-convertible 2-point sling
– Super reliable
– Quick adjustment
– Comfortable
Allen Cobra Padded Leather Rifle Sling with Swivels
Allen Cobra Padded Leather Rifle Sling with Swivels is the best 2-point rifle sling for AR15 and hunters. It's named because of the shape of the leather pad. This design helps to properly distribute the weight of your rifle when carrying it, keeping it comfortably on your shoulder.
Additionally, this sling is very reliable. The swivels of the sling are very high quality that they can hold up to 300 pounds. Furthermore, the sling is designed for one handed adjustment, making it convenient to use.
In addition, on the leather pad there is an embossed deer head design, adding some style on this product. We also like the one handed adjustment, which is convenient for hunters who are multi tasking in the wild.
– Best 2-point sling for hunter
– Strong swivels and comfortable pad
– One handed adjustment
– Beautiful design
FreForcer 2 Point Sling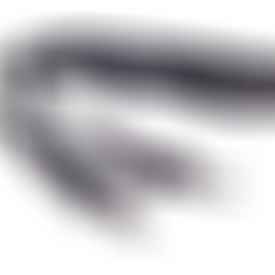 If you are not interested in a fancy design and just looking for a strong sling to carry your AR15 with the lowest cost, then the FreForce 2 Point Sling is definitely your best choice.
This product is simple and straightforward without any extra fluffy. The FreForcer is 54 inches long and 1 1/2" wide and its nylon webbing is strong enough to carry any tactical weapon. Furthermore, there are two mil-spec heavy metal clips at both ends of the sling. This sling is adjustable, just like its competitors.
Unfortunately, it also has some pitfalls. For example, after long term usage, the buckle may become slippery and the clips may be weakened. However, given the cheap cost of this product, we aren't complaining and would take over other 2 point slings if you are on a budget.
– Super low price
– Standard design
– Strong materials
– Adjustable
References
https://en.wikipedia.org/wiki/Sling_(firearms)
http://www.theprepperjournal.com/2017/05/12/choosing-best-rifle-sling/