#1.Willard Pool Cue Tip Shaper
If you are looking for the best cue tip shaper, the Willard Pool Cue Tip Shaper is a great product. This shaper is incredibly easy to use and more importantly it is very quick and accurate at reshaping your pool cue to the standard dime radius everytime. The key here is the consistency and the Willard Pool Cue Tip is more consistent than all of the other brands out there.
Best Cue Tip Shaper
#1.Willard Pool Cue Tip Shaper
For those who want the best cue tip shaper, the Willard Pool Cue Tip Shaper is definitely the way to go. This shaper is made to designed to efficiently reshape your cue tip everytime. It is pretty standardized already and you will get a perfect dime radius of 0.358 inches every time. We like this shaper precisely because it is able to maintain a perfect dime radius everytime.
Furthermore, we really like that there's this carbon grit on the inside of the domed shaped interior, which pretty much ensures that you get a lifetime of reliable usage. And finally, this shaper is pretty small and you can easily carry it in your pocket. It only has a diameter of 1.5 inches so you can also just string it on a key chain no problem.
#2.Gimiton Billiards Pool Cue Tip Shaper
Next up, have the Gimiton Billiards Pool Cue Tip Shaper, which is the best cue tip shaper for those who want plenty of functions. It can be used as a tapper, dime or nickel shaper, trimmer and burnisher. We also really like the fact that it is made of solid alloy and it can be used for a really long time without breaing down or rusting. It just seems a bit better constructed than most other brands.
We consider it pretty accurate but not as accurate as the Willard Pool Cue Tip Shaper. It is easy to use and the trade off is that you just get way more functionality. All in all, we think that this is a great accessory to your billard cue care routine and will definitely come in handy quite a few times.
#3.Nesports One-Stop Pool Cue Tip Shaper
Another great option when it comes to the best cue tip shaper is the Nesports One-Stop Pool Cue Tip Shaper. This cue tip shaper can easily shape the tip into all radians. While it certainly is quite expensive, we think that it is totally worth it if you are very serious about fine tuning your pool cue tips. And it is not just a shaper, but an all in one pool cue tip tool.
Basically, it can fix all problems related to tip replacement and repair. If you like changing out your own cue tips and want it perfect every single time, this is the right tool. The only thing we have to warn you about is that it takes a while to get used to everything and the instructions aren't exactly the most intuitive.
#4.Felson Billiard Supplies Cue Tip Shaper
The Felson Billiard Supplies Cue Tip Shaper is a nice 3 in 1 tool to help you easily maintain your pool cues for a much better game. It is definitely a pretty popular item right now. This 2.5 inch tool is nice and compact and can easily fit into your pockets. It packs 3 tools in one and contains a shape, a scuff, and a poke which all leads to you doing better as a player.
We find that the shaper works quite well and you can easily shape your pool cue tip for better contact and will help you achieve better spin with the ball everytime. Although we think that it shapes quite well, we don't think that it says sharp that long, so maybe the durability of this tool is a bit questionable.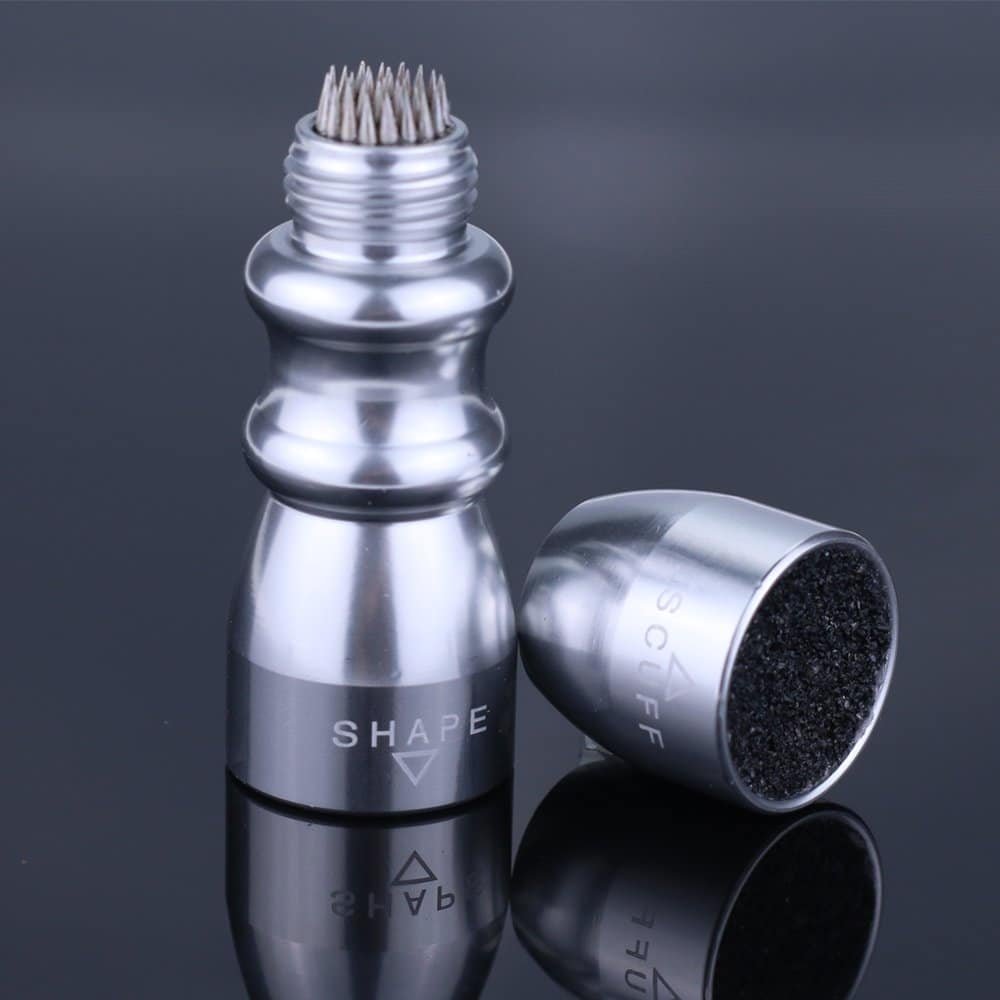 #5.Hilitchi Cue Tip Shaper
Lastly, we have the Hilitchi Cue Tip Shaper, which is quite similar to the Felson tool mentioned above in that they are both 3 in 1 cue shaper tools. We think that this one is made overall a bit more durable and just seems like a better build quality. It is made with better materials and everything just works more seamlessly here.
One of thing things we did notice is that it does seem to have a better scuffing tool than the Felson, although we find that the shaper tool is actually less effective. The tools are all properly marked and it is pretty intuitive and easy to use without any real instructions. It shapes pretty quickly and does so faster than most other tools on the market.
References
https://www.thoughtco.com/how-to-round-your-billiard-cues-tip-369062
https://www.pooldawg.com/article/pooldawg-library/shaping-your-pool-cue-tip