Go Pet Club 72″ Cat Tree Condo Furniture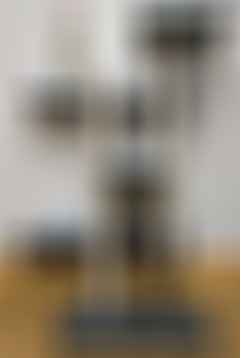 If you are a cat owner and want a place for your cat to relax, play, and sleep in, chances are you are looking for the best cat tree or cat furniture. Contrary to popular belief, cats are pretty active creatures and need a certain amount of physical activity to stay healthy in their lives. A cat's body structure is built for climbing as they have muscular lower backs and back legs. Out in the wild, cats often climb and camp out in higher places to protect themselves from larger predators below. Also, they prey on smaller animals who live up in trees.
Finally, being in high places ensures that they get a better view of their surroundings. However, when your cat is domesticated and indoors, there are no natural objects them to climb. They end up settling with furniture, which ends up doing more damage to your furniture than anything. You should seriously consider buying the best cat tree if you see that your cat has a strong desire to climb. Cat trees come in a variety of sizes, shapes, and designs. The size of your cat tree usually depends on the number of cats you have. For more information about buying the best cat tree, please see our buying guide below.
Best Cat Tree Reviews
Go Pet Club 72″ Cat Tree Condo Furniture

The Go Pet Club Cat Tree is the best cat tree for those who want a mansion for their cats. This thing stands at a massive 6 feet tall and has all kind of compartments and perches for your cat to play around in. There are two condos for your cats to chill in to keep cool and simulate dark spaces. There are three perches up top so your cat can feel high and get a great field of vision.
The Go Pet Club cat tree has three levels and each level is accessible via a ladder. This cat tree is incredibly sturdy can fits cats from small all the way up to plus sized ones. It does rock a bit when your cat jumps from one level to the next, but if you put this cat tree on a flat surface, there shouldn't be any problems with this thing toppling over. There are six colors to choose from including beige, brown, brown black, black, beige black, and paw print. We are sure you can find one that fits the design of your house and the rest of your furniture.
In terms of material, it is made of compressed wood with a faux fur covering. This makes the cat tree quite durable and gives your cat good tread and grip. The posts are also covered by natural sisal rope, so your cat can practice scratching it. Overall, this is an excellent large sized cat tree for those who want to go big.
Armarkat Cat Tree Furniture Condo
The Armarkat is the best cat tree if you are looking for a medium sized cat furniture condo. This 60 inch cat condo is great for medium sized cats to scratch, climb, sleep, play and exercise. It is made from pressed wood but has a faux fleece covering. The fleece covering is nice and soft and gives your cat something to rest on. In terms of features, there are two perching podiums for your cat to rest of stand on and one condo so your cat can have a mini home.
There is also a hanging rope below the condo so your cat can swing on it or practice climbing on a rope. This cat tree is quite easy to assemble and take apart. Cats love the simple design and you can definitely fit more than one cat on it. The structure is very stable and balance only becomes an issue when you have multiple cats on it at once or one very fat cat. All in all, the Armarkat is quite simple in design, well balanced, and entertaining for most cats.
Vesper Cat Furniture
If you want the best cat tree that looks sleek and can even be considered tasteful modern décor for your house, get the Vesper Cat Tree. This cat tree is a little pricy, but the build quality makes up for it. The height is 47.9 inches, so enough for cats of most sized. This thing is made of high quality wood from New Zealand pines. It has a very soft and fluffy cushions for your cat to rest on and these cushions are removable.
The design is very sturdy, although it weighs more than a typical cat tree of this size. It can fit three or four medium sized cats at once. We like how Vesper has considered the safety of cats in mind as well, as the corners and edges are rounded to prevent any injuries from happening. Installation and setup is very straightforward and easy. In terms of features, it has a cube cave condo where your cat can nap as well as two perches or observation decks for your cat to linger around.
The poles are tall and scratch resistant so please encourage your cats to scratch them. Best of all, the Vesper line of cat furniture and cat trees are all designed by professional architects and look like works of art. They look sleek and well-proportioned and can even be used as art even if you don't own any cats. When you see this thing in person, you will understand the meticulous workmanship put into the design and structural integrity.
Best Cat Tree Buying Guide
Cats are ultimately creatures of nature. They are born to climb to high places and run around. With the best cat tree, you can let your cat roam free within the confines of your home. You give your cat a playground and a place to call home. Although many domesticated cats are quiet lazy, they all have the natural instinct to roam and climb around.
Buying a cat tree for your cat is a happy middle ground and allows your cat to have some fun too. We have tested many different types of cat trees and cat furniture on the market and honed in a few models that were the most popular amongst our cat testers. We looked at factors such as size, sturdiness, materials, and additional features. Please see the list below for more information and things to consider before making your final purchase.
Space: You should consider the space of your home when buying a cat tree. Look at the dimensions of the cat tree first before buying! These things look small in pictures but they can be deceptively large. Cats like to take naps in the afternoon sun and hide in dark spaces, so maybe consider putting the cat tree in a spot that has both sunlight and dark spaces. Be sure your ceiling is high enough for the cat tree. Most cat trees are going to be taller than they are wide, so please take this into consideration.
Size: In general, we would say that bigger and taller is better. Your cats will have more fun and a taller cat tree will condition your cat to take on more risks and exercise more. However, you always have the constraint of your budget, so you may not be able to afford such a big cat tree. If you have more than one cat, you should definitely consider getting a larger cat tree. You also need to consider the size of your cats. Some cat trees are only designed for small to medium sized cat while other cat tree have structures that are build enough for large to plus sized cats.
Sturdiness: Durability and balance are very important for a cat tree. Make sure the base of your cat tree is sturdy, because this sets the balance of the entire unit. When your cat is perched up high, you want a structure that can support all of its weight. Your cat will most likely also be swinging back and forth, causing momentary unbalances in the cat tree. You cat tree need to be sturdy enough to resist your cat from toppling it over. You are going to want a durable cat tree as well in order to prevent your cat from breaking it or leaving scratch marks everywhere. Generally, cat trees are made of compressed wood with some kind of seal or covering. Compressed wood is durable, relatively scratch resistant, sturdy, balanced, and offers great grip for your cat to move up and down.
Features: Ideally, you should be looking for cat trees with multiple floors, condos, and perches. These are fun for your cat and offer it places to go and hop in and out of. Make sure there is also plenty of room for your cat to play. Many cat tress also come with sisal rope posts so that you cat can scratch on it without damaging anything. Be sure to train your cat to only scratch on the rope. Some cat trees have cool features like a fake mouse to play with, ladders to climb, and even a rope swing. Some even come with litter boxes attached. The most important thing is to make sure you make the cat tree comfortable and interactive for your cat.
References
https://en.wikipedia.org/wiki/Cat_tree
https://www.wayfair.com/ideas-and-advice/cat-tree-buying-guide-S4477.html