#1.Circle S Roping Saddle with Suede Leather
If you are looking for the best roping saddles, the Circle S Roping Saddle with Suede Leather is certainly a very nice option. Not only does it look nice, but it is also quite heavy duty and can handle a good beating. It is also comfortable and gives you a decent amount of grip and control.
Best Roping Saddles
#1.Circle S Roping Saddle with Suede Leather
For those who are looking for the best roping saddles, we highly recommend that you try out the Circle S Roping Saddle with Suede Leather. It features basketweave and floral tooling on the fenders and pommel. We think that it is quite sturdy and gives you a plenty of freedom of movement. We really like the quality and consider it very heavy duty. And best of all, it is very cost effective for this level of quality.
In terms of some other features, it has a leather off billet, leather tie strap and heavy duty seven inch wide complete back cinch. Everything is built sturdy and comfortable. Lastly, we like how the saddle is highlighted with leather saddle strings and silver starburst conchos, which gives it a nicer sleeker look.
#2.AceRugs Roping Saddle Western Leather
Next up, we have the AceRugs Roping Saddle, which are some of the best roping saddles for those who want a good balance of looks and performance. It has a heat seat with plenty of grip and traction which is really good for worker's who need a lot of control. There are also plenty of ties on the saddle which you can attach accessories.
Additionally, we really like how the underside is padded with fleece which actually works out great for the horse in that it helps them stay really comfortable on long rides. Overall, we find it quite comfortable and for its price range it is actually quite durable with good construction. Sure there are much better saddles out there, but you pay way more for those.
#3.Tahoe Dakota Western Roping Saddle
Another great product when it comes to the best roping saddles is the Tahoe Dakota Western Roping Saddle. This roping saddle is made with drum dyed leather and has a black suede seat. Sure you have to break it in a little, but once fully broken in, it grips great and rides really comfortably in our opinion. We think it just looks really nice in general with the contrasting blue suede seat.
It is made of rawhide wrapped horn and cantle with silver lacing and we think everything is fairly good build quality. Yes, it can definitely be better and we do think you are overpaying a bit. But we think that it really just looks nice and this is one of those situations where you kinda have to choose style over comfort and function.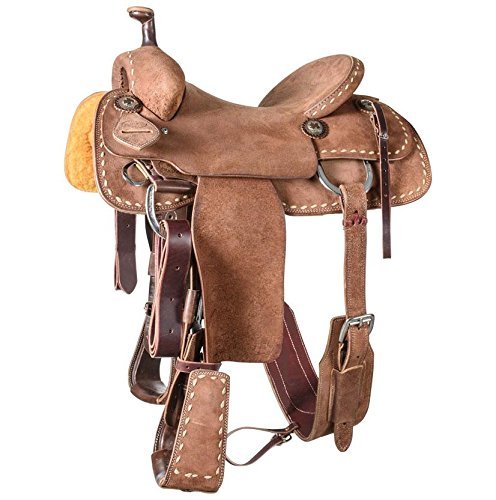 #4.South Texas Tack Roping Saddle
Well folks, if you are serious about getting a pro grade roping saddle, then it doesn't get any better than the South Texas Tack Roping Saddle. But don't say we didn't warn you as this roping saddle is significantly more expensive than anything you've probably considered. You should only get this saddle if you know you can pay.
It goes without saying that this roping saddle has the best quality leather, strong traction, awesome durability, and is quite lightweight. It comes with an amazing 10 year warranty as well. The only thing we need to warn you about is that the value proposition is not there. So you end up paying significantly more for a saddle that is only like 20% better.
#5.Hilason Big King Western Roping Saddle
Lastly, we have he Hilason Big King Western Roping Saddle, which is certainly a very nice saddle if you like the dark brown chocolate look, which is kind of old school. It is made of premium grade genuine skirting leather and has a seven inch gullet with full quarter horse bars. This is a 26 inch saddle that weighs around 35 pounds.
All in all, this saddle is designed for heavy duty work and comes with a stainless steel drop plate rigging system. There's a nicely designed seat and fender positioning, for optimal stability roping. It also comes with a nice 5 year warranty which is certainly nice and we will take whatever warranty we can get.
References
https://horsemansupply.com/saddles/roping-saddles/
http://www.saddleonline.com/blogs/content/what-roping-horse-saddle